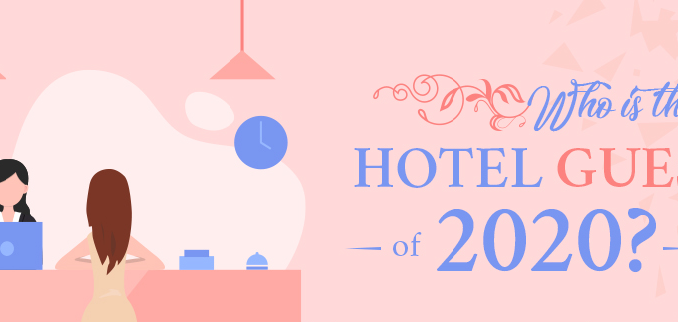 In this infographic, we ask who is the hotel guest of 2020 and how will evolving technological advances most likely shape their expectations?The hospitality industry is currently going through a period of significant change and will look very different in 2020. Ever-changing technology means that the expectations of hotel guests are constantly evolving. What technology will the hotels of the future need to adopt in order to deliver a top-quality guest experience?
Trend 1: Biometric Fingerprint IDs
As of 2019, many hotel guests have grown sick of the hassle of carrying around several forms of ID. Some innovative hotels have started to respond to this by implementing a biometric fingerprint ID system (aka fingerprint readers) which are used for everything that requires identification and customisation.
Trend 2: 'Smart' Rooms
These days, guests no longer perceive hotel rooms as just a place to lay their heads for the night. Rather, they expect a more special, luxury experience. As such some hotels are looking towards the Internet of Things (IoT) to help create an unforgettable 'smart room' experience. By 2020, it could be common practice to use this impressive tech to exactly adapt the room according to a guest's preferred colour scheme, temperature or lighting.
Trend 3: Hyper-Personalisation
By the year 2020, the hospitality industry will see a new breed of digital-native hotel guests who will seek unique experiences personalised to meet their exact needs. By the year 2020, these digital native guests will want the ability to customise almost every aspect of their stay. In order to respond to the rising popularity of personalisation, hotels will need to implement more advanced reservation systems that empower guests to personalise their stay to their taste.
Learn more about the hotels of the near future in this infographic from The Dunloe Hotel & Gardens in Killarney, Ireland.
Mary Smith works as a Marketing Executive with The Dunloe Hotel & Gardens, a member of the Killarney Group of Hotels in Ireland. She has a keen interest in all topics relating to the hospitality sector, especially that of hotel technology. As part of her profession, she is consistently analysing current trends and anticipated market projections to determine how some of these can be implemented in her own workplace.
Are you an industry thought leader with a point of view on hotel technology that you would like to share with our readers? If so, we invite you to review our editorial guidelines and submit your article for publishing consideration.