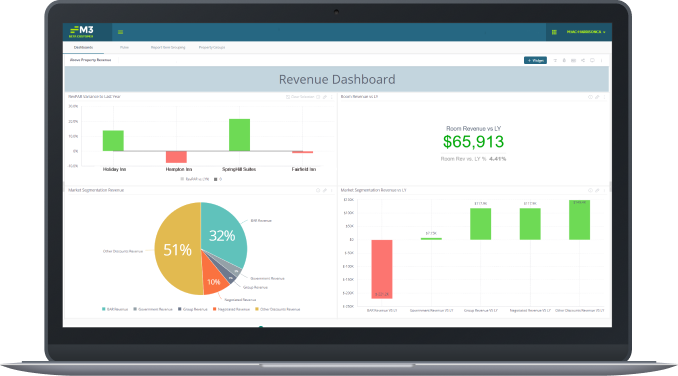 M3 today announced the launch of a new business intelligence platform called Insight. Replacing M3's current operations management product, Insight is a fully integrated, self-service platform. It features user-driven interactive dashboards, mobile compatibility, ad hoc reporting and robust analytics.
Insight rolls up data from some of the industry's most recognized data providers, along with operating statistics, brand data and proprietary M3 financial and labor data into a single, actionable and visual dashboard allowing hoteliers to make real decisions in real time.
In addition to providing at-a-glance centralized data through dashboards, Insight allows hoteliers to automate, schedule and share customized reports to improve operational efficiencies. The product also includes a pulse alert feature that enables users to set thresholds for specific key performance indicators, alerting the user if a threshold is crossed.
The M3 platform works seamlessly with other key systems and tools in the hospitality industry and offers robust accounting and financial analysis across entire portfolios with optional operations and time management features. M3's professional services team provides on-demand support for hotels of any size by offering a full range of customized accounting solutions to scale with a hotel's needs. M3 also includes a proprietary hotel benchmarking index that combines data from thousands of properties into a single accessible data set to compare hotel financial performance.
Does your company have news it would like to share with our readers? If so, we invite you to review our editorial guidelines and submit your press release for publishing consideration.