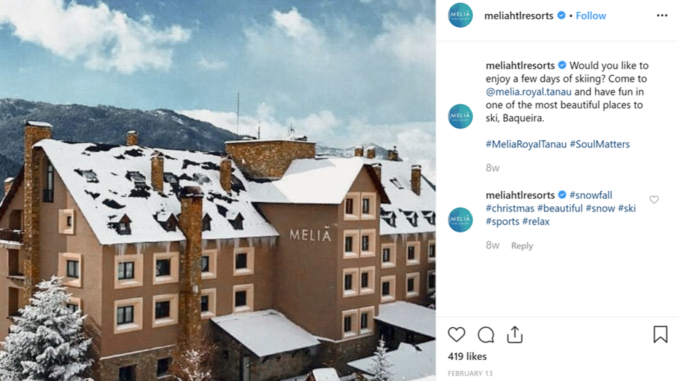 Last month, Meliá Hotels International, the Spanish hotel chain with more than 350 hotels in 40 countries, announced that it achieved a 1.7 percent improvement in RevPAR performance globally last year. During that same period, the company's global sales increased by 9.7 percent, which, for a hotel company that size, is impressive by any measure.
Much of the credit belongs to Meliá's advanced digital marketing activities, including its social media activities. Approximately 60 percent of the hotel brand's global revenues are now digital. More than 12 percent of the online traffic to Meliá's booking website stems from the brand's presence on Facebook and Instagram. In certain regions, such as EMEA, that number is as high as 17 percent.
Given these statistics, it's clear that social media has become an immensely valuable channel for Meliá Hotels, perhaps just as valuable as the hotel brand's own website in terms of originating business and driving traffic that ultimately translates into bookings and sales revenue.
Currently, Meliá Hotels has more than 7 million social media followers. That number continues to grow by leaps and bounds — 15 to 20 percent a year, on average. More than five million of these followers are on Facebook. Meanwhile, the company's Instagram followers are quickly approaching one million.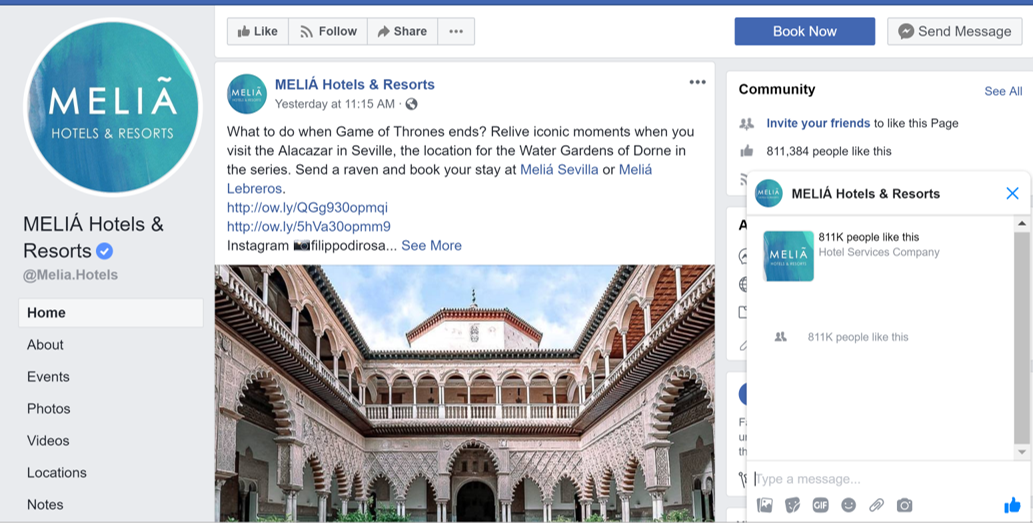 Of the more than 100 million photo and video posts that users share each day on Instagram, an estimated 5 million fall within the travel category. According to estimates, engagement with brands on Instagram is more than 10 times higher than on Facebook, more than 50 times higher than on Pinterest, and more than 85 times higher than on Twitter.
With more than 500 million daily active users on Instagram, and over 60 percent of users logging in daily, the influencer market on Instagram is expected to be worth upwards of $2.5 billion by the end of this year. It's no surprise, then, that Meliá has been investing heavily on Instagram as a channel for fueling influencer marketing growth.
Last year, an average of 10,000 sessions per week came from Facebook and an average of 1,200 sessions per week came from Instagram in addition to 500 or so Stories per week on that social network. Meliá also has a sizable presence on YouTube as well as Twitter. The latter channel is used primarily for handling customer service queries and responses.
To that point, the company recognizes that each social channel serves a fundamentally different purpose. Each channel functions differently, reaches different target audience segments, and needs to be managed differently, with a tailored and unique approach to content management. In the case of Instagram, the Stories feature has been a primary focus of Meliá's activities. Instagram tends to be the most effective channel for engaging the millennial segment.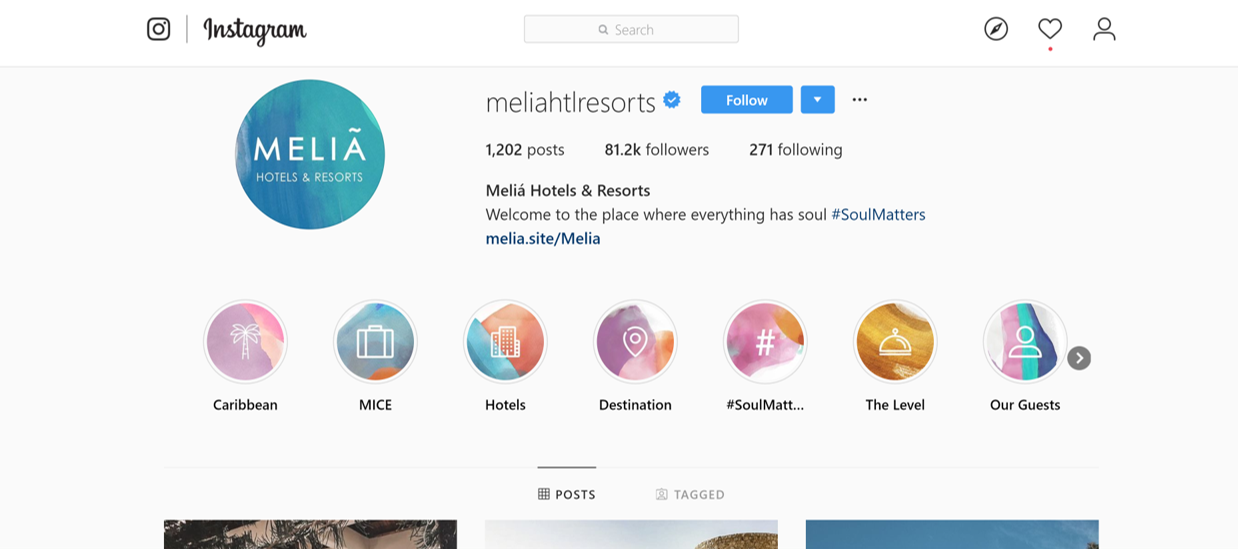 Social media influencer management gets complicated at a certain scale. In early 2017, Meliá implemented an "influencer marketing policy" to manage the qualification, selection and reporting process. Today the company has a network of more than a thousand influencers across its six brands, including 40 influencer activations for its Me By Meliá brand alone.
Together these influencers generated 1.7 million interactions in social media last year. Different influencers create campaigns that resonate with with niche audiences, ranging from business travelers to vacation seekers interested in luxury resorts, to families that may be more budget-minded.
Some user-generated content gets repurposed into marketing campaigns. The marketing team frequently inserts user-contributed images into its email and digital advertising campaigns and also on its website.​
Employee management on social media also gets complicated at a certain scale. At last count, Meliá had more than 400 social media accounts, including 165 social media profiles for its individual hotel properties.
To centralize content management for all these accounts, the company partnered with HootSuite to develop a library of pre-approved content. Meliá now has the tools it needs to centrally control how content is distributed, globally and locally, across multiple organizational levels and regions. while ensuring brand compliance and consistency in messaging.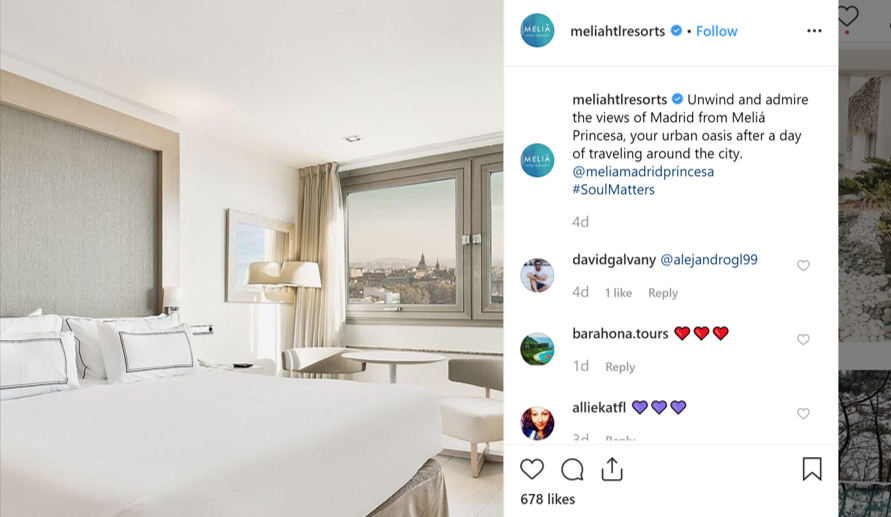 Meliá Hotels encourages its employees to act as brand ambassadors by engaging with people on social media. Employee advocacy drove more than 142 million social media impressions last year, attributed to more than 61,000 posts shared by company ambassadors.
One of the accounts belongs to the company CEO, Gabriel Escarrer, who maintains a high-profile presence of his own on Twitter and LinkedIn, engaging with followers and answering questions about travel, tourism and lodging with the hashtag #AskCEOMelia.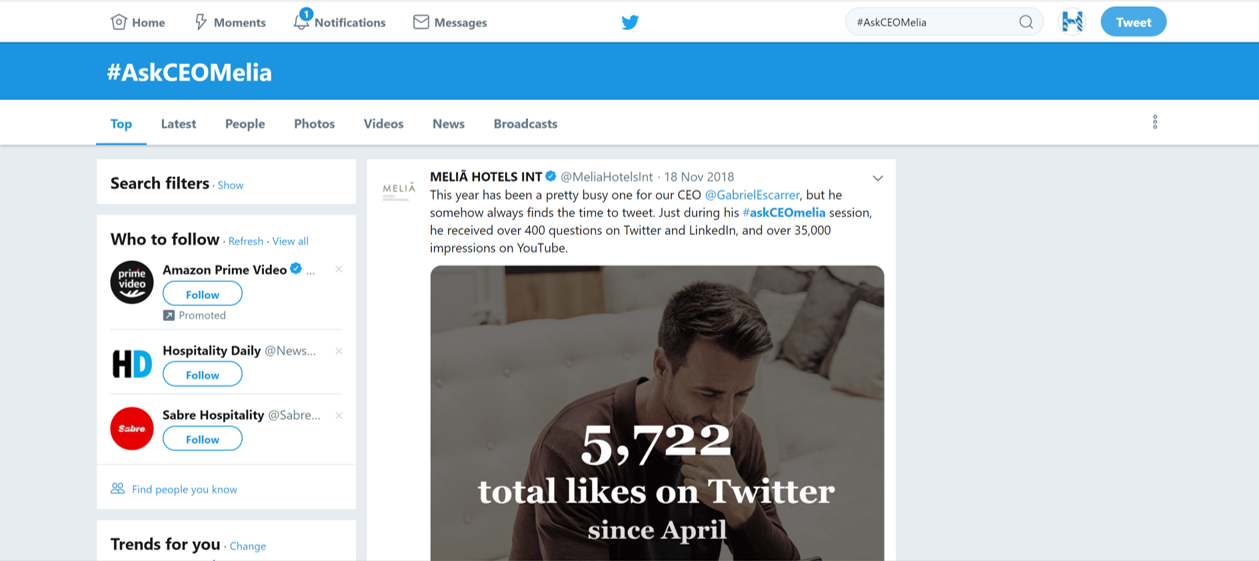 Meliá uses a range of performance metrics to meticulously track and measure success. Obvious metrics include follower growth as well as the number of sessions coming from social media to the company's booking website. The company looks at revenues by week, individual social campaign performance, as well as how different content posts are performing in terms of clicks and traffic.
Traackr is used to evaluate influencers and and other tools are used to measure the number of sessions from each channel. An attribution model measures the all-important conversion rates (i.e., guest bookings that originated from social channels) at a granular level.
By immersing itself in the trials and tribulations of social media, encouraging employee participation, building communities of influencers, implementing the right technology tools and content creation and management processes, and monitoring and measuring performance each step of the way, Meliá Hotels has achieved a level of user-generate engagement and brand advocacy that may well exceed that of any other major hotel brand.
The road to social media success can be rife with challenges. For Meliá, the investment in time and effort is already translating into significant revenue growth, if the newly-released year-end performance numbers are any indication.