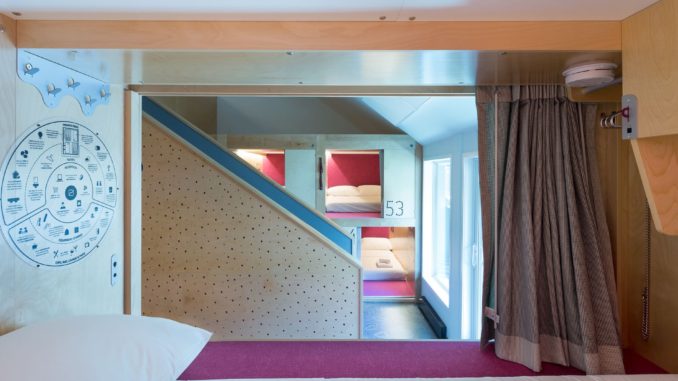 Pangea Pod Hotel, which opened last August in Whistler, Canada, houses guests in pods – units of about 40 square feet, each containing a double bed surrounded by three walls and a curtain. A total of 88 pods, each stacked two high and divided into eight suites, provides its guests with the latest in comfort and convenience. The hotel also ensures privacy and low pricing via its unique pod-based design.
The wood-lined pods have doors for luggage as well as storage closets just outside the pod. It also has multiple charging points including USB ports and lockable cabinets with cable-sized openings. The pods, which are built with acoustically absorbent materials, are surprisingly quiet despite their close proximity. The pods are also decidedly affordable. Prices start at $50 a night per person midweek in the low season to $180 a night on peak ski season weekends.
Now the Pangea Pod Hotel, the brainchild of Russell and Jelena Kling, who met 15 years ago at a hostel (appropriately enough), has upgraded its guest-facing technology features. This week, it was announced that the hotel has implemented VingCard Essence door locks from ASSA ABLOY Global Solutions. With guests able to check themselves in using a self-service kiosk, the deployment of the next-generation door locks enhances convenience throughout the premises as guests either enter the building or attempt to access certain areas, while always maintaining high security standards.
Once checked-in using the property's proprietary self check-in kiosks, each guest receives their own personalized RFID wristband which, in addition to being used as a form of payment for on-site purchases such as drinks or food, is used as a secure key for door locks. The solution's minimalistic design blends nicely with the Pangea Pod Hotel's chic style. Essence features only a stylish RFID reader that is visible to guests, with all other components encased within the door itself.
While Essence ensures that each guest is able to gain seamless access by placing their wristband within proximity of the RFID reader, the solution is also equipped with the industry's most advanced security protocols. This includes anti-key cloning abilities that leverages advanced data encryption to eliminate the risk of unauthorized access. Wristband keys are also instantly deactivated upon guest check-out, further preventing any potential lapse in security integrity.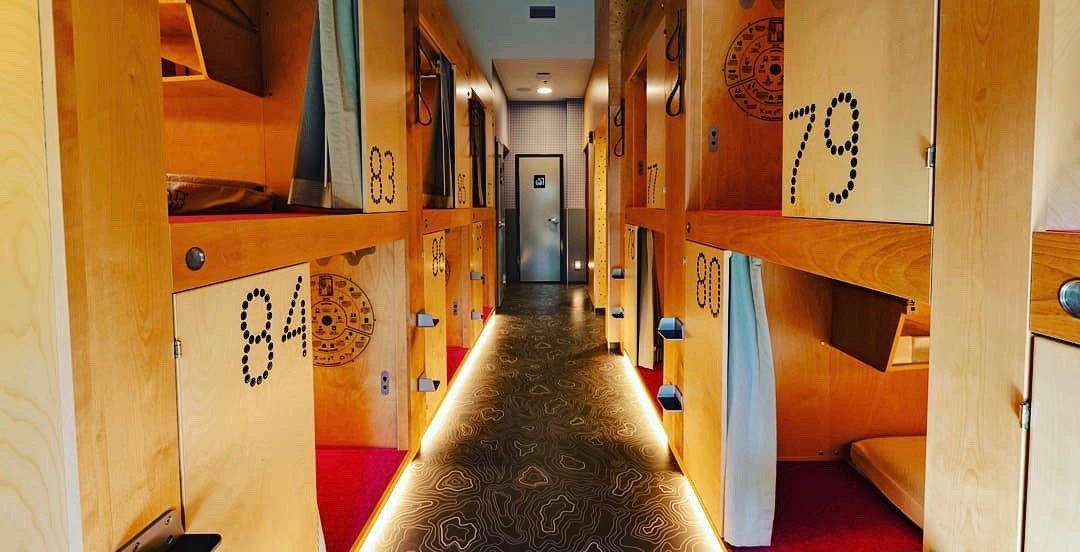 Designed as a future-proof solution, Essence door locks come mobile access-ready. This allows the hotel to later upgrade to providing guests with the ability to use personal smart devices as digital room access keys, without the need for any additional equipment purchases or installations.
Likewise prioritizing guest safety as much as convenience, mobile access leverages advanced encryption technology to safeguard digital key and room number information from data theft and unauthorized access.
Once generated, such data is transmitted to guest devices using a secure communications channel and is then stored inside a digital vault within a hotel's app. Once a guest presents their device within proximity to the appropriate guest room lock, digital key information is again transmitted via a secure channel in order to ensure that data is not able to be compromised at any step of the process.