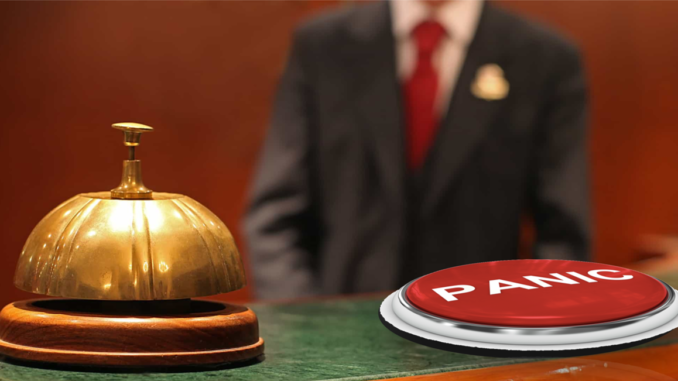 It seems like out of nowhere, electronic safety devices (ESDs) have gone from aspirational trend to legislated mandate for hotels. But when you think of it, it's been a long time coming.
For practically the entirety of the twentieth century – since the dawn of modern hospitality – we've been putting our team members in perilous situations. As it relates primarily to housekeepers, room attendants and room service servers, we've asked countless employees to approach then often enter a stranger's space by themselves without a direct line of sight and not within earshot of anyone else.
This has been wide-reaching consequences, the worst being putting a team member's safety at risk, but just the possibility of danger has been enough of a morale depletant over the decades to give certain organizational roles a toxic aura. For instance, I don't doubt for a second that the horror stories of housekeepers past have deterred many potential hires, thereby contributing to the current staffing problems we presently face.
Given this likelihood for not only widely augmented safety but also improved morale and employee retention, I'm all over ESD adoption at any hotel worldwide.
Taking Action
Now that we have the technological means to offer a portable and scalable solution, implementation is happening fast. It's been over a year since many of the major brands and the American Hotel & Lodging Association (AHLA) united to proclaim the 5-Star Promise pledging to make hotel employee safety a priority, and the illustrative map I've drawn up shows some of the territories within the United States that have legislation in place to compel all properties into action.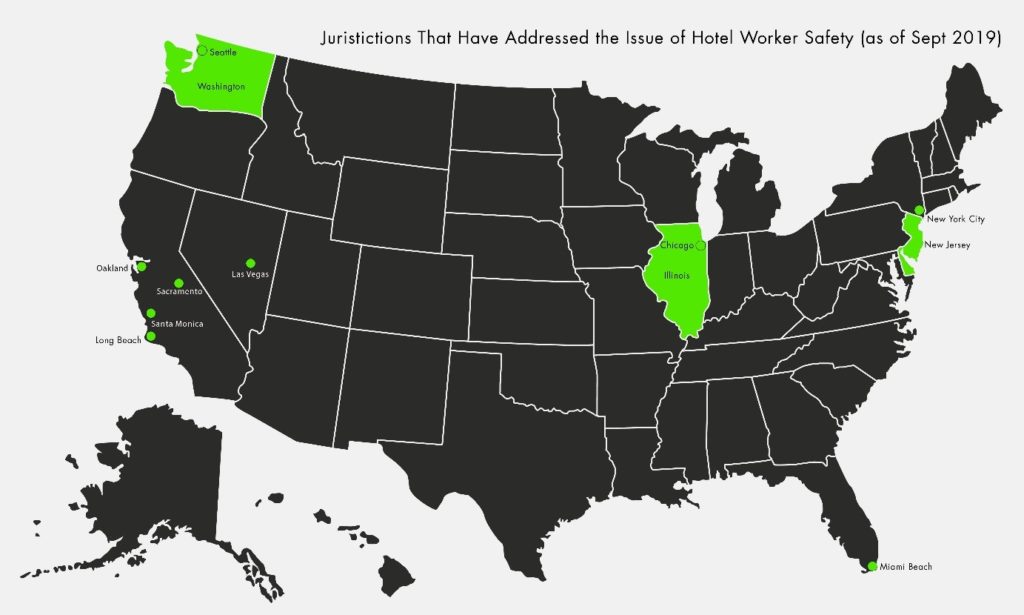 Rest assured that more states and cities will be passing regulations in the coming months and years, particularly in those regions where the labor unions are particularly spirited. Whether you are ordered by law or not, it behooves you to invest in a panic button system as a necessary precaution both against future statutes and to mitigate risk.
But What Action To Take?
Although the various governmental bodies – be they either state or municipal – have decreed that hoteliers act to protect their teams from harm, they leave the exact details open to a bit of interpretation. Yes, they mandate ESDs, but the new laws don't dictate which specific type of panic or wearable notification button is required for compliance. It's up to you to choose what you feel is best.
While the 5-Star Promise has garnered a thorough investigation into all possible security products that can be deployed – and indeed a surge in the purchasing of these products along with increased back-end connectivity systems to support them – a prominent question that many hoteliers ask regarding ESDs is whether they should be loud or silent.
With quite a few vendors already in the field, there are some common attributes that all panic buttons should have, namely that they are battery-powered and that they can deliver an uninterrupted signal to security for alerts and indoor tracking using a combination of Bluetooth beacons, IoT or 4G/LTE (and all without relying on the heavily used guest WiFi bandwidth). The noise issue appears to be quite divisive.
In Support Of Loud
Recalling the psychological principle underlying old-fashioned car alarms, proponents of wearable safety devices that make a blaring, cacophonous sound after being pressed will argue that this alone acts as a deterrent against further progression of the threatening activity. Furthering this point is that if unconnected car or house alarms weren't effective then they wouldn't have been so widely adopted to begin with.
The hope with hotel panic buttons is that the clamor will implicitly indicate to the attacker that the front desk and security teams have been notified and are already dispatched to the employee's exact location, stopping the threat right there and then. Moreover, other passersby – either in the hallway or adjacent guestrooms – may also hear the alarm and be inclined to help.
In Support Of Silent
A chief worry of a noisy ESD is that it will have the opposite effect on the aggressor; that it will cause said person to act impulsively and more combatively, trying foremost to take the panic button and disable it by whatever means fastest. Such situations would likely result in more physical harm to the employee, while rendering the device inoperative will sever the real-time GPS so that from thenceforth the exact location of the team member in danger won't be known.
Moreover, sound needs space, so the car alarm example doesn't quite apply as one functions mostly in the open air of the outdoors while the other is designed for the tighter confines of indoor rooms, ones that often have specific features in place to dampen echoes and heighten guest privacy.
Lastly, although of lesser significance, speakers of any emphatic decibel level will inevitably require more battery power to stay operational, meaning that over the long run they may wear out faster.
Loud Or Silent?
Given the rebuttals offered for the blaring noise emissions upon tap of an ESD, I am inclined to opt for the latter, quieter systems. In all instances, security is notified and will respond, but I am troubled by the potential danger of further harm to any employee that may be propagated by the sounding of an alarm.
Importantly, think about the location of where the noise is emanating from. Panic buttons are likely to be pinned to a lapel, tied around the wrist or worn as a necklace. In these cases, the people who will be most affected by the cacophony are the wearers themselves, greatly exacerbating these individuals' anxiety in an already stressful situation and not to mention possibly damaging their ears.
One key protocol that's taught when reacting to a threat is to remain calm so as to not provoke the assailants any more than they already are. Yet how is this to be expected when you're bombarded by a 100dB siren blaring less than a foot from your face?
Moreover, reconsider exactly who would hear the rancor of a loud alarm then rush to the sufferer's aid. More often than not, housekeepers are working by themselves and active during the specific times when guests are most likely to be out and about. Meanwhile, the next closest room attendant is, say, operating a vacuum cleaner behind a closed door that's a dozen or so guestrooms down the hall or on a different floor altogether.
Sorry, but no one else is realistically going to hear the signal emitted by the panic button, except for the attacker, of course, who we've already discussed insofar as being agitated by said noise. If you want the situation to play out in as controlled a manner as possible, then silent ESDs is the way to go.
Ultimately, it is a decision that must be taken with great care and due consideration of your specific property's needs. Loud or not, though, you had better come to a resolution fast as the law (and the lawyers) are rapidly closing in on hotels that are not mitigating risk through the deployment of ESDs.
Related article: Solution Providers Shift Into High Gear to Meet Hotel Demand for Employee Safety Panic Buttons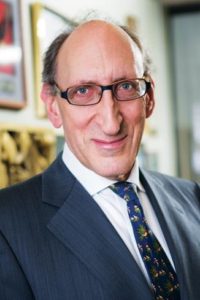 One of the world's most published writers in hospitality, Larry Mogelonsky is the principal of Hotel Mogel Consulting Limited, a Toronto-based consulting practice. His experience encompasses hotel properties around the world, both branded and independent, and ranging from luxury and boutique to select-service. Larry is also on several boards for companies focused on hotel technology. His work includes five books, "Are You an Ostrich or a Llama?" (2012), "Llamas Rule" (2013), "Hotel Llama" (2015), "The Llama is Inn" (2017) and "The Hotel Mogel" (2018). You can reach Larry at [email protected] to discuss hotel business challenges or to book speaking.
This article may not be reproduced without the expressed permission of the author.
Are you an industry thought leader with a point of view on hotel technology that you would like to share with our readers? If so, we invite you to review our editorial guidelines and submit your article for publishing consideration.