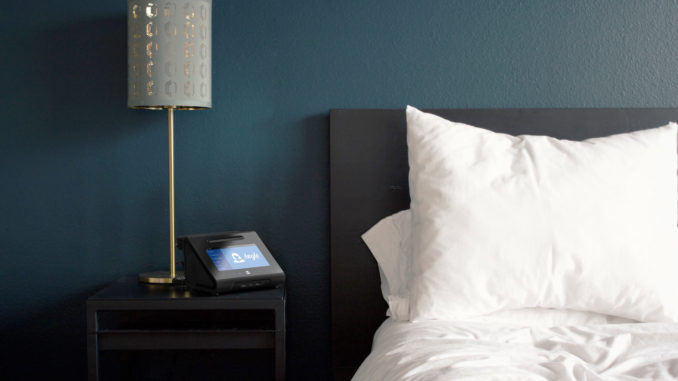 Hospitality solution provider Angie Hospitality, developer of the industry's first 24-hour interactive guest room assistant purpose-built for the hotel environment, has announced the seamless integration of its newly expanded line of Angie devices with hotel IP-PBX systems. As a result, hoteliers will no longer need to make additional and often costly guest room equipment purchases.
Compatible with IP-PBX systems used by many hoteliers today, the Angie device serves as an in-room SIP (Standard Initiation Protocol) device, giving guests the ability to either make offsite calls or connect with hotel personnel in various departments using Angie's built-in voice control or high-resolution touch-screen. This advanced telephone functionality significantly augments Angie's multi-purpose platform, which provides hotel guests with a wide range of conveniences through its award-winning virtual assistant technology platform.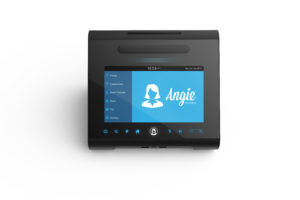 Angie's patented technology uses both voice control and touch screen capabilities to offer a complete solution for hoteliers looking to increase guest satisfaction, streamline operations, improve staff efficiencies and maximize revenue opportunities. The platform offers configurations to provide IP telephony, room automation features, energy management and more, through seamless integration with leading hotel technology system providers or as a complete stand-alone system. Angie instantly upgrades any hotel room, allowing guests to play their own music through its built-in Bluetooth speakers, make hands-free calls, access hotel amenities, charge their mobile devices, and much more. Angie can even provide guests a customized and secure in-room Wi-Fi network.
Now, by functioning as a plug-and-play SIP device, Angie is able to instantly connect with virtually any IP-PBX system without the need for complex integrations. This seamless integration with digital telephone systems provides a range of benefits for hoteliers, including a significant reduction in hardware and maintenance costs that are frequently attributed to legacy analog systems. Hoteliers can also reclaim valuable space that bulky analog servers typically take up in a property's server room. With Angie's telephone features utilizing state-of-the-art Voice over IP (VoIP) technology, guests are also able to enjoy HD voice quality, which provides a much clearer and crisper phone conversation experience.
"Today's increasingly tech-savvy guests rightfully expect the same level of technological convenience they enjoy at home and on their mobile devices from hotel offered amenities — including the guest room telephone," says Ted Helvey, CEO of Angie Hospitality. "With Angie, we have taken into account that the communication needs of each guest are different, so guests are able to either pick up a handset and dial an extension or outside number, or if they prefer simply say 'Hey Angie,' and ask to be instantly connected to the desired individual or department. Angie can also connect to guest's mobile device via Bluetooth to enable cellular calls or streaming music."
While both Angie Luxe and Angie Luxe+ models are able to serve as a guest room telephone, Angie Luxe+ is also equipped with a telephone handset for guests that prefer a more traditional experience. Alternatively, guests may enjoy touch-free convenience by simply asking Angie to connect them with a particular hotel department using voice command. Angie's touchscreen interface further provides speed dial options for departments such as the front desk or housekeeping. Angie is also capable of fully replacing guest room IP-based telephones and saving hoteliers the expense of purchasing additional equipment by being emergency call compliant. Using an Ethernet connection, Angie can ensure that hotels can conform to state requirements for call stability, as well as other 911 emergency call needs.
Once implemented, Angie's telephone functionalities have been attributed with significantly streamlining guest communications. For example, nearly half of guests all guests choose to leverage Angie's telephone abilities to make calls and to communicate with reception.
"We were immediately intrigued by Angie because the solution can easily consolidate and act as a replacement for many devices in the guest room that either take up valuable real estate in the room or are costly and difficult to implement," says Joshua Herron, Director, Technology & Experience at Innisfree Hotels which operates the Mercantile Hotel New Orleans. "Angie really is a full-featured solution that, in addition to its guest request streamlining abilities, serves to address a wide range of guest needs in a way that is far more convenient, effective and affordable."
In addition to serving as a telephone, Angie provides each guest with the ability to access hotel and local information or make service requests using either voice interaction or the device's built-in touchscreen. Other features include the ability to serve as a nightlight, Bluetooth speaker, USB charging station and a private in-room Wi-Fi network. Leveraging an integration with Hotspot 2.0 by GlobalReach Technology, Angie can further provide guest devices with a seamless one-time internet connection process that mirrors today's cell phone experiences. While capable of serving as a standalone solution, Angie can also integrate with an array of disparate hotel systems to provide guests with voice- and touchscreen-based control over amenities such as televisions, thermostats, lighting and drapes.
Does your company have news it would like to share with our readers? If so, we invite you to review our editorial guidelines and submit your press release for publishing consideration.