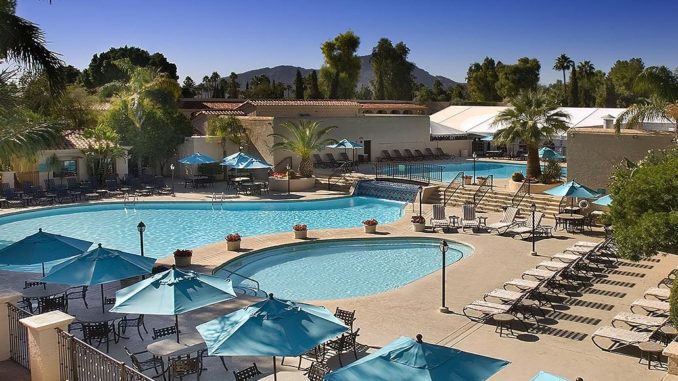 Scottsdale Plaza Resort, which boasts 40 acres of landscaped grounds and over 40,000 square feet of flexible and functional meeting space and serves business travelers, conventions and special events, implemented PVNG Enterprise Back Office hotel accounting software system from Aptech Computer System.
"We evaluated several back office systems and Aptech's was the most comprehensive solution," said Sally Stewart, accounting manager for Scottsdale Plaza Resort. "It is a great back office system and Aptech's team is very knowledgeable about hotel operations and back office accounting processes." Scottsdale Plaza Resort wanted a Cloud-based accounting system that provided flexible, comprehensive reporting for its independent operation.
Aptech Computer Systems is an IBM Premier Solution Provider as well as a Prophix Premier Business Partner offering web-enabled business intelligence, budgeting, and hotel accounting software systems that are 100% hospitality specific.
"In addition to PVNG's extensive report portfolio, we create custom reports for our independent operation," Stewart said, "Our executive team can get the specific numbers that are important to their decisions. PVNG helped us setup a Culinary and F&B Outlet financial report.  These combined reports assist the managers in giving them a quick overview of their department on one page.  I setup PVNG so our managers can look at any report online that they want to help them manage better. In addition to the Scottsdale Plaza Resort, we have four other entities on PVNG and the system handles our entire operation very well."  
Sam Costa, Aptech director of customer service and support, said, "Independent operators like Scottsdale Plaza Resort have helped Aptech expand PVNG's functionality and add flexible reporting. The property's executive team has done a great job putting our system to work to improve its performance-based business decisions."
"PVNG communicates with our property management system so we do not have to rekey close-day numbers," Stewart said. "The system is fast and Aptech support is excellent. I cannot say enough about Aptech's professional team. The system was easy to install. We took our training over the phone."
PVNG is Aptech's browser-based Enterprise Back Office System. Aptech also provides the Execuvue® Business Intelligence system that enables large or small hotel companies to dynamically analyze their data with drag and click simplicity.  Targetvue is Aptech's hospitality-driven budgeting and forecasting solution. Aptech's solutions enable hotel companies to be proactive operationally and financially. 
Incorporated in 1970, Aptech's state-of-the-art back office, true business intelligence and enterprise planning solutions are 100% hotel specific.  Solutions include PVNG, Execuvue® and Targetvue. Clients comprise over 3,500 properties – including large chains, multiple-property management companies and single-site hotels.