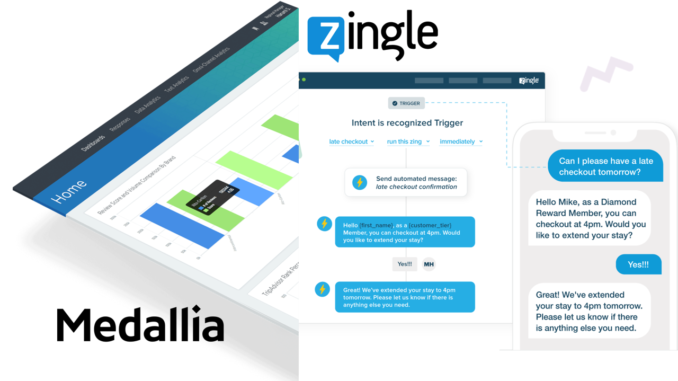 Medallia has acquired AI-based guest engagement platform and messaging solution provider Zingle for approximately $42 million in cash. Zingle's technology is used by many of the world's leading hospitality and travel companies to deliver high-touch service. Zingle would seem a good fit Medallia, which over the past two decades has established itself as a market leader in customer experience management technology.
Zingle has invested in AI to intelligently distribute service requests across an organization to drive increased revenue per customer through immediate service delivery and personalized offers at the right time. After raising $11 million in funding late last year, Zingle has been singularly focused on building out its suite of hotel-specific product features.
Recently, the company announced new integrations with several leading solutions used in hospitality property operations, including Springer-Miller Systems, Maestro PMS, Megasys, and Visual One from Agilysys. With these new integrations, Zingle gained access to key customer data that allows hotels to segment customers, personalize communications, and deliver an elevated service experience. Ingesting critical guest and reservation information also enables Zingle to trigger the creation of service tickets based off of guest messaging conversations, as well as pass conversational intelligence to business intelligence tools to correlate customer communication patterns with spend.
The new integrations allow hotel and resort customers to leverage the wealth of data they have access to through their third party systems and put it to work through Zingle's platform to improve operations, drive additional revenue and create memorable guest experiences.
With Zingle, customer data can be consumed from virtually any system through pre-built API integrations, flat file imports (SFTP/email), and third-party connectors. Zingle also has pre-existing integrations with Amadeus HotSOS and Oracle's Opera.
This summer, the company rolled out several new AI and analytics features aimed at increasing hotel loyalty and personalizing the end-to-end travel experience, including auto-categorization, rollup analytics, intent-triggered automation, and conversation analytics. Together these features should go a long way toward helping hotels to communicate with guests in more meaningful and personalized ways while capturing actionable insights to improve operations.
Auto-categorization
Auto-categorization takes Zingle's manual categorization of messages to the next level, applying artificial intelligence to automatically categorize messages. This gives hotels greater insights into trending topics and potential service issues.
Rollup Analytics
Rollup analytics and reporting is a powerful way to gain insight into guest engagement and resolution performance, not just for a specific location, but across all the properties in a portfolio. Users are able to get as granular as needed with filtering and grouping capabilities, or select different attributes to look at big-picture performance metrics across all properties.
Intent-triggered Automation
Automations ("Zings") are powerful, automated workflows hotel operators can deploy to drive operational efficiencies and improve the guest experience. Zingle users can set up a "trigger" that will automate an "action." Intent-triggered automations use Zingle's trained AI to recognize hospitality focused "intents" in guest messages. There are dozens of intents available today, including intents to recognize plumbing issues, process information requests (like gym hours), or request room-cleaning.
Conversation Analytics
Zingle's new conversation analytics provide real-time data and insights on how responsive guests are through all the messaging channels Zingle supports, and how effective staff is in responding to and resolving guest needs. Reports include insights on conversation volumes, median messages per conversation, peak message times, user responsiveness and resolution times by agent, resolution performance by time period, and more. Analytics provide actionable guidance for increased customer engagement, as well as the ability to maximize team efficiency and effectiveness.
In addition to a steady stream of new product features and enhancements, Zingle had seen impressive growth in its customer base, and an expansion of activity on its platform as hotels discover new ways to engage and service guests with brand-differentiated experiences orchestrated through Zingle. Hundreds of hotels and resorts, including properties from such brands as Kalahari Resorts, InterContinental Hotels & Resorts, and Great Wolf Lodge, have subscribed to Zingle's solution.
Meanwhile, founded in 2001, Medallia is the pioneer and market leader in customer experience management technology. Based in San Francisco, and with 15 global offices, including in San Mateo, New York, London, Paris, Sydney, Buenos Aires, and Tel Aviv, the company's platform reportedly tracks a billion comments each quarter. Total revenue for last quarter was $95.7 million, an increase of 27% from the same period last year.