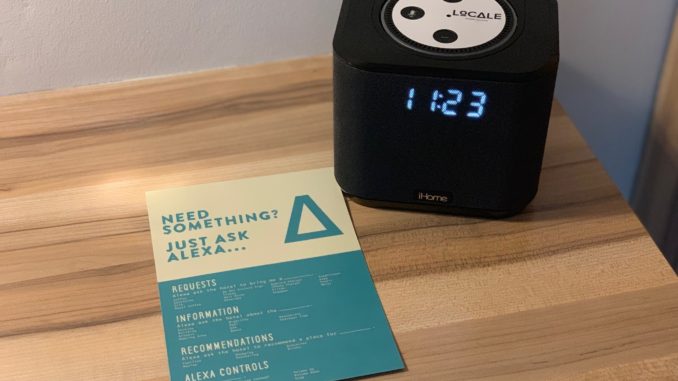 Locale, Grand Cayman, which opened its doors in March, became the first hotel in the Cayman Islands to feature Amazon Alexa voice assistants powered by Volara in every guestroom.
As an independent boutique hotel, it was important to management that the new hotel differentiate itself in the market and attract modern travelers looking for a more personalized experience without a lot of unwanted staff interaction. By adding the in-room voice assistants, Alexa is answering guests' requests for hotel information, services and concierge recommendations in real time, and it's giving the property the desired "cool factor" sought by today's modern travelers.
"Partnering with Volara to bring Alexa voice assistants to each guestroom was really important to us from an operations and guest service perspective," said Aliya Dunstan, Locale, Grand Cayman sales and marketing manager. "With it, guests don't have to stop and call the front desk when they want to know what time the pool closes or when they need extra towels. They can just ask Alexa! It removes the middleman, which is great for staff because they can spend time serving guests who want or need the in-person assistance and it speeds service for guests because it's one less inconvenient step they must take on their travel journey.
"We want to break communication barriers and be on target with travelers' demands," she said. "Anticipating guests' needs and giving them a highly secure digital voice assistant in their rooms to serve as a personal concierge is a first step towards meeting that goal. And, with Volara-powered Alexa devices in our rooms, we don't have to waste money printing traditional in-room collateral; the device is making us more ecofriendly, which is so important to an island destination."
Dunstan said the Locale, Grand Cayman's corporate guests are really enjoying the voice assistants. Many of them are moving to the island and are staying for an extended stay until their homes are ready; the average length of stay for leisure guests is three days while corporate customers tend to stay two weeks or more. Volara is giving the accommodation a more home-like feel because, as Dunstan said, "everyone has a voice assistant at home."

"Having a Volara-powered Alexa in our rooms is a comfort to guests as they transition, especially knowing that if they have questions, they aren't involving another person with their requests," she said. "Our travel partners and corporate clients are encouraged to bring their people to our hotel now that we have Alexa. We're seeing extremely high usage of Alexa powered by Volara, along with increasing net promoter scores."
Volara's software is enabling the hotel to manage conversations with its guests in real-time. Its secure integrations hub, which now includes more than 40 hotel technologies, is enabling guest requests to prompt specific actions – whether routing a task to hotel staff, providing directions or just keeping guests apprised of what is happening at the property.
The architecture of Volara's software enables additional layers of security to ensure that guests' personal information and conversations are protected, and the hotel's proprietary data is secure. Volara's patent-pending Accuracy Engine ensures guest requests are properly handled, taking into consideration the many colloquialisms and accents used by global travelers.
Locale, Grand Cayman is far from the typical Caribbean hotel. The contemporary, industrial-style rooms and lofts are designed to be a hybrid between comfort and productivity for the ultimate live, play and work experience. The hotel's shared common spaces feature reliable free Wi-Fi and an open plan design to bring guests together as a community. The property features the Bonfire Urban Kitchen, along with a welcoming "chill area", communal workspaces, craft cocktail bar and pool.
"Locale, Grand Cayman is redefining the traditional hotel experience by throwing out the conventions of the past and inspiring a natural stay that encourages endless adventure," said Volara CEO Dave Berger. "We are delighted that Volara is now playing an important role in enabling those experiences with Alexa. When we first met with the hotel, management explained to us that the vibe of this property is 'self-help, not stuffy help' with a lot of hands-on staff involvement. They said that the people choosing to stay at Locale – primarily millennials – are heavily dependent on voice search in their daily lives and that the 'coolness factor' of Volara will truly set their property apart from others on the island."