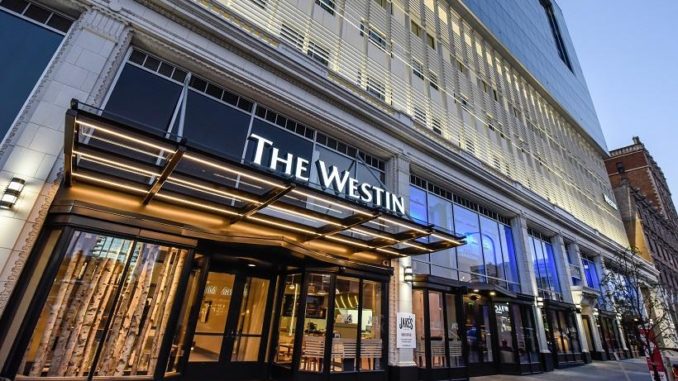 The Westin Buffalo, located within Delaware North's global headquarters in Buffalo, New York, and one of the upper-upscale properties in the Starwood collection, has been an early technology adopter since it opened in September 2017. Just a few months after opening, for example, the hotel, which occupies the first five floors of the 12-story hotel and office tower, added robot butlers to the hotel staff.
It was the first hotel in New York State, and one of just 20 hotels in the country at that time, to employ a Relay robot, manufactured by California-based Savioke. The Savioke Relay, nicknamed Chip, is programmed to provide automated service to hotel guests, from bringing a cold cocktail to their room to delivering extra towels or dropping off a complimentary toothbrush and tube of toothpaste.
Now, a year and a half later, the Westin Buffalo has become the first hotel in New York State to deploy guest-servicing Echo devices in each of its 115 guest rooms, where guests can now connect their own Amazon accounts with their personal music playlists.
This new technology is managed by software developed by Volara, a provider of custom voice-based solutions to the hospitality industry. It enables guests to have the option to temporarily and securely connect their Amazon account to the Alexa device in their room so they can listen to their personal music from services such as Amazon Music, Spotify, and Pandora.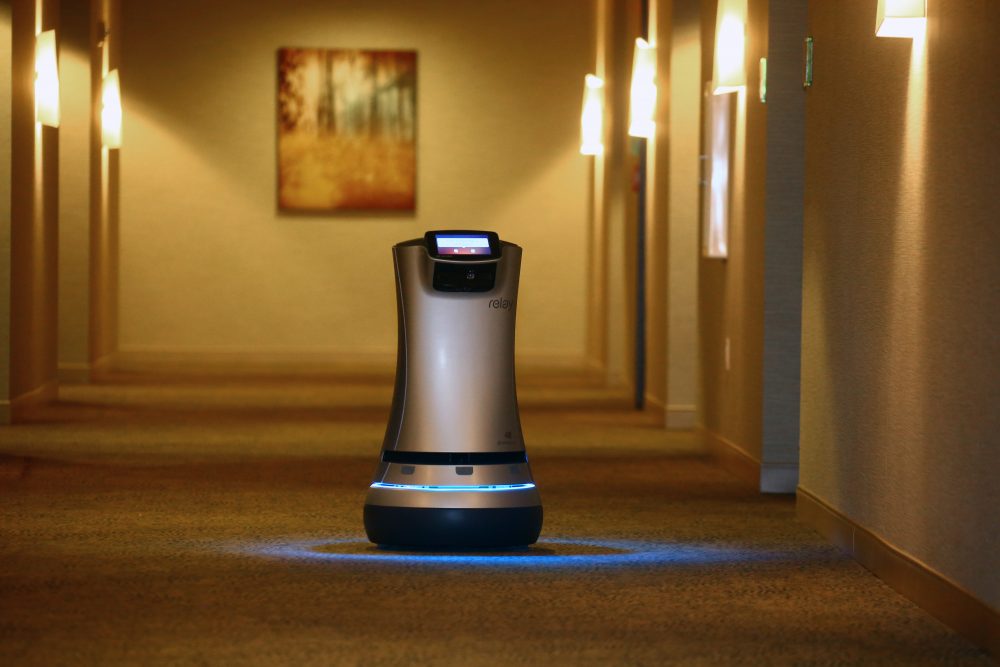 When a guest checks out of the hotel, the devices are automatically cleared of all personal accounts. No personal data is saved or stored.
"With the support of Delaware North, The Westin Buffalo has been able to use innovative and thoughtful technology solutions to enhance our guests' stays," said Tom Long, the hotel's general manager. "In this instance, the ability to access their personal playlists from a hotel room allows our guests to have some of the comforts of home while they travel."
The Amazon Echo devices at The Westin Buffalo also provide an easy, fun way for guests to request services, get recommendations, and generally engage with hotel staff and services. Guests can ask "Alexa" questions typically asked of a hotel concierge, valet, housekeeper or bellman. The interactions are integrated with existing hotel software and immediately communicated to staff.
In another "first" for the hospitality industry, and marking one more milestone in the annals of hotel technology, The Westin Buffalo was the first in the world to offer guests voice-controlled access to iHeartRadio. The free, all-in-one digital music, podcasting and live-streaming radio service is available for guest to enjoy through the in-room Amazon Echo devices.
Last month, perhaps in part account of its next-generation technology amenities, The Westin Buffalo was named by Marriott International as its "Hotel of the Year" for the Americas in the Distinctive Premium category. The hotel is managed by Delaware North, which ranks as one of the largest privately held hospitality companies in the world, with more than 55,000 employees and annual revenue of about $3 billion. Founded in 1915 and owned by the Jacobs family for more than 100 years, Delaware North has global operations at high-profile places such as sports and entertainment venues, national and state parks, destination resorts and restaurants, airports, and regional casinos.