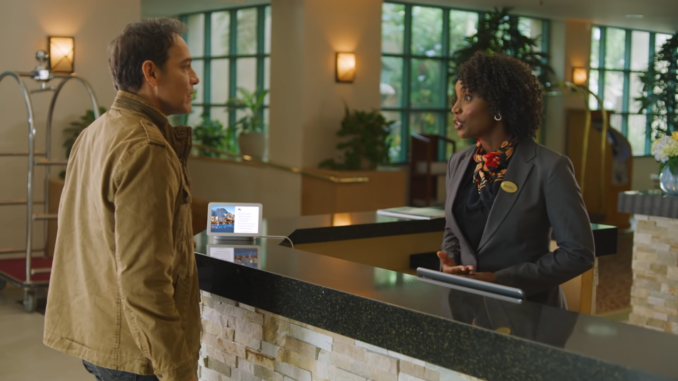 With the travel industry already achieving 1.4 billion international tourist arrivals worldwide, hoteliers need to address the most basic hospitality principle – hotel-to-guest and guest-to-hotel communication. Today's modern, mobile-dependent travelers expect a frictionless experience. But what happens if no one at the hotel speaks their native language? Frustration sets in, especially when guests feel misunderstood by front desk staff the moment they check-in. What comes next is negative online reviews and potentially a flurry of lost business.
To eliminate language barriers and engage more deeply with guests, Google has developed a voice translation technology spanning languages that is now being made available to hotels worldwide through a distribution partnership with Volara. This new feature on the Google Assistant, called interpreter mode, is designed to facilitate real-time translation between two people. This technology can improve the quality of interactions between hotel staff and guests, resulting in better communications and high-value service.
By placing Google Nest Hub devices – provisioned by Volara with enterprise grade management tools and custom branded hotel content – at their front desks or concierge stations, foreign-speaking travelers can speak commands in their native tongue and have those requests translated accurately and in real time.  Text of the conversation will appear on the Google Nest Hub smart display to verify the translation. Not only does this relay to the traveler that his or her business is valued and appreciated, but it starts the stay out on the right foot.

Here are 4 ways that the Google Assistant's interpreter mode will improve guests' perceptions of your hotel, boosting satisfaction and loyalty.
Attracting New Travelers
Online consumer reviews are a must in today's marketplace. Nearly everyone seeks out customer reviews before making a buying or booking decision. If you want to know if a hotel is foreigner friendly, just "Google it." By reading guest comments, it will be easy for international travelers to determine if they want to stay at your hotel or not. Guests love the service, and it reflects in their customer satisfaction scores and online reviews. The more positive reviews from guests who loved their stay because they didn't encounter frustrating language barriers, the more likely the hotel will grab the attention of other travelers who speak a foreign language.
Raising Service Levels
Adding the Google Assistant's interpreter mode will generate good will by showing guests from a foreign market that you value their business and that the hotel is going the extra mile to ensure an exceptional stay experience. There is no better way to personalize a stay than to enable guests to speak requests in their own voices and with their own colloquialisms and accents and hear their requests conveyed clearly.
Ensuring Consistency
Consistency of service across the hotel enterprise is important, especially if you fly the flag of a global hotel brand. Placing a Google Nest Hub with the Google Assistant's interpreter mode at all properties within the portfolio ensures that consistency and it communicates to travelers that no matter which hotels they visit within the chain, they are guaranteed a frictionless stay due to the provided translation technology.
Motivating Employees
Happy employees mean happy guests, and happy guests spend more money. By giving hotel staff tools that will make it easier for them to do their jobs, it will ultimately increase guest satisfaction and drive revenues. If your hotel has a significant number of employees who only speak one language, adding the Google Assistant's interpreter mode will enable staff to do their jobs better. It will boost productivity, eliminate miscommunications, and improve morale.
When guests have an unpleasant stay because they feel their needs aren't met or the language barrier causes too much confusion and frustration, the hotel can expect to lose business. The Google Assistant's  interpreter mode on the Google Nest Hub, provisioned and managed by Volara, is a smart way of doing business.  Not only will it make guests happy by enabling them to request onsite services in their own language, it will reap intangible returns from positive reviews and happy employees, resulting in an improved bottom line.
David Berger is the Founder and CEO of Volara, the voice hub for the hospitality industry. Volara's conversation management software and secure integrations hub turns the leading consumer smart speakers and natural language processing platforms into a hotel business tool.  Volara is building voice interfaces for leading hotel technologies, while providing hotels the software to manage conversations with their guests at scale. Volara is the Official and Exclusive Partner of Marriott for pilots of voice technologies.  It is also developing voice-based solutions for leading brands like Viceroy, Melia, Two Roads, and more.
Are you an industry thought leader with a point of view on hotel technology that you would like to share with our readers? If so, we invite you to review our editorial guidelines and submit your article for publishing consideration.