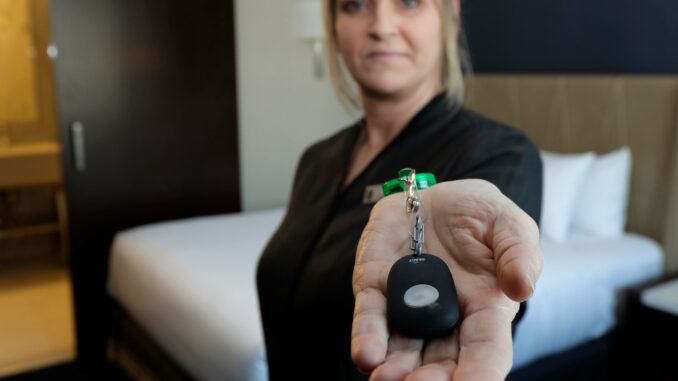 React Mobile, the original inventor of the BLE panic button and market-leading hospitality safety technology provider, is excited to announce the launch of the newest version of their Sidekick Bluetooth Panic Button. With over 50,000 Sidekick devices deployed worldwide to date, this intelligent new device has now been redesigned from the ground up to leverage the latest IoT technology and provide unprecedented reliability. This is a major leap forward for enterprise customers that rely on React Mobile technology to protect employees every day.
The company developed the enhanced React Sidekick 5.0 in line with new state mandates to address the longevity demands of a workforce that often performs their duties alone, away from colleagues and the public view. This new hardware and functionality that provides a robust, simple wearable device that staff can access quickly and discreetly to call for help when assistance is needed. Easily paired with company-issued mobile devices, this latest version of the Sidekick is small, lightweight, and is capable of long life expectations that far exceed standard Bluetooth devices. With easy one-click panic alarm activation, the elegant device is the fastest way to alert for help without the need to find a phone, putting security within reach, when it counts.
Major Improvements & Key features:
Connects via BLE to a smart device and is always on, providing fast and reliable delivery of alert information
Compatible with Apple or Android smart devices and pairs with the React Mobile hospitality app
Shock-resistant
Hardened military grade plastics for durability. IP 67/68, dust-tight, immersion up to 3.3 feet
Battery life has been greatly increased with firmware improvement to six months to one year of battery life
Dimensions: 1.14 inches wide x 97 inches tall
Compliant with current legislation and brand standards
"React Mobile is pushing the envelope when it comes to panic button and safety technology," explains Robb Monkman, Founder and CEO of React Mobile. "Due to the autonomous nature of working conditions in hotels, resorts, and casinos, the risks for staff is high and hotels are under increasing pressure to develop new safety protocols and invest in different technologies that protect their employees. While proper training in safety procedures remains crucial, providing mobile workers with the right tools to request and receive assistance in an emergency situation becomes more important and critical in avoiding negative outcomes."
React Mobile has been providing enterprise-class safety solutions for the better part of a decade. Their cloud-enabled ESD technology is reliable, cost-effective, easy to use, and requires little to no training. Worldwide support capabilities, 24/7 accessibility, and impressive implementation infrastructure are what make React Mobile the most trusted solution for hoteliers worldwide.
Does your company have news it would like to share with our readers? If so, we invite you to review our editorial guidelines and submit your press release for publishing consideration.