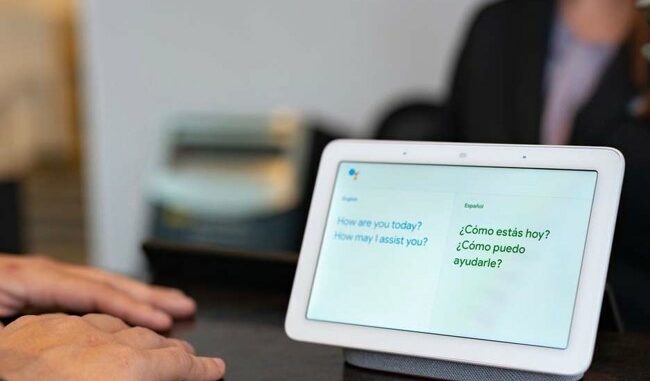 More than 170,000 people descended on Las Vegas last week to see the most transformative technology products on the planet during the 2020 Consumer Electronics Show.
New this year was a "Travel & Tourism" educational track that highlighted how smarter and safer technologies are transforming the travel and tourism industries. A technology that remained in the spotlight during the three-session program was voice – such as the in-room solution atop Amazon Alexa powered by Volara that enables hotel guests to request services on voice command in the privacy of their rooms or the newly launched 29 language translation tool for hotel front and concierge desks known as the Google Assistant's interpreter mode.
Both solutions improve guest engagement and mitigate the challenges many travelers face when at a hotel. Removing friction from the hotel guest experience with voice technology has the potential to redefine hospitality.
"Today's travelers expect and demand the same mobility and connectivity they enjoy every day along every step of a journey," said Dorothy Creamer, CES Travel & Tourism Session Moderator and Editor of Hospitality Technology. "As voice becomes the preferred method for guests to request service and information in their daily lives, travel providers will need to follow suit and use voice as a primary platform to remove friction from experiences. Empowering staff with voice-enabled devices will also increase efficiency resulting in happier guests and staff."
As Creamer noted, voice technology solves a problem that has taunted the travel industry for years: Friction.
The three sessions of the Travel and Tourism educational track highlighted the following:
"AI and VR in Travel" discussed how travel companies are using voice assistants to answer travelers' questions and stay competitive. The announcement that Viceroy Hotel Group – after three full hotel deployments – is going 'all in' preceded CES and brought this to life.
"The Travel Experience of the Future" looked at how technology – including voice assistants – are leading advancements and disruption in the travel industry. The session explored how hotels, airports and cruise lines are leveraging this technology to enhance the guest experience. The simultaneous announcement from American Airlines that they've adopted the Google Assistant's interpreter mode re-emphasized the points made in this session
"Smart Tourism" focused on how technologies – including automated voice – are assisting decision-makers in enhancing efficiency, sustainability and the user experience. The improved understanding of travelers needs – resulting from increased communication with them and a data-driven understanding of those communications when voice assistants serve as an intermediary – crystallized this session.
"Named the 'Best Voice Activated Tech Product of 2020' by HotelTechReport last week, we were especially thrilled to see voice technologies taking center stage at CES 2020," said David Berger, Volara CEO. "By adding Volara-powered voice assistants in hotel rooms, as well as now at front desks and concierge stands, we are enabling operators to reduce friction in guest service – extending a familiar on command home experience to the hotel environment. We've spent the past four years developing conversation-management software that improves the accuracy of interactions while ensuring hotel guest privacy so travelers can have immersive, interactive and memorable experiences without friction. Central to this strategy has been collaborations with the leading natural language processing platforms that guests know and love from their homes, cars, and phones to thrive in these unique commercial environments. We believe on command is the new on demand in hospitality, and we are eager to see what the future holds for this application."
CES® 2020 is the world's largest and most influential tech event, where the entire technology ecosystem gathers to conduct business, launch products, build brands and partner to solve some of the world's most challenging issues. More than 4,500 exhibitors launched nearly 20,000 new transformative tech products to more than 170,000 attendees January 7 to 10, encompassing 5G connectivity, artificial intelligence, augmented and virtual reality, smart cities and resilience, sports, robotics and more. CES 2020 featured new and expanded exhibit areas, 300 conference sessions with 1,100 speakers, and more than 1,200 startups from 45-plus countries.
Does your company have news it would like to share with our readers? If so, we invite you to review our editorial guidelines and submit your press release for publishing consideration.