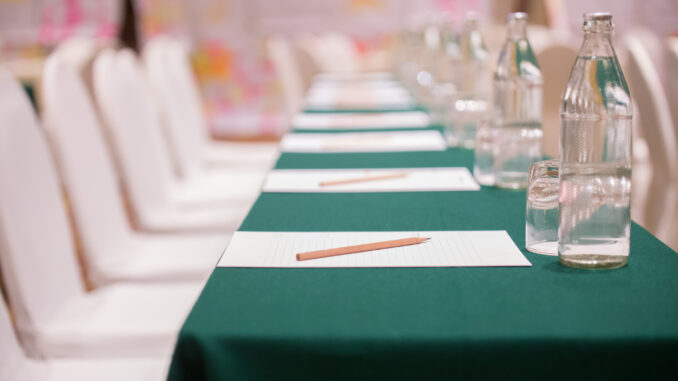 In the events industry, innovation never sleeps, and honestly, event planners probably don't sleep much either. With each passing year, events seem to get bigger and better, boasting exciting new technology, catering to attendees' needs in finer detail, and bringing guests together in unique venue spaces for a variety of occasions. Planners and venue owners find themselves on this momentous trajectory together, aligned in their desire to continuously break the mold and reinvent what makes for a great, memorable event at the perfect venue.
2019 marked a transformative year for hospitality and, with this in mind, we've pieced together those innovations and trends across the event and event planning industry that are positioned to shape the next decade. Whether you're an event planner or a hotelier offering up an incredible venue space, we're here to help you keep your finger on the pulse of what's to come.
Start with the Booking Experience — Venue Management Technology is In
"Experience" has been a fundamental talking point across seemingly every pocket of the hospitality realm for the past few years. Why? Simply, guests and event planners don't want to pay for an experience that could be considered mediocre. Whether marketing to a transient guest, event attendees, or a corporate group, hoteliers and event planners are in the business of meeting and exceeding expectations. Our service and product offering is precisely that: the experience.
That being said, it's important to remember that the experience doesn't begin and end with the stay or the event itself; instead, it starts before a planner books your venue, long before that first attendee checks-in. Historically, the pre-stay segment of the event planning experience was a delay-ridden, up-hill battle, notorious for manual processes and continued setbacks. This, fortunately, is where venue management technology comes in.
When hotels and venue spaces utilize a venue management platform, they're able to effectively market their space globally, while catering specifically to the needs and process of modern planners. Everything a planner needs to vet and book a venue space is centralized within one, easy-to-navigate platform — live availability, 3D virtual tours, instant RFPs, FAQs, amenity details, customizable packages, online payment options — you name it, the management platform has it. Leveraging this new technology, finding the perfect venue space has never been easier. Finally, the experience starts before the planner makes the decision to book, and that is where the real magic happens. Out with the old, in with the new.
Go Big, But Go Small Too
In the modern world of events, it's not just about large-scale experiences and conferences. In fact, meeting and small group travel make up a significant portion of the growing demand. Year after year, we witness a considerable rise in demand for meetings and events, with CWT Meetings & Travel predicting a 5-10% growth in demand. Not only that, but in 2018 six million international participants generated $38 billion of meetings direct spending, representing 11.5% of the sector total.
The projected growth for meetings, conventions, and event planners is expected to increase by 11% in the USA between 2016-2026. The take-away for hoteliers? Ensure your venue space is equipped for events and meetings of various scale, and work closely with planners to ensure an attentive, personalized experience while bringing their event or meeting to life.
Non-Traditional Events and Venue Spaces
If wow-factor experiences are the name of the game, it should come as no surprise that event planners are frequently opting for non-traditional settings for their events. Last year, the Global Meetings Forecast predicted a 4% increase in the use of non-traditional venues. What does this mean for hotel venues? Well, it's not necessarily bad news. It's merely a reminder to embrace the continued demand for memorable, share-worthy experiences and service, and find unique ways to differentiate your hotel. Fortunately, venue management platforms make it easier for planners to find new spaces and trendy, boutique venues that were once difficult to discover.
Hotels should keep in mind that the nature of events may be "non-traditional" as well. For example, the Forbes' Under 30 Summit — a gathering of 7,000 30-and-under entrepreneurs — hosts an actual music festival as part of the event. In that same breath, we're witnessing the rapid rise in popularity of wellness-focused events, interactive live experiences, experiencing enhancing AI and VR components, Instagram-worthy backdrops, events centered around sustainability, and more.
So, the better question becomes, are you holding on to the past, or are you offering guests and attendees something new and exciting?
Balancing High-Tech and High-Touch
Often, the primary purpose of an event is to leave attendees with a lasting impression. There is no better way to accomplish this goal than with the help of new-age technology. Now, that's not to say we are throwing tradition to the wind in favor of robots and virtual reality (although they certainly might be involved). Rather, event planners and venue owners are implored to leverage event technology in a way that strikes a balance between face-to-face and virtual elements. It's not about using technology for every moment or touch-point, but about using new-age features and platforms to create a frictionless event, engage attendees on a deeper level, and create meaningful, memorable experiences.
At an industry conference last year, Mark Cooper told the audience, "Innovation relies on managed serendipity—the ability to leverage the productive collision of people and ideas through the right tools and the right places." As you might expect, that level of personalization would be challenging to achieve without the help of technology. When the right venue management tools and practices are leveraged together, planners and venue owners can create truly incredible events and seamless experiences for planners and attendees alike.
2020 is positioned to be an exciting, revolutionary time for the hospitality industry. For hotels looking to optimize their group business segment and hit the ground running at the start of a new decade, I'll leave you with the following take-aways:
Use technology to automate tasks and proposals to help staff close more business, enable planners to shop, book and manage their events online and, most importantly, eliminate the influx of unqualified RFPs. Leveraging a dedicated venue management solution will allow you to speed up your RFP response and offer more attentive, responsive service to planners working within tight deadlines.
Evaluate your existing technology partnerships and choose your new partnerships strategically. Are they selling you a one-off product, or continued support and collaboration?
Increase conversions and improve your venue listing with high-quality images, updated pricing, real-time availability, 3D virtual tours, and more.
If one thing is for certain, it's this: We couldn't have made it to the end of 2019, without the widespread embrace of these critical trends and technologies.
If your hotel, conference center, or venue space can capitalize on these trends, you are in the perfect position to streamline processes, maximize revenue, increase engagement, and inspire guest and attendee loyalty well into the upcoming year… and beyond.
Lauren Hall is the award-winning Founder and Chief Executive Officer of iVvy. Lauren is a passionate entrepreneur with more than 25 years' business management experience at Executive and Board level, successfully building multiple companies from startup to strategic and financial exit. With a background in programming, accounting and marketing, Lauren's expertise spans manufacturing, retail, advertising and technology industries in both South Africa and Australia. She co-founded iVvy in 2009, overseeing our growth to 1,000 clients in 13 countries and expansion to New Zealand, Asia, Europe and North America. iVvy offers meeting planners the ability to search, compare, book and pay for function space, catering and group accommodations online, 24/7. By providing conference centers, hotels, restaurants and cruise lines with an integrated revenue management and distribution platform, iVvy equips Venue Operators with the tools they need to manage inquiries on any device, anywhere. With enhanced reporting and analytics, Venues are provided with greater visibility over their business so they can yield their meetings & event spaces to maximize revenue.