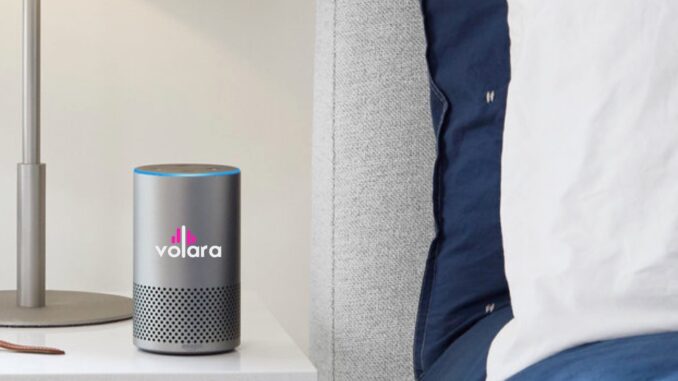 Volara, the voice hub for the hotel industry, has partnered with GuestHub to streamline interactions between hotel staff and guests without need for personal interaction. The GuestHub guest-experience management solution captures and routes guests' requests and facilitates other service tasks.
Guests can speak service requests to an in-room Volara-powered Google Nest Hub or an Amazon Echo voice assistant to avoid physical contact with staff or other in-room equipment (such as the bedside phone, TV remote, or tablet). Then, the voice request will be captured by GuestHub, a ticket will be created within the system, and the request will be routed to the proper department for fulfillment, ensuring safer engagement and a truly contactless experience.
"One of the fastest ways that we can rebuild confidence that hotels are safe is to ensure travelers that they can have a truly contactless hotel experience," said Carlos Vollbracht, product owner of GuestHub by Norelian LLC. "There is no better way to do this than integrating Volara's highly secure voice technology with our guest-experience management solution. How reassuring is it to know that if I am hungry or thirsty, I don't have to brave the lobby bar or restaurant, I can just see the menu on my device and ask Google or Alexa to bring me a cheeseburger".
"This type of contactless voice experience would make any traveler very happy today," Vollbracht said. "Happy guests mean good reviews. Good reviews boost a hotel's satisfaction rating. A higher star rating means a hotel can charge higher average daily rates. Our goal at GuestHub is to help hotels get better reviews, make more money for their rooms, and ultimately get people traveling again knowing that there is technology in place to make their stays exceptional and safe. Our partnership with Volara is taking our customers one step closer to making that happen."
Volara provides platform agnostic voice-based conversation management software and a secure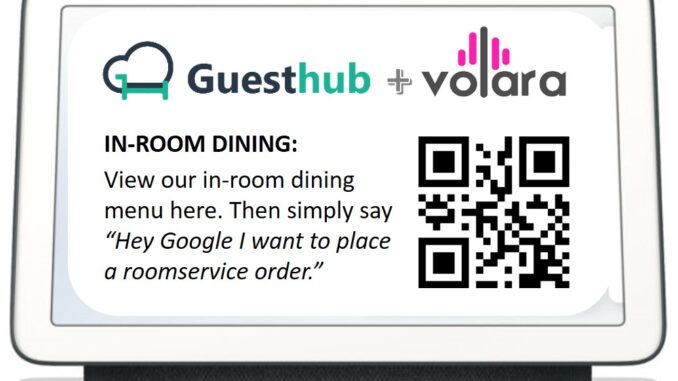 integrations hub to existing property technologies. Its software turns the major natural language processing platforms into a business tool that drives more efficient customer service. The architecture of Volara's software ensures that recordings of guests are never associated with their personally identifiable information and that guests' personally identifiable information is not released to the major voice technology platforms where it could be used for targeted remarketing or other commercial activities. Volara also protects hotels' proprietary data from disclosure. Its secure integrations hub enables hotels to have the benefit of the voice technologies from the leading providers of natural language processing while protecting a hotels' proprietary data from these platforms.
According to Voicebot, nearly 90 million U.S. adults have smart speakers, exceeding one-third of consumers.  Statista projects the number of U.S. smart speaker buyers to reach almost 23.5 million in 2021.  This wide scale consumer adoption is a leading indicator of guest demand, as travelers expect the comforts of home in their hotel rooms.
In the hotel environment, guest adoption rates of voice assistants powered and deployed by Volara are climbing, with 68 percent of weekday guests and 83 percent of weekend guests engaging by voice. More than 30 percent of all service requests at voice enabled hotels are being made through the in-room voice assistant, which in turn communicates with housekeeping, engineering, and operations systems to deliver more efficient service and improve guest satisfaction. When travel resumes to full capacity post pandemic, those numbers are expected to rise dramatically, as more and more travelers will be used to and expect a contactless experience.
"We are delighted to be working with GuestHub to bring on-command functionality to their customers," said Volara CEO David Berger. "The hospitality industry is not just facing a health crisis; it is facing a confidence crisis. By combining voice and guest experience technologies, we are quickly changing the service culture at hotels by providing solutions that ensure staff and guests safety — eliminating the need for face-to-face interactions all while enhancing service and operational efficiency. We look forward to bringing Volara powered voice assistants to GuestHub customers."
Does your company have news it would like to share with our readers? If so, we invite you to review our editorial guidelines and submit your press release for publishing consideration.