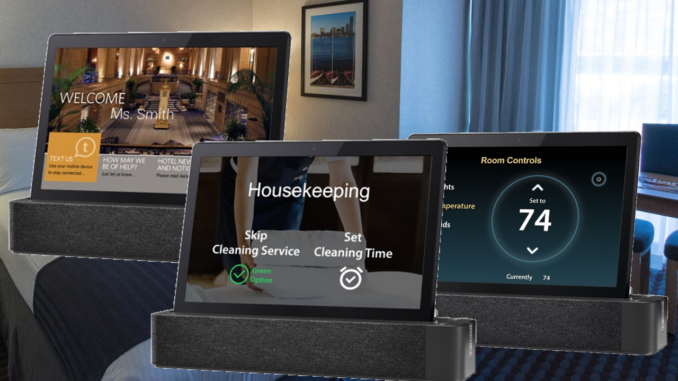 Five years ago, Hotel News Now took out its crystal ball and made some trend predictions for 2020. One prediction dealt specifically with the guestroom. According to the 2020 Hotel Trend Report, "guests will be able to control temperature and lighting from their tablet." Kudos to HNN, as that prediction came true — and then some. Today's in-room tablets are bi-directional transactional tools of irreplaceable valuable to hoteliers, guests, city stakeholders and convention center operators who want to drive revenues, loyalty and satisfaction by connecting with the traveling public.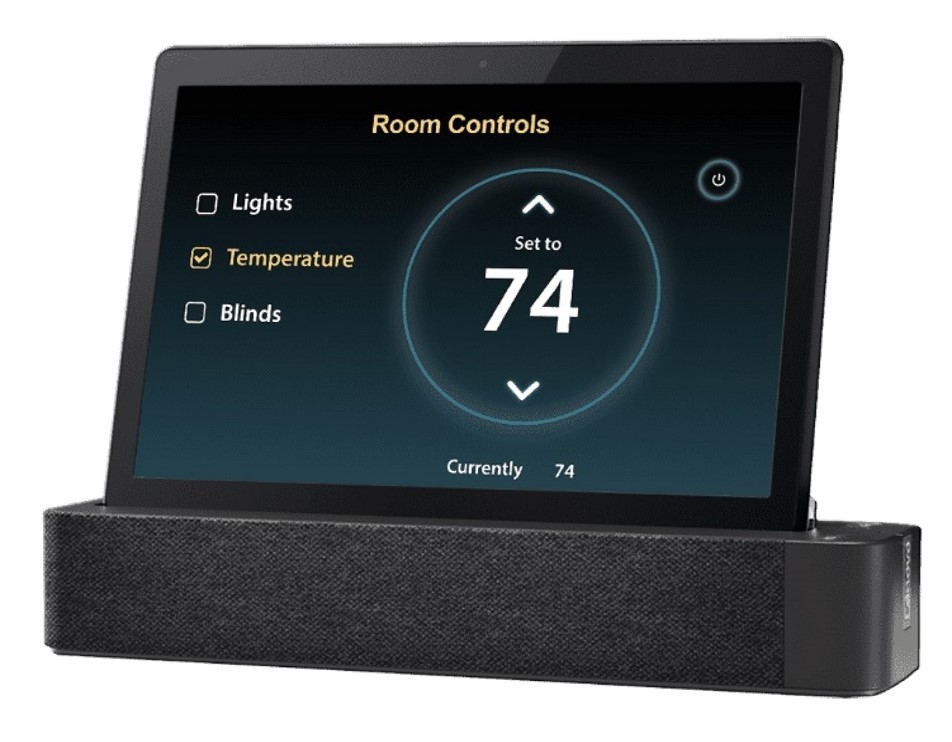 The in-room tablet is a guest-facing mobile device that is always open and always communicating. Not only does the tablet provide general service information on the hotel and city, but it also facilitates roomservice, sends message alerts, gives guests choices over room cleaning times or opting out of housekeeping altogether, controls the room environment (lights, drapes, temperature, Do Not Disturb, and TV), streamlines check out, sends surveys, shares loyalty club information, facilitates service requests, charges guests' personal mobile devices, and provides alarm clock functionality. Soon, these guestroom command centers will also be capable of streaming music via Bluetooth speakers in the charging bases and supporting guests' requests on voice command using Far-Field Speech and Voice Recognition technology also housed in the base.
The communication reach of tablets is not confined to just the guestroom; operators are leveraging these devices to also connect guests to convention/meeting planners, retail outlets, recreational spaces, and the community. Why then, with an estimated 17 million guestrooms worldwide, are less than 100,000 rooms equipped with these smart devices?
The 2020 Lodging Technology Study cites Business Intelligence (48%), Point of Sale (39%), Predictive Analysis (39%), Customer Experience (36%), and Internet of Things (33%) as top enterprise software investments for 2020. The data collected, analyzed and leveraged by each one of these separate technologies can also be derived through tablets. When it comes to guest-facing technology investments, the study shows that hoteliers are adding for the first time, upgrading or changing suppliers related to Instant Messaging (45%), CRM/Loyalty (33%), and Interactive Digital Signage (23%). Guess what? Each of these are functions of today's tablets too.
What appears to be missing from this study is data on the in-room tablet investment this year. So, I did some research and learned from the survey group that only 6% of hoteliers plan to add in-room tablets for first time, 3% are upgrading, and 72% have no plans to change from what they are currently offering. Unfortunately, the legacy tablets (or in-room computers) introduced a decade ago as a digital answer to printed compendiums and roomservice menus — and even newer tablets of 2015 and beyond — don't have near the functionality or data management tools of today's tablets. So why the wait-and-see approach?
The answer is simple: some hoteliers are under the misconception that tablets will soon be replaced by Apps or Smart Televisions. Neither is correct. If you want to invest in IoT, the smart money is on tablets. Here's why …
Apps vs. Tablets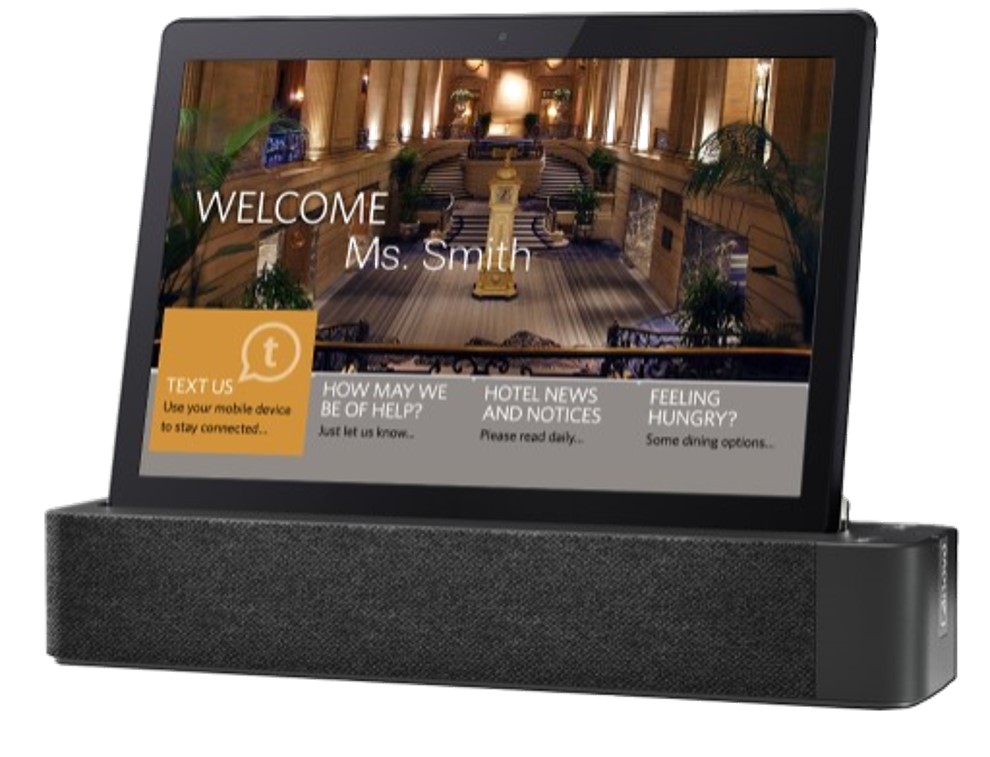 App Fatigue is running rampant. Statista estimates there were around 230 billion app downloads in 2019 or roughly 630 million app downloads each day. The company predicts that number will grow to 258.2 billion by 2022. Considering that the average U.S. consumer spends more time using apps than watching TV (Social Media Today) — the average person spends 198 minutes or 3.3 hours per day — hoteliers will be hard-pressed to make their apps download-worthy and compete for travelers' attention. Especially since most consumers engage with apps for social media, music, video and gaming. None of those elements can be found on a hotel's app – but they can ALL be leveraged via an in-room tablet.
Getting guests to engage with tablets isn't difficult; rather, it's the way guests prefer to interact with the hotel. According to the most recent JD Powers research, offering an in-room tablet increases overall guest satisfaction by as much as 47 points due to the communication system's ability to engage guests and entice them to use the system by featuring information relevant to their stay. The guest satisfaction study further showed that only 15% of guests will download the hotel's app, of those only 46% will use it during their stay, leaving the hotel with an actual take-rate of 7% usage of their mobile app. This makes the tablet — or in-room billboard — the only logical choice.
So, instead of developing an app because you think you should, there is far more value and a quicker investment return on installing in-room tablets to meet guest and operational needs. Better yet, no one will have to deal with app downloads or the cost of app development.
TVs vs. Tablets
There is speculation that the next step for the hotel room TVs is to command the guestroom. Sure, it can control lights, thermostats and more through interfaces to peripheral room technologies. It can also let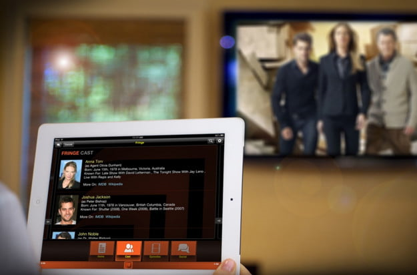 guests stream their personal service programming, such as Netflix, Hulu Plus or Amazon Prime or stream music from Pandora or Spotify. But the TV must be "turned on" to gain any benefits. With travelers bringing their own entertainment devices while on the road, oftentimes they remain connected to their smart phones and laptops instead – especially if the hotel doesn't offer streaming capabilities.
Some argue that the TV should be the command center since guests are facing the device most of the time while in the room. Tablets, however, are strategically placed on the bed-side table, equally visible and close at hand when the guest needs it. More importantly, those devices are "always on." Customizable welcome screens draw guests' attention, making them want to engage with the hotel. While most units are programmed to "go dark" after 11:00 p.m. (as to not interfere with guests' sleep), the devices can be awakened with just a touch and used continuously if desired.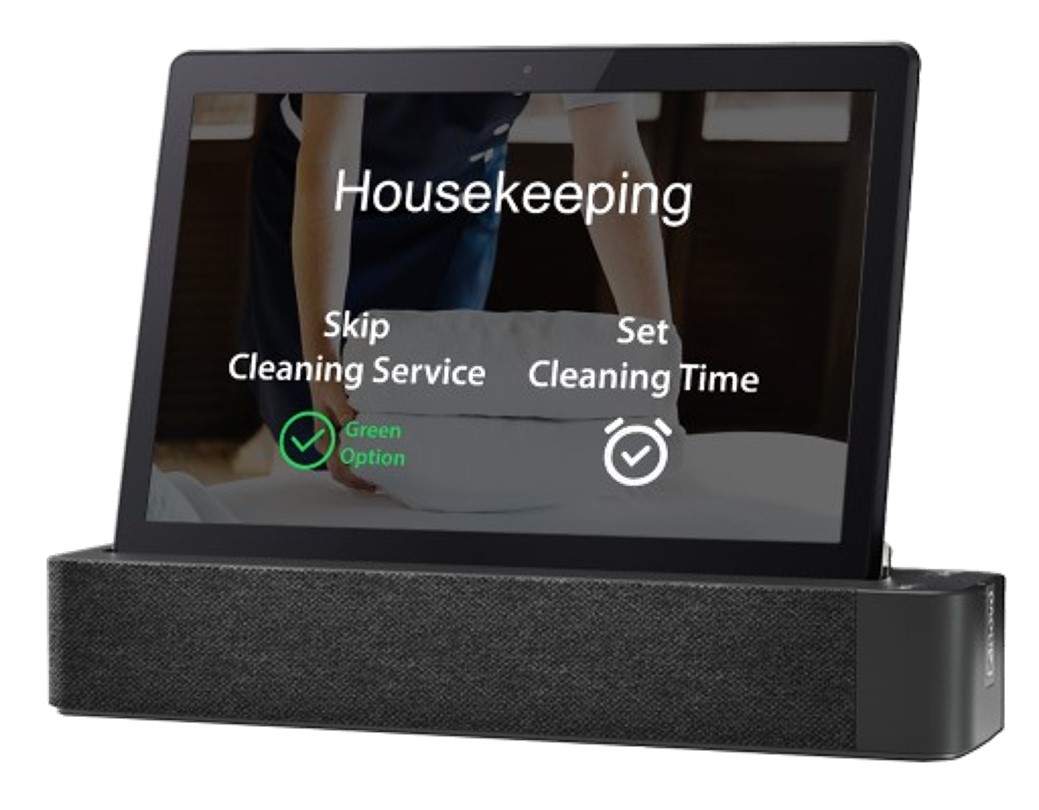 When the TV is turned on, it is generally broadcasting movies or news; guests don't typically use the TV as source of information or transactions. Some hotels set-up dedicated stations to provide hotel and local-area information, but viewing is limited. When people want that type of information, it's easier for them to search by smartphone, tablet or laptop. Then there's the clunky handheld controller. Have you tried to type anything using a hotel TV remote? It's enormously frustrating, so guests turn it off. When that happens, the TV stops communicating. That means the hotel has lost the ability to reach the guest.
The real benefit of the in-room TV is its large screen, making viewing easy from anywhere. But requiring guests to navigate through multiple menus to turn light on/off, temperature up/down, request morning coffee, or deliver room service — forget about it. It's simply not practical to expect guests to order food and beverage from the TV using the clumsy interface and guest experience that the remove provides. Instead, placing that function on a tablet conforms to existing usage patterns, and gets extremely high engagement.
Remember the HNN 2020 Hotel Trend Report I mentioned in the beginning of this article? They also predicted "there will no longer be desks in the room because millennial travelers are more likely to work while sitting in bed." That work will likely come by way of a tablet or laptop — certainly not by navigating menu screens via TV remote control.
Do you want to enable guests to stream music from Pandora or Spotify? Send it to the tablet docking station that is equipped with high-quality audio speakers. Want to enable guests to order roomservice from local restaurants vs. having to manage your own operation? Outsource the service to the tablet provider. Want to offer mobile-device charging via new alarm clock/radios but don't have the budget for equipment? Let guests power up through the tablet dock and set alarms on the tablet. Need to reduce operating expenses? Encourage guests to opt out of room cleaning with instant alert messages on the tablet. Hope to reach every event delegate with special offers, promos and meeting materials? Set up a communication channel on the tablet. Wish you had voice technology that enables guests to speak requests but can't afford to add smart speakers? Add voice-enabled microphones to the dock. These capabilities and many more are already available to hotels.
The bottom line is this: Tablets are the only way to reach 100% of guests. My prediction for 2025 is that Tablets — not Apps, not TVs — will be the No. 1 in-room appliance for controlling the guestroom.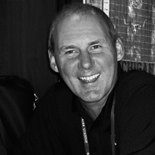 Richard Carruthers is Co-Founder and Chief Operating Officer of Hotel Communication Network (HCN), an Ottawa, Ontario, Canada provider of innovative high-value in-room tablets that keeps each guest connected to their hotel, city and each other.
Are you an industry thought leader with a point of view on hotel technology that you would like to share with our readers? If so, we invite you to review our editorial guidelines and submit your article for publishing consideration.