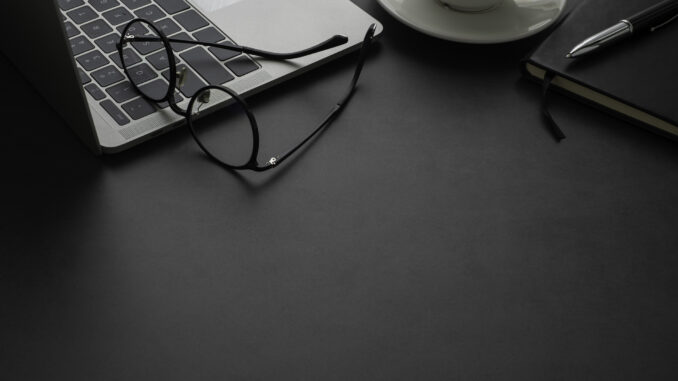 You may have been putting off researching and testing new tech tools during normal operations. After all, it can be quite time-consuming and expensive. But during this COVID-19 crisis, many hotel SaaS and technology providers are offering their services and platforms for free. While nothing about the current situation is great, we encourage you to take these companies up on their offers.
1. Oaky
What is it?
At Oaky, we offer an award-winning upselling platform which allows hotels to boost the guest experience and ancillary services through targeted, customized pre-arrival upselling. By sending targeted, customised emails to guests pre-arrival, Oaky allows hotels to increase the average spend and create a unique stay experience.
What are they offering?
Free set-up and full use of the platform for 90 days from go-live-date. You decide when you want to go live.
2. SiteMinder
What is it?
SiteMinder's platform offers hotels a cutting-edge channel manager, a powerful online booking engine, business insights and hotel website design solutions. With this full suite of tools, they help hotels make the most of today's dynamic online markets and boost revenue by increasing direct bookings.
What are they offering?
30-day free trial, Special offer with 50% off the set-up fee if you sign up for a 12-month contract, 75% off the first 3 months if you're a new customer signing a 12-month contract.
For information about how to navigate these challenging times, visit their COVID-19 toolkit.
3. HiJiffy
What is it?
HiJiffy Chatbot is available for FREE to all new clients until June,1st 2020. The solution is able to centralize all your communication from Facebook Messenger, WhatsApp, and OTAs, helping you dealing with COVID-19 questions and more other than 120 topics, improving your efficiency, increasing your guest-satisfaction and increasing your direct bookings.
What are they offering?
No-strings-attached free trial until June 1st, 2020. Free 14-day trial after June 1st, 2020.
Reach out to the team by booking a demo here.
4. STAAH
What is it?
STAAH provides a suite of technology solutions for hospitality distribution, direct bookings and digital marketing services. This includes a channel manager, a booking engine, a CRM, a gift voucher engine and a simple-to-use website builder. Their goal is to help hotels drive direct bookings and maximise revenue.
What are they offering?
Free use of the InstantSite website builder + 3 months of free hosting when you sign up for STAAH's Instant Channel Manager before June 30, 2020
To get access to the offer, schedule your free demo now.
5. Hotel Direct Booster
What is it?
Hotel Direct Booster offers a live chat and a direct messaging platform to help hotels generate more direct bookings. By being there for guests via your live chat, you can answer their questions, offer them special deals and give them a first taste of what a stay with you will be like.
What are they offering?
Use the live chat feature for free for 30 days
Fill the form in the link above to get the free live chat set up on your website.
6. Hotelchamp
What is it?
Hotelchamp is a digital insight and conversion platform which offers smart technology solutions for hotel marketing and revenue management teams. With the help of its data and actionable insights, hotels can boost direct bookings and online revenue.
What are they offering?
90 days of free access to Hotelchamp's demand tracker
Sign up via the link above and use the demand tracker to better understand your market and how it's developing in these unpredictable times.

7. Bookboost
What is it?
Bookboost provides a direct messaging solution that helps hotels connect with website visitors via live chat, while they are browsing. On top of this, Bookboost integrates with the most popular messaging apps, so hotels and guests can easily stay in touch before, during and after the stay.
What are they offering?
Free use of the Unified Inbox guest messaging platform until June 30th, 2020
Free video video trainings and webinars on improving guest communication
Sign up here to secure this deal.
8. Atomize
What is it?
Atomize is a revenue management system which offers fully real-time pricing suggestions and automated rate updates. Using it to optimise your individual and group rates can help you make the most of the post-crisis market pick-up.
What are they offering?
Free set-up and use of the RMS until you get back 50% of pre-crisis average occupancy percentage
Reach out via the contact form to request access and optimise your rates for when markets start to recover.
9. Quicktext
What is it?
Quicktext provides an AI-powered chatbot which communicates with guests while they are browsing your website, staying at your hotel and after they have checked out. You can use it to generate more direct bookings, ensure guests have everything they need during their stay and ask for feedback after they check-out.
What are they offering?
A permanently available freemium version of Quicktext for all Oaky customers starting this summer
This offer includes a basic chatbot which can respond to 20 topics. It is meant to help hoteliers capture as many leads as possible on their websites and give basic information. The bot can handle FAQs to reduce the number of time-consuming low value calls and emails and free up the operational team for other tasks.
Contact your customer success rep at Oaky now, and we'll let you  know as soon as this integration goes live.
10. Experience Hotel – CRM
What is it?
Experience Hotel is a customer relations management system that allows you to manage your online reputation and stay in touch with guests by sending customized email campaigns.
What are they offering?
Send up to three custom email campaigns to all customers for free in the next three months
When you sign up for this deal, you get full use of Hotel Experience. This lets you create perfectly customized email campaigns so you can stay connected with your target market.
11. ChartOk
What is it?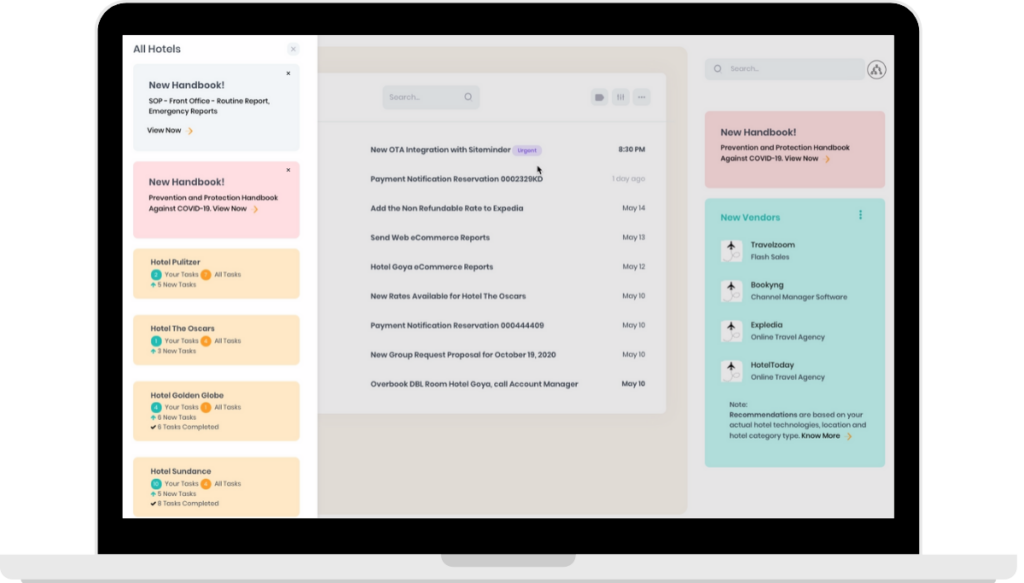 ChartOk took what used to be known as the intranet and made it more user-friendly and efficient. This tool allows you to create a digital workplace where you can bring together and track all staff interactions to make operations more efficient. Now, no tasks will fall through the cracks anymore!
What are they offering?
Free use of the ChartOk Hotel Operations Software for 3 months when you sign up before May 15, 2020
Reach out to them now, to get a free demo and claim the offer.
12. Asksuite
What is it?
Asksuite focuses on generating more direct hotel reservations through instant guest communication via website chat and chatbots. The platform also centralizes the management of all hotel service channels. It was named best chat & AI chatbot platform for hotels at this year's Hotel Tech Awards.
To support hotels during COVID-19, Asksuite has added an exclusive feature to address the most common questions guests ask these days.
What are they offering?
Free use of their software for all of 2020.
Get in touch to discover more.
13. Opensmjle
What is it?
Opensmjle is a digital media agency specialised in visual storytelling for the hospitality industry. This means they help their partners create a strong online presence and solid communication through optimised websites, videos, photography, social media and other digital services.
What are they offering?
Free set-up and hosting of a responsive SaaS hotel website until October 1, 2020
Up to 70% discount on graphic design work & the Performance Marketing Kickstarter package.
Get in touch via their website.
14. Facebook
What is it?
Assuming you don't live under a rock, you'll know that Facebook is one of the world's largest social media networks with around 2.5 billion monthly active users (according to Statista). Since it's important to keep up at least a bit of marketing even in times of crisis, Facebook's newest initiative could be interesting to you.
What are they offering?
$100 million in cash grants and ad credits for up to 30,000 small businesses
Find out if you qualify and how to apply here.
15. Hotel Benchmark
What is it?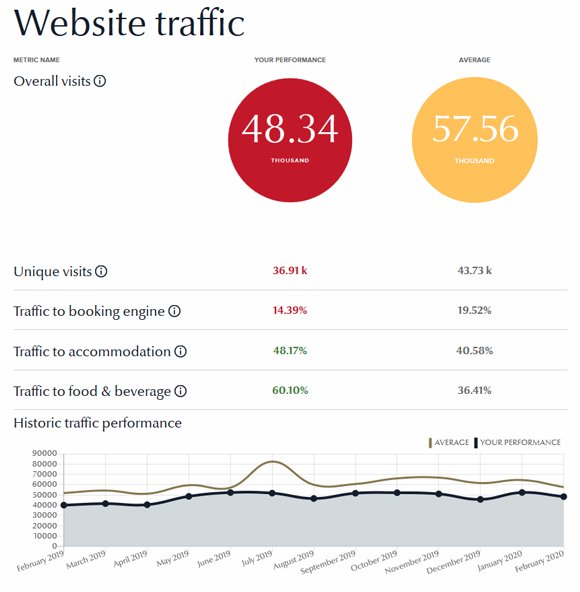 Hotel Benchmark is a growing community of over 500 hotels in more than 50 countries. Their reporting helps hoteliers to benchmark their websites and digital marketing against the industry and competitors by comparing bookings, visitors, revenue and more.
What are they offering?
A free monthly benchmark report in return for sharing your anonymised data with their community. Hoteliers can also track wider industry performance using our COVID-19 dashboard.
Signup for your free report here.
16. Pace
What is it?
Pace is a revenue optimisation solution which includes an industry-leading pricing platform and a BI tool. It combines deep science, knowledge from industry experts and takes advantage of modern technology to offer the most complete solution.
What are they offering?
Free use of their software for 3 months to make sure you are prepared for the business rebound.
Reach out for to [email protected] for more information.
17. apaleo PMS
What is it?
apaleo is the first and only API-first cloud property management system (PMS) that enables hoteliers to completely customize their hotel stack. Our mission is to simplify bulky technology and provide hoteliers with a completely remote setup process without any hidden fees.
What are they offering?
Free set-up and full use of the platform for 6 months completely risk free and without any contract obligation.
Sign-up until July 31st, 2020.
18. IDeaS
What is it?
As the pioneer of revenue science and a leading provider of revenue technology for hospitality & travel organizations, IDeaS maintains an active role in educating and empowering the industry.
What are they offering?
Ready to enhance your revenue management skills and knowledge? Follow the courses that will lay the foundation upon which you can build a solid commercial success framework for your business and participate in the real-life situational challenges.
Access the list of courses and challenges here
19. Criton
What is it?
Criton is an award-winning guest engagement platform that simplifies digital transformation, helping operators deliver the perfect digital guest journey and maximise in-stay spend. With Criton, hoteliers can digitize their guest information and wrap all-guest facing technology into a sophisticated mobile app for guests to use on their own phone.
What are they offering?
Criton is offering its guest engagement platform completely free of charge until 2021, enabling hotels to digitize their guest journey, reduce touchpoints and put guests' safety first with their own branded guest app.
Email the team to find out more or visit their website.
20. hotelkit
What is it?
Now more than ever, with new and raised hygiene standards, structured communication is key. And this is where hotelkit express comes in. With hotelkit, you can share all current information with a few clicks and create to-do lists or hygiene checklists while always keeping track of their progress. The all-in-one hotel operations platform lets you do all that, and so much more.
What are they offering?
hotelkit express lets you test the full version for 30 days completely free of charge, a quick set-up ensured!  Visit the
website
to know more
Free Courses for Hoteliers
Want to use this time to learn something new or brush up on your knowledge on a certain topic? There are some fantastic free online resources where you can learn everything from financial accounting and hotel management to marketing and the basics of culinary service.
Below are two courses that could be especially useful in the current situation, but feel free to browse – there are many more to discover.
1. The Fundamentals of Revenue Management
What is it?
This free course on revenue management is ideal for beginners and those who want to refresh their knowledge of revenue management. On top of this course, Coursera offers countless more free classes taught by experts in their fields for free.
What are they offering?
Free 4-week course on revenue management, self-study, 100% online
You can check it out and sign up here.
2. Managing Marketing in the Hospitality and Tourism Industry
What is it?
This free edX course on marketing for the hospitality industry is great if you want to learn how to apply the latest principles of hotel marketing to your property. That way you can get a head start on your competition and get extra traction when demand grows.
What are they offering?
Free 6-week course on hotel marketing, self-study, 100% online
You can check it out and sign up here.
3. Hotel Website Copy 101
What is it?
Our copywriter has put together a free hotel website copywriting training. It highlights the top four mistakes many hotels make on their websites and how to fix them in a few easy steps. That way you can get your website in top shape for when demand picks up again.
What is the offer?
Free 30-minute hotel website copywriting training
You can take the training here.
4. LinkedIn Resources
What is it?
The world's biggest professional online network, LinkedIn is not only a place to connect with people from around the world, it is also a great place to learn new skills. Over the years, LinkedIn has built up quite a library of free courses covering everything from marketing and finances to tech tutorials. Now, they have added resources designed to help people better navigate the COVID-19 crisis.
What are they offering?
A variety of free courses to help you navigate this difficult situation
Check their resources out here.
5. Typsy Online Hospitality Learning
What it is
Typsy's online learning platform for hospitality businesses offers a vast library of video courses for every department. This enables hotel staff to learn at their own pace and continuously improve their service and performance.
What they offer
Free access to all video courses and online materials until September 30, 2020
6. eHotelier Academy
What is it?
eHotelier provides continuous learning to hospitality professionals through an online learning system. Their resources are created by specialists from some of the best industry associations and institutions around the world, under the guidance of leading industry educators, and are recognised globally.
What are they offering?
Free Coronavirus Awareness Course, a short but comprehensive course on how to prevent, control and manage coronavirus (COVID-19) incidents in hotels.
Free Resources to Keep Your Spirits Up
Want to find a better way to deal with this challenging situation and make the best of it? If you are struggling to stay sane (like many of us right now) the resources below can help you. Whether you want to learn more about true happiness or simply give your brain a break, these two resources will do the trick.
1. The Science of Well-Being by Yale University
What is it?
The Science of Well-Being is Yale University's most popular course, and now it's available online for free! Here, you will learn which misconceptions we commonly have about happiness and how to build more productive habits to increase well-being in your day-to-day life.
What are they offering?
Free 20-hour course, self-study, 100% online
Learn more about the course and sign up here.
2. Headspace
What is it?
This free meditation app comes with guided meditations on every topic you can imagine: happiness, stress, anxiety, creativity, focus and so many more. If you're the more active type, you'll enjoy the moving and walking meditations. When you can't seem to wind down at night, their sleep stories will help get restful sleep. And of course, they offer guidance for starting your own meditation practice if you're new to this. In short, Headspace offers something for everyone.
What are they offering?
To support users of the free plan during COVID-19, Headspace has added many free meditations and activities to help people better cope with the stress and anxiety this situation has brought.
Find out more about it here.
3. Revfine
What is it?
Revfine is a popular knowledge platform for the hospitality industry with practical tips to optimise revenue, innovate processes and improve customer experience. The platform consists of high-quality and unique knowledge-based content and provides explanatory and actionable solutions.
What are they offering?
Free guide with revenue management, marketing, technology and software tips. It contains extensive, but practical information to optimise your hotel's revenue.
You can download it here.
While we know this is a very challenging time for hoteliers around the world, we hope these tools will help you make the most of low-occupancy times or closures.

Oaky is a commission-free and personalized pre-stay upsell platform for hotels to maximize profit and enhance the guest experience.
Are you an industry thought leader with a point of view on hotel technology that you would like to share with our readers? If so, we invite you to review our editorial guidelines and submit your article for publishing consideration.