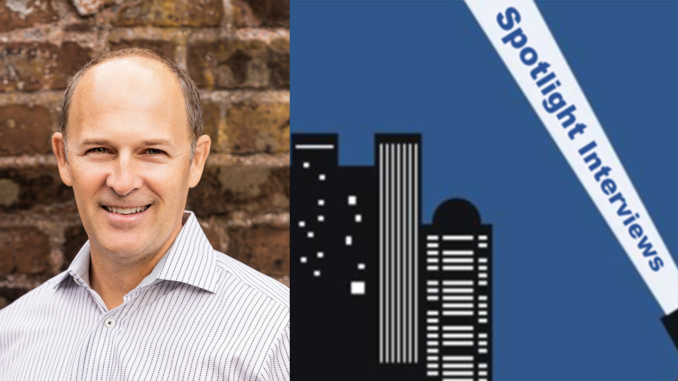 With over 20 years of industry experience, Ryan Hamilton has established himself as a seasoned leader in the hospitality space; specifically, conference planning and management. His career trajectory began with positions at HelmsBriscoe and Omni Hotels and later brought him into the world of hospitality staff recruitment before launching two start-up companies of his own. Today, Ryan boasts an impressive portfolio of client growth stories, collaborative strategies, and custom products, while working with his team to develop full-featured and cloud-based sales and catering systems for hospitality. We had the opportunity to sit down (in a socially-distanced way, of course) with Ryan to discuss the "new normal," the future of STS Cloud, and the role he believes it will play in the post-pandemic hospitality landscape.

How did Sales and Catering STS Cloud come to be?
The conversation started many years ago with our integration partner, Dexter McKenzie, at Simple Solutions. As we were already working closely together as integration partners, we proposed transitioning his existing STS-R sales system from a desktop application to a cloud-based solution.
We believed that, by partnering with Dexter, we could leverage 25+ years of product evolution and take advantage of the many great features already found in his current system. The benefits were immediate and far-reaching, as Dexters' existing customers (using STS-R) finally had a new modern cloud-based system available to them, which they could transition or upgrade to at any time. On a larger scale,  the industry was introduced to a completely re-engineered, full-featured STS product paired with high-impact revenue generation sales tools, all at an affordable price.
What differentiates STS Cloud from other sales and catering platforms? 
For 25 years now, STS has established a reputation of being a budget-friendly, cost-effective, and service-oriented solution. Understandably, many hotel properties are currently grappling with increased costs associated with cleanliness and sanitation, despite low occupancy. As a result, budgets are being aptly cut and re-examined to lower expenses and protect the bottom line. Fortunately, with our "unlimited user" pricing model, hotels can instantly lower costs in the group and catering department without sacrificing product quality.
Our base STS Cloud system offers a low monthly price in the mid-100's. The savings are so considerable that most of our clients opt for additional features like our proposal tool, online menus, e-signatures, diagram software, etc. With credit to this model, clients can leverage the power of a well-packaged sales and catering system with all the features needed to perform at the highest level, at a cost much lower than other products in the industry.

The hospitality industry has been through a lot over the past few months. What lessons do you think can be learned from this pandemic as we carry forward? 
The coronavirus pandemic is a widespread tragedy, one that we never anticipated (at least, not at this magnitude). However, when I think of "learning a lesson", I imagine that someone has done something wrong. In the case of this pandemic, our industry didn't do anything wrong. We were not the catalyst to this global event. Instead, it's a situation that was thrust upon us, and we are all reacting to it (and adapting) to the best of our ability.
Going forward, is it necessary for us to plan for something like this to happen again? To be candid, I'm not entirely sure — it probably depends on whom you ask. If I'm a hotel owner or management company, the lesson I take away from this experience is likely related to portfolio diversification. After all, the numbers show that properties in specific locations (i.e. beachfront) are out-performing properties on the interior and, as such, having a balanced portfolio might offer some security. However, one thing I would advise all hoteliers to do is to adopt a startup mentality. Traditional start-ups watch their spending much closer than well established, mature companies; they are hyper-aware of their bottom line and all factors which influence it. Due to this approach, these companies closely vet every purchase to prioritize value. With our industry facing so much uncertainty right now in terms of recovery timelines, I think this mindset can only benefit hotels as they prepare to move forward.
There's been a lot of talk about the "new normal" as hoteliers prepare for the post-pandemic landscape. How can hoteliers adjust to these changes and set their properties up for success?
I wholeheartedly believe that communication will be the key to success both now and in the future, especially for the sales professionals in our industry. Communicating effectively, precisely, and honestly with customers (i.e. meeting and travel planners) will set properties apart as buyers begin to, once again, secure space for their events.
It's also important to note that the questions being asked by buyers in our post-pandemic world will be different from those asked pre-pandemic. Where an event planner would have previously asked, "Do you have a 5,000 square foot room to accommodate 200 people classroom set-up?", they will now be asking, "Do you have a 5,000 square foot room to accommodate 50 or 100 people in a classroom set-up according to safe social distancing measures?".
Our industry's sales professionals should also expect an influx of details related to newly reformed protocols, including, "How many people will you place at each table?", "What is the flow of traffic?", "What is your foodservice protocol?", and so on. Hotels equipped to proactively address these questions, both verbally and visually, will bring a level of comfort and confidence to buyers that will act as a critical competitive advantage in securing contracts. On the contrary, if hotels do not have the proper tools to support their sales team's efforts, they should anticipate frustration and confusion from prospective clients. Unlike other products, STS Cloud has one of our industry's best built-in presentation tools to readily assist sales managers in high-touch communication practices suited to the post-pandemic hospitality landscape.

In the coming year, what do you think the "modern meeting" (or small event) will look like?
Moving forward, events and meetings will include far less people in a room, one-way traffic flow, pre-packaged F&B options, and, in many cases, a percentage of the attendees participating via an online platform. Of course, these adjustments will hopefully represent a short-term solution. It's hard to imagine a world without close social contact, and two to three years from now, I hope we aren't saying, "Remember the good old days when we had 500 people laughing, eating, drinking, socializing in a ballroom together?".
How can a platform like STS Cloud help hoteliers both now, and well into the future?
Events are positioned to start up again soon. In fact, we're already seeing an increase in the purchase of our products. In the coming months, every hotel and venue in the world that offers meeting space should ensure they have a modern hospitality-focused sales and catering system to manage their operations. I use the term "hospitality-focused", because there are so many unique scenarios that software like ours needs to accommodate. Thankfully, STS Cloud boasts over 25 years of experience and evolution that our customers are tapping into to help them survive these times and prepare for a future in which they will thrive.