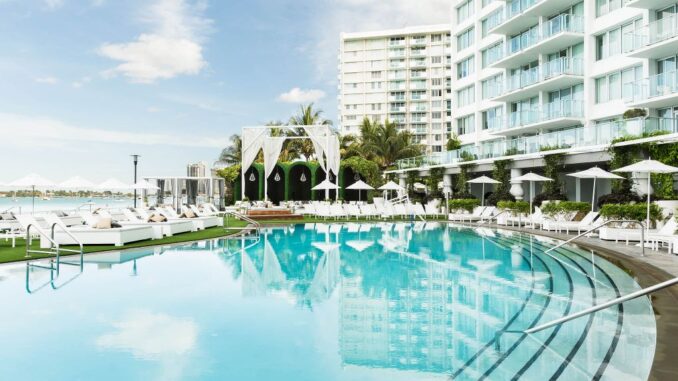 Advantage Reserve, the leading provider of high-quality central reservations services to the hospitality industry, has announced that Mondrian South Beach, a newly renovated, 220-room waterfront property on Miami Beach's Biscayne Bay, has selected its services to enhance the guest experience, increase reservations conversions, and gain deeper insights into guest data.
Located on Miami Beach's West Avenue, Mondrian South Beach recently experienced a $20-million property-wide transformation, introducing a completely refreshed design throughout the hotel. A sophisticated casual elegance ties together with natural and organic materials for a relaxed, tropical, modern environment. The renovation was led by hotel partners Russell Galbut of Crescent Heights and Chairman of Norwegian Cruise Line and Michael S. Liebowitz, CEO and Founder of Harbor Group Consulting.
The focal point of the property is its new bayfront destination, Baia Beach Club, led by world-renowned boutique restaurant group LDV Hospitality. Elevating and defining a true sense of place at restaurants including Scarpetta, Dolce Italian, American Cut, The Seville, and others, LDV Hospitality curates an ambiance of effortless elegance at every turn. Embodying a Mediterranean coastal flair, Baia (Italian for Bay) Beach Club is an open-air, living room space where members and hotel guests move through the property's relaxed design mixed with accents of raw organic timber, billowing airy shades, handmade macramé fixtures, Belgian linens, and bespoke furnishings.
The Beach Club is a hub of activity featuring a new Mediterranean restaurant concept with multiple areas for dining and entertainment, seaside cabanas and pavilions, boat dockage, access to a full-service wellness and spa facility, state-of-the-art fitness center, curated programming, member-only events, and more.
The elevated look and feel makes its way into the guest rooms with a relaxed elegance of natural woods, organic materials, teak, bamboo and rattan light fixtures, each with a sleek kitchen area. Additional renovations and amenities include over 25,000 square feet of flexible meeting and event space as well as an outdoor pre-function area and an enclosed poolside space with bayfront views.
Advantage Reserve provides high-quality central reservation services to 3-, 4-, and 5-star hotels, resorts, and management companies across North America. Providing guest services that are available 24/7/365, Advantage Reserve customizes a suite of reservation services, technologies, and analytics for its partner hotels that reduce internal costs, optimize conversions, and increase revenues.
For Mondrian South Beach, key differentiators in selecting Advantage Reserve included:
24-hour reservations services for its guests
daily, weekly, and monthly metrics on call data, duration, revenue statistics, and more
fully integrated SynXis platform that provides seamless, streamlined visibility into inventory, pricing, and guest data
flexible pricing and commission models that support cost savings and ROI
access to more resources and capabilities at lower operational costs
established reputation for service performance and cost efficiencies in luxury hospitality
"Our new partnership with Mondrian South Beach is very exciting, and Advantage Reserve has a proven, outstanding record of bringing quantifiable, personalized benefits to luxury properties like Mondrian," says Andrea Coleman, director of implementation and client services at Advantage Reserve. "The unprecedented events in 2020 have caused a major shift in how hotels and properties are adjusting the economies and services of their operations. Data-driven approaches to guest services and retention have become essential, and redefining and optimizing strategies to support the guest experience and increase conversions is critical, especially in this current landscape. We are pleased that Mondrian trusts our teams to help navigate through these challenges, and Advantage Reserve's unique services will support this luxury hotel as it manages its long-term growth."
Does your company have news it would like to share with our readers? If so, we invite you to review our editorial guidelines and submit your press release for publishing consideration.