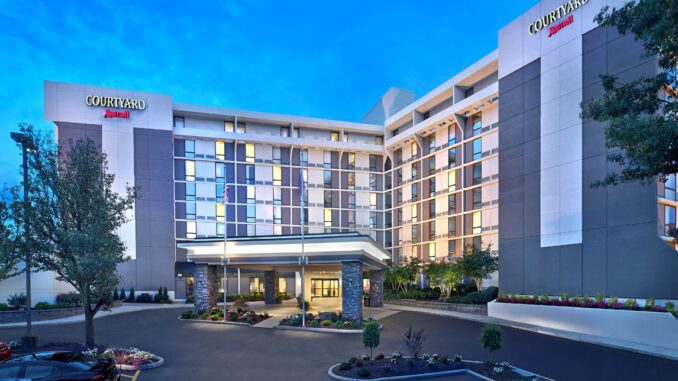 As hoteliers continue to use this time of low occupancy to improve their properties, many have found it the ideal opportunity to also upgrade their back-of-house systems to optimize efficiency. Aptech, the industry standard for hospitality financial management, has seen a surge in adoption of its browser based PVNG enterprise accounting solution. Since the onset of the pandemic, 166 hotels either transitioned from Aptech's legacy accounting solution Profitvue to PVNG or added PVNG as new customers last year. Aptech Vice President Cam Troutman said he expects at least as many (if not more) hotels will transition to PVNG in 2021 or adopt it for the first time due to its functionality, flexibility, affordability, and effectiveness.
"PVNG is a game-changer in the world of hotel accounting," Troutman said. "It was built on Aptech's 50 years of financial management knowledge, and it features the Accounts Payable, Accounts Receivable, General Ledger, Statistics, Financials, and Bank Reconciliation that today's hotel operators are seeking with much-needed browser navigation. Accessing financials remotely is especially important today as many accounting teams are working from home full or part time. Add to that PVNG's automated OCR invoice processing, the myriad of payment options, drill-down capabilities in financial statements and reports, ability to handle single or multi-property accounting, and the fact that it can be deployed as a hosted service, and there is no question as to why this accounting solution is in such high demand."
Chase Hospitality, an Irving, Texas-based hotel management and development company operating nine Marriott hotels under the Residence Inn, Springhill Suites, Fairfield Inn & Suites, and Courtyard by Marriott brands, has relied on Aptech for enterprise accounting since 2008. While all properties are open and operating at limited capacity today, in 2020, many were closed due to the pandemic. With sales slowed and back office reporting at a minimum, Finance Operations Manager Dutt Pranav said it was the perfect time to migrate to PVNG.
"We've needed to transition to PVNG for a long time, but pre-pandemic business was booming, and time wasn't on our side to learn how to transfer data or get trained on a new system," Pranav said. "Profitvue served it's purpose, but we needed our data to reside in the cloud, especially last year when it became critical to access our server remotely. With PVNG, there are no major inefficiencies or data disruptions; different people can be working in the system simultaneously. PVNG is user friendly. It's efficient, intuitive, and a practical accounting system for Chase Hospitality and our multi-property needs."
Hospitality is a capital-intensive industry. Chase Hospitality works with multiple vendors, and as such it processes a lot of invoices. Operating multiple properties compounds the problem. Pranav said PVNG is helping his accounting teams keep track of payables and stay on time with payments. They can process invoices quickly to avoid penalties. And, with PVNG's template upload feature, Pranav said he can import multiple invoices at one time for a single vendor.
"Before making the switch to PVNG, I looked at other accounting solutions in the market," he said. "My decision to stay with Aptech came down to customer service, price, and ease of use. Given that we were an existing client of Aptech's older accounting solution, learning PVNG was far less difficult than adopting a new solution. Plus, we have a strong relationship with Aptech, and we did not want to turn our back on them. They know our properties and our people, and they were willing to work with us on payments during a very difficult financial time. Overall, we're very happy with Aptech and PVNG."
Pinnacle Hotel Management is also a long-time Aptech customer. The company relied on Profitvue to serve its multi-branded portfolio consisting of Marriott, Hilton, Radisson, and Tribute Portfolio® brands for the last 18 years. Director of Finance Monica Nichols said each of Pinnacle's 13 multi-branded and independent properties are running efficiently on PVNG today. While two Courtyard by Marriott hotels began using PVNG in 2018, it wasn't until 2020 that the remaining properties made the switch.
"Transitioning to PVNG was really easy for our corporate accounting team, especially during the pandemic," Nichols said. "Aptech support was a big help; they gave us an overview of the system and answered any questions we had along the way. We were pleasantly surprised how seamless the migration was. We had no major issues."
Nichols said taking accounting to the cloud was one of the best decisions the company has made. She said navigating between modules is easy, and the drill-down capability of PVNG that gives her details on an account or transaction, has been a big plus.
"Pinnacle Hotel Management is a small company, and everyone here takes great pride in doing our jobs right," Nichols said. "I deal with a lot of reports, and I take great pride in providing accurate information to owners, lenders, and general managers in a quick and timely fashion. Everyone can access and share data quickly with PVNG. It's easier than ever to attach transactional back-up; we don't have to search through paperwork and comb through documents. Everything we need has been built into PVNG, and we couldn't be happier."
Budget Motels Inc. of Manassas, Va., is one of Aptech's oldest customers. The hotel company used Profitvue for nearly 24 years. BMI President and CFO John Tyler said his company's transition to PVNG could not have come soon enough. The server needed to be replaced and switching accounting software providers would have been an expensive investment. While it made sense to migrate to Aptech's next generation software, Tyler said he was fearful of losing critical data during the move.
"I worried for nothing," Tyler said. "Moving our accounting operation to the cloud with PVNG was smooth and painless. With COVID, I am working at home two days a week, and I can instantly access anything I need in PVNG. While we used to operate nine motels, today we only have one. With a small staff, all training on PVNG was done remotely. Year-end close out used to be a tedious and labor-intensive process. I would say: 'Everyone get out of the system. I'm closing the door. Leave me alone for the rest of the day.' Now with PVNG, I can process the year-end checklist with the touch of a button. Multi-property hotel companies would really appreciate the flexibility and functionality of this solution.
"PVNG is faster than other accounting software on the market, and it has better controls than our current system," he said. "What I really love is that all Aptech systems are built specifically for hotel accounting. They talk the same language that we do. We rarely, if ever, have a service issue, but if a question pops up, the Aptech support team knows exactly what we are talking about and they address the situation immediately. Aptech treats us like family, and PVNG is an excellent tool. It took fatal server issues and a pandemic to get us to switch, but we're here now and loving it."
Easy to Learn and Navigate Accounting
Accounts Payable is an integrated part of PVNG that controls vendor invoices from receipt to payment. The module gives users the ability to track open items and approve invoices for payment for better control. To quickly provide answers to billing questions, the system allows users to drill down into vouchers and check detail. PVNG's General Ledger easily handles single-hotel, multi-property and multi-company accounting and incorporates budgeting, forecasting, and financials. The comprehensive system provides account inquiries that include journal-entry and accounts payable drill down to verify posting details. PVNG's GL imports journal entries from Excel spreadsheets to simplify data transfer into the system without manual rekeying. Journal entry options: Manual, Template, Upload (Excel, PMS, etc.). All PVNG functions are supported by reliable financial controls and audit trails are provided for all transactions.
"2020 was a difficult year for everyone, but it gave many of our customers the time they needed to update their accounting software to PVNG," Troutman said. "By doing so, they have taken some pressure off their financial processes in 2021 and set themselves up to operate more efficiently when business returns soon. Plus we've continued to add automation with new partnerships in invoice processing, digital payments, PMS integration, payroll processing and more. Because PVNG was developed from the ground up specifically for hoteliers, it streamlines common daily procedures — like flexible reporting and statements with specific formulas for RevPAR, Occupancy, and ADR — and makes them user-intuitive, allowing operators to accomplish daily accounting requirements with a minimum number of steps."
Does your company have news it would like to share with our readers? If so, we invite you to review our editorial guidelines and submit your press release for publishing consideration.