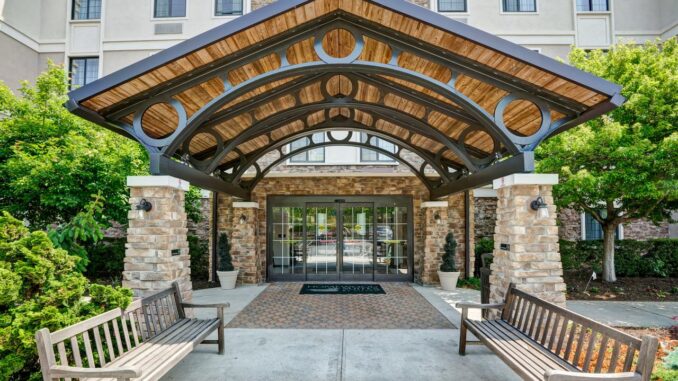 In a multi-site partnership agreement, ROAR for Good's AlwaysOn™ staff safety platform for hotel workers has been implemented at Gulph Creek Hotels. The technology will enhance monitoring capabilities and deliver a quicker response time to on-site safety threats for shift workers and housekeeping staff.
"We know there's a great deal of health and economic uncertainty in the hotel industry today, but general managers and hotel owners recognize the urgency to improve safety, security, and with it morale of housekeepers and back of house staff," said ROAR for Good CEO and Co-Founder Yasmine Mustafa. "We're proud to be able to bring our best-in-class panic button solution to Gulph Creek Hotels, a leading brand that has demonstrated a long-time commitment to its employees' health and wellness."
The partnership will initially consist of three properties under Gulph Creek Hotels' management company, including the Fairfield Inn & Suites in Berwyn, P.A., Homewood Suites in Eatontown, N.J., and Home2 Suites by Hilton in Downingtown, P.A. There are plans to expand to several other locations in Q1 2021. 
"For us, there's nothing more sacred than having the trust and loyalty of our hardworking staff," said Gulph Creek Hotels' Principal Amy Gancasz. "We want to create an environment where employees are empowered with peace of mind, and technology like AlwaysOn™ eliminates blind spots and reduces threats through deterrence. With the pandemic impacting work schedules and staffing needs, this partnership brings our team closer together at a time when we need it most."
In recent years, a growing chorus of advocates in the industry and across the political spectrum have called for increased technology initiatives and an overhaul of safety protocols to protect hotel workers. The American Hotel & Lodging Association has championed a new '5-Star Promise' since 2018, in which member hotels have pledged to adopt safety devices — like panic buttons — and rethink best practices.
In cities like Baltimore and Philadelphia, laws are being enacted to protect workers impacted directly by pandemic-induced layoffs and furloughs. In the midst of historically low occupancy rates and economic uncertainty in the industry, hotels are still investing in tools to better serve their employees.
ROAR for Good's safety technology has been on the market since 2014. Sourcing feedback from hotel managers and housekeepers in the hospitality industry during the development process, the company's hardware device and companion software is compatible across the spectrum — from small hotel properties to large multi-building complexes.
Does your company have news it would like to share with our readers? If so, we invite you to review our editorial guidelines and submit your press release for publishing consideration.