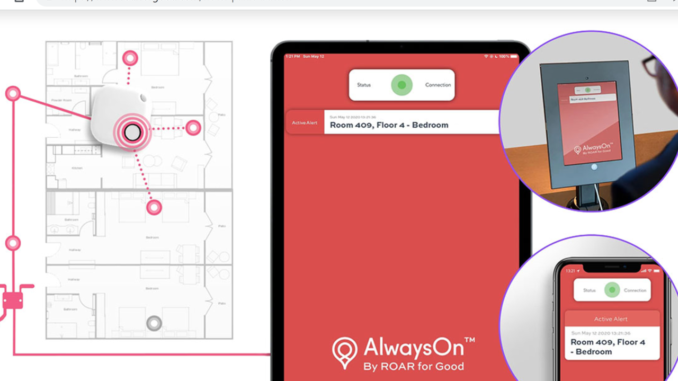 ROAR, a market leader in workplace panic button solutions for hotel and healthcare workers, has enlisted Best Buy's Geek Squad® to increase their field service footprint, improve installation efficiency, and support turnaround time at medium-to-large-scale properties.
ROAR recognized the need for improved safety and protection at a time when the hospitality industry faces a surge in pent-up travel demand and state legislators begin to push for action to reduce threats on healthcare workers. ROAR will exhibit and share details of the partnership as part of the Hospitality Industry Technology Exposition & Conference (HITEC) in Orlando, Florida this week. CEO Yasmine Mustafa will deliver remarks on the "Top 10 Hotel Safety Procedures" on Stage B on Tuesday, June 28th between 12:45 p.m. and 1:15 p.m.
"We've spent the better part of the pandemic reinforcing the staples of our technology – seamless integration and a best-in-class connectivity to enhance the well-being and safety of front-line workers," said Mustafa, who co-founded ROAR. "The relationship with Best Buy gives us the flexibility to complete multi-point implementations across several sites in just a couple of weeks. It also provides on-demand customer support to hoteliers and hospital workers when they need it most."
ROAR's patented standalone duress intervention system can operate without utilizing a site's Wi-Fi signal or bandwidth with its independent LTE capability. The company uses a series of 3-year battery-powered BLE transceivers throughout a protected facility, which are activated by signals from a highly-responsive, user-friendly wearable panic button device. Best Buy's Geek Squad® will help to extend ROAR's reach into new markets across the U.S.
Based in Philadelphia, ROAR is a mission-driven technology company dedicated to cultivating safer workplaces. The company's signature enhanced panic button solution protects employees and customers with one touch of a wearable panic button. The ROAR platform has been built from the ground up using feedback from business owners and managers, front-line workers and staff. The patented technology exceeds all known industry requirements in both hospitality and healthcare, raising the bar by providing an "always on" solution that delivers confidence and peace of mind. With precise location and tracking information the best-in-class technology is helping to deter threats of violence before they even occur.
During the last month, ROAR and Best Buy worked together to virtually train and onboard technicians. Hotel and healthcare users will now have reduced installation costs, as ROAR's reach is now localized in nearly 1,000 U.S. markets.
This alignment arrives at a time when the hotel industry is facing compliance deadlines to improve safety with panic buttons, an expectation of most housekeepers today. Hoteliers and industry professionals will get the opportunity to connect with ROAR team members at HITEC Booth #1046 between June 27th and 30th.
Does your company have news it would like to share with our readers? If so, we invite you to review our editorial guidelines and submit your press release for publishing consideration.