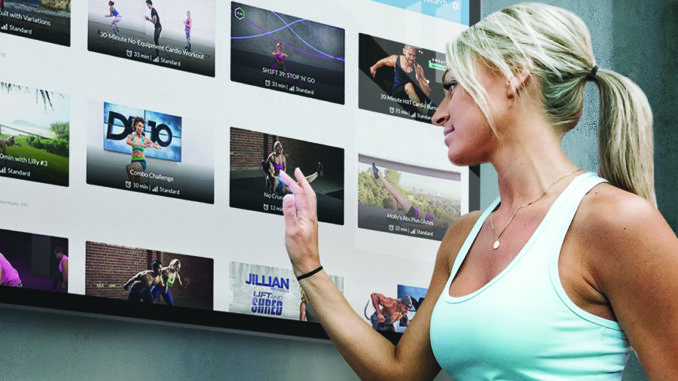 FitnessOnDemand the leader in premium on-demand fitness content for clubs and fitness centers, announces this week with the next innovative, evolution of the company's on-demand content platform. Introducing SO1O ("Solo"), a new FitnessOnDemand interface that is designed for maximum versatility and easy, plug and play use to upgrade or transform any hotel fitness facility and provide guests with a premium workout experience.
SO1O requires no complex, lengthy or expensive install. Each 43-inch, zero-bezel, sleek and mirrored panel can be hung anywhere in the club without specialized, time consuming or expensive installation. It's designed to bring premium content, short form-workouts and instructor-led sessions to any hotel gym or fitness space. And thanks to the display's horizontal orientation and mirrored finish, users get maximum, widescreen visibility of both workout content or their instructor as well as their own progress and form.
"We listened to hotel fitness facility managers across the country and understand that not every hotel club or gym space has the space or installation resources for a stand-alone virtual fitness studio or large footprint station," says Uday Anumalachetty, divisional vice president, FitnessOnDemand "SO1O is designed specifically to solve that problem and make it simple for any hotel club to offer a cutting-edge fitness experience to guests without any complicated install or management needed."
SO1O by FitnessOnDemand can be easily wall mounted anywhere in a hotel fitness facility and is ready to use out of the box without any specialized tools or additional A/V equipment. Enhanced touchscreen sensitivity now creates instant user access to more than 500 classes, workouts and winddowns on the FitnessOnDemand platform as well as regular updates from world-class fitness instructors, studios and specialist fitness brands.
In addition to the launch of SO1O, FitnessOnDemand also introduces Circuits365. Circuits65 is a portfolio of self-guided exercise circuits also designed to engage members throughout the club with fresh content every day, including 90 circuits, each comprising eight individual exercise stations. Members can jump into a circuit with any one of the eight onscreen exercises to get started and work their way through the day's circuit in any order. Each exercise station is at one minute intervals with a :30 second break between. Users can stop with one circuit ort complete multiple laps for a longer workout.
FitnessOnDemand is a global leader in the collection, curation and provision of high-quality, premium digital fitness content from some of the world's leading names and experts in personalized fitness. The company helps club operators of all sizes and types from commercial fitness club networks to hospitality and multi-family unit fitness facility managers provide comprehensive, state of the art and immersive fitness experiences to the members, guests and residents that are important to their business. Offerings include thousands of curated instructor-led classes, emerging fitness trend content, meditation, wellness and wind downs as well as content from world class creators including Jillian Michaels, SH1FT, Sweat Factor, Zumba & Strong by Zumba and many more. Club operators can provide in-club, at home and mobile access to FOD on-demand content as well as stream live instructor classes from their clubs all in one comprehensive platform.
"It's been a busy year of innovation, invention and expansion at FitnessOnDemand," adds Anumalachetty. "And that's essential to one of our primary goals: helping club operators create exceptional and immersive fitness experiences that make their club brands stand out to attract new members and retain current ones. That's on everyone's minds in an ultra-competitive industry where it's all about your environment, your offerings and what you can bring to members."
Does your company have news it would like to share with our readers? If so, we invite you to review our editorial guidelines and submit your press release for publishing consideration.