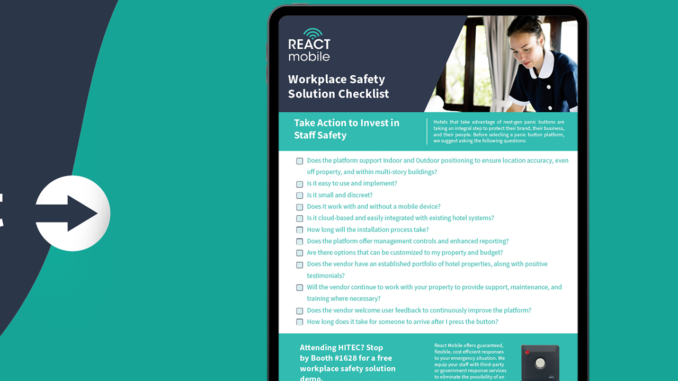 React Mobile is offering a "Workplace Safety Solution Checklist" to help hoteliers looking to invest in a panic button platform have the best tradeshow experience at HITEC Orlando this week. As the leading provider of employee safety devices to hotels worldwide, React Mobile understands the need for highly reliable, accurate, and easy-to-use safety technology to protect hotel employees against threats of violence and sexual harassment while working in remote locations.
The company will showcase its solutions in Booth 1628 at the Orange County Convention Center from June 28 to 30.
"Hotel employees deserve to have confidence that they are working in a safe environment," said John Stachowiak, React Mobile CEO. "Providing safety and security to hotel staff is getting even more difficult with fewer workers on property, making it even more important to have a plan in place in case of an emergency. Fortunately, technology is available to help protect hotel workers regardless of who is on property — and depending on the hotel's location, it may become mandatory soon.
"While there are many providers of panic button solutions in the market, it can be a daunting task to determine which solution is right for your hotel or brand," he said. "Now that there are only six months left to 2022, the deadline to comply with local and state mandates and meet industry obligations to programs like the AHLA's 5 Star Promise is rapidly approaching. Hoteliers need to take the steps necessary to contract with a solution provider NOW so they can be compliant and protect their people. We developed the 'Workplace Safety Solution Checklist' to make shopping for panic button solutions efficient. By asking a few strategic questions, attendees can quickly determine if the vendor they are visiting is a good fit."
To obtain a copy of the Workplace Safety Solution Checklist, click here.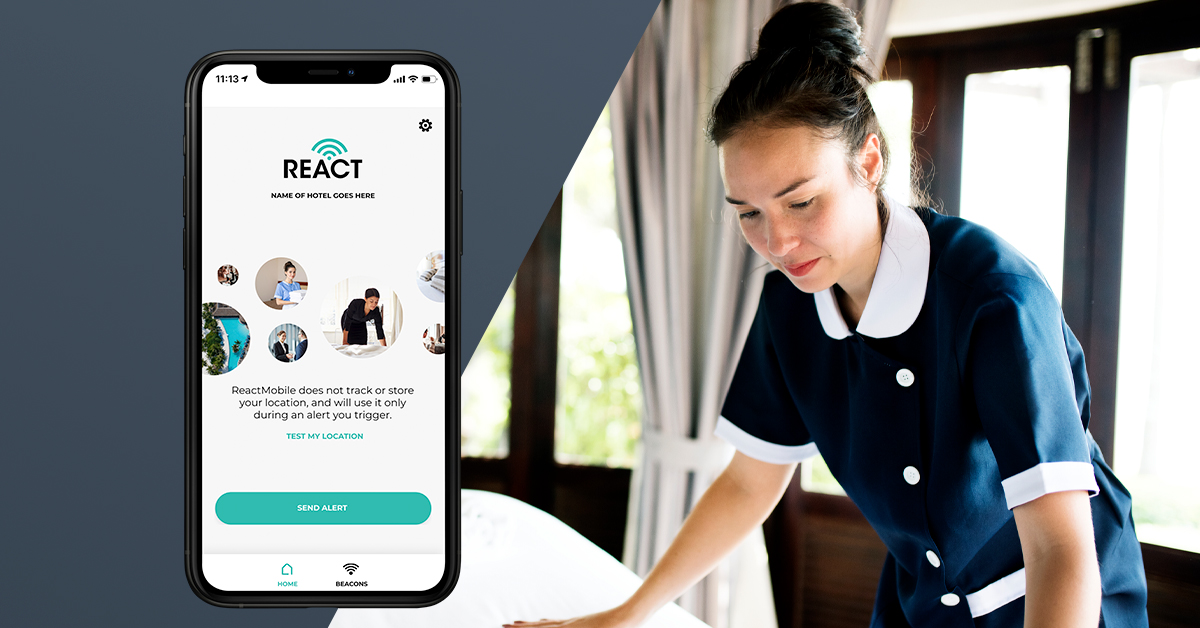 A Step Above the Rest
React Mobile 2.0 was designed to deliver the fastest response time on the market compared to other providers. The platform triggers a silent alarm that brings help without alerting others that a response is coming. Once the silent alarm on the panic button has been pressed a light begins flashing red to verify dispatch. In less than one second (when a responder receives the alert) the flashing light turns blue, acknowledging to the employee in distress that help is on the way.
React Mobile 2.0 also prevents panic buttons from being triggered erroneously. By changing the button press pattern, false positive alerts are avoided. The solution complies with Collective Bargaining Agreements that protect employees from being tracked on a property when not in danger, thereby saving panic button battery life and honoring employee privacy.
React Mobile 2.0 Key Features Include:
A new responder application that will enable employees to receive safety alert notifications on their mobile devices and dispatch help. Management will receive analytics measuring how long it took for the employee to respond to an active alert.
Support for all third-party iBeacons, such as Aruba, Cisco Meraki, and CommScope/RUCKUS®. With iBeacon functionality already existing in the hotel's WiFi access points, hoteliers will save up to 90% of workforce safety platform install costs.
A new, highly sensitive machine-learning back end to greatly increase location accuracy.
A double-redundant alert pipeline to ensure that alerts are dispatched from panic buttons to responders in the fastest time possible. React Mobile 2.0 delivers 99.9% of alerts in less than a half-second.
Single-press LTE buttons to check battery life and identify coverage problems.
Two-way multi-lingual conversations in English, Spanish, French and Chinese. Any language can be supported on request.
Single sign-on (SSO) authentication from existing employee email and password.
Regional operations whereby housekeepers and responders working at multiple properties can use React Mobile 2.0 across the enterprise.
Does your company have news it would like to share with our readers? If so, we invite you to review our editorial guidelines and submit your press release for publishing consideration.