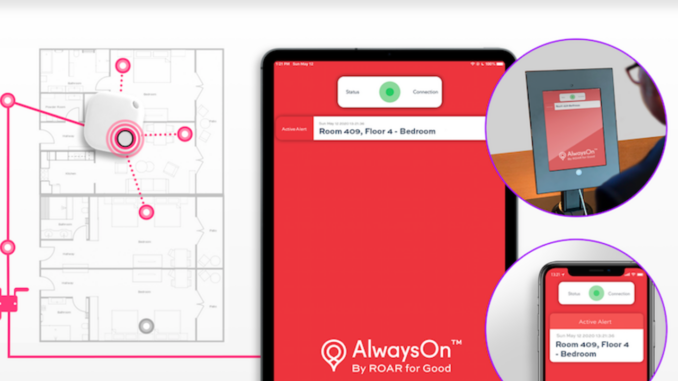 ROAR for Good, an emerging leader in hotel workplace safety technology, has been approved for U.S. Patent No. 11,128,987, which recognizes the uniqueness of, and protects the significant technological advancement of, ROAR for Good's Bluetooth low energy mesh network system, which has applicability across numerous industries.
The innovation, which was created in an effort to eliminate "drops," blind-spots, or downed coverage for network security systems, was developed and rigorously tested by a team of ROAR for Good engineers over the course of several years. The application is now live at dozens of hotels across the country, powering the company's AlwaysOn Staff Alert Technology as a new standard of safety for the industry.
"This was an engineering initiative we undertook to ensure that our customers were protected with the strongest defense possible – a closed system of mesh nodes that need only a low-grade battery power to operate," said Rich Nelson, co-founder and vice president of product and hardware development at ROAR for Good. "Our system is always reporting out data – regardless of how a hotel's WiFi or LTE is performing – allowing AlwaysOn to be one of the most reliable and accurate location-based panic buttons for the hotel community and other appropriate markets."
ROAR for Good's Bluetooth mesh network and Bluetooth low energy (BLE) application enable optimal performance of a panic button solution by linking a system of smart BLE network nodes throughout a protected facility. When triggered, these 'smart beacons' can send uninterrupted signals to security personnel who can respond in real-time to crisis situations. The system's continuous location reporting (or "follow-me" feature) updates location in real time, even if the employee moves from the original location. With ROAR for Good's patented technology, traditional system maintenance or weak internet connectivity do not interfere with the network's ability to relay information.
"Housekeepers are on their feet all day, working behind the scenes to deliver guests with a safe and comfortable hotel experience," said Taun Chapman, co-founder and chief technology officer of ROAR for Good. "With feedback from a wide range of hotel personnel, we've been able to develop a powerful accessory that is an extension of their work attire. This patent will raise industry standards as it relates to the effectiveness of associate duress solutions and our technology delivers the highest degree of protection possible to hotels and their employees."
In the midst of a historic pandemic-led business down-turn and recovery, a third of hospitality and hotel workers have indicated that they are not planning to return to their pre-pandemic jobs. They cite poor working conditions and stress as contributing factors. According to a survey from UNITE Here 1, a Chicago-based hospitality industry advocacy group, 96% of housekeepers surveyed would feel safer if equipped with a 'panic button', mainly due to harassment threats from guests.
ROAR for Good will be exhibiting at HITEC in Dallas this week (Booth #2525), where the company will also debut its free 'ROI calculator' to assess risks and vulnerabilities within hotels. The tool will be available to hotel operators who seek a better understanding of the value and positive financial impact of associate duress solutions, as well as their correlation with improved employee morale, lower turnover, reduced worker compensation claims. Various expenses can be computed based on hotel-specific criteria to identify cost savings built-in to improved safety protocols.
Based in Philadelphia, ROAR for Good is a technology company dedicated to cultivating safer workplaces. The company's signature staff safety platform, AlwaysOn, protects employees with one touch of a button. AlwaysOn is powered by a first-of-its-kind, and now patented, Bluetooth low energy mesh network, making it less vulnerable and delivering a more stable connection by design. Built from the ground up using feedback from the entire spectrum of hotel management and personnel, the patented technology was designed to summon help to the wearer's precise location.