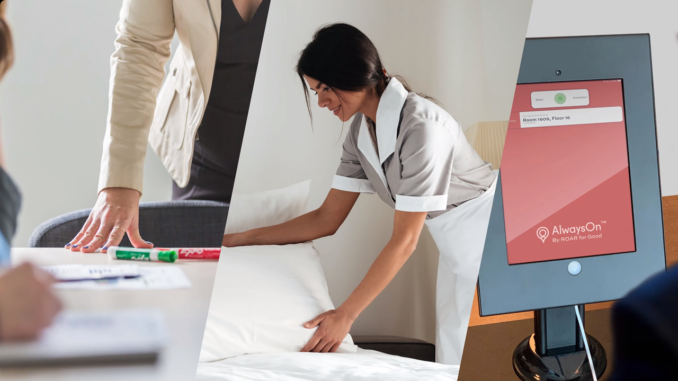 ROAR for Good, a leading hotel technology company for workplace safety, has launched with new properties in Illinois, Texas, and Florida.
The company has experienced its highest 60-day period of technology deployments to-date — a 135% increase since AlwaysOn™ launched in 2019. Elevated awareness of workplace safety and employee well-being in the industry has driven more strategic purchasing decisions for hotels across the country. 
At the SpringHill Suites Marriott, North property in Tallahassee, Florida, ROAR for Good worked with team members to train and deploy the company's panic button system at the new building prior to making its debut to the public.
"Having ROAR for Good's AlwaysOn™ installed and live gives our team a better sense of security and the freedom to focus on delivering high quality hospitality to guests," said Stacie Powell, general manager, SpringHill Suites Marriott, North. "When you have a new hotel with team members who are learning to work together for the first time, it's critically important to have cohesive communication and a technology solution that reduces risk for staff and guests."
Nationally, according to STR, hotels are nearing pre-pandemic levels of occupancy, as a summer travel surge boosts bookings. Owners and general managers have had to expedite hiring for staff, which they are finding is easier with enhanced safety protocols in place. ROAR for Good's workplace safety technology reduces safety risks for housekeepers, who are often subjected to sexual harassment by guests. As part of the "Hands Off Pants On" Ordinance and initiative, a survey revealed that 58% of Chicago area housekeepers experienced lewd acts or even sexual assault. In addition to being a rapid response to a crisis, staff safety tools can serve as a deterrence to would-be harassers. The technology has also been used for other emergencies, such as reporting serious injuries and de-escalating tense situations.
"Recruiting and retaining skilled workers has always been a struggle in the hotel industry, and it's being further compounded by the pandemic," said ROAR for Good Co-Founder and CEO Yasmine Mustafa. "Hotels who understand the urgency of this issue are being rewarded with the most skilled candidates for jobs, and an easier recruitment process. We've seen how employers can increase staff productivity, raise employee morale, and reduce workers' comp and liability claims. For employees, it reduces stress, suffering, and potentially lost wages, while providing peace of mind during their day."
ROAR for Good continues to iterate its product to be one of the most innovative and responsive tools available to hotels. The company continues to build momentum and has made strategic hires in business development and marketing in recent weeks to accommodate growth.