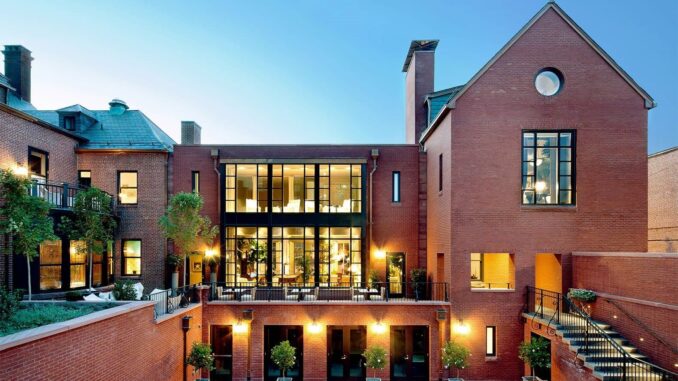 Hotels don't need to be big to benefit from the best technology. Such is the case for The Ivy Hotel, a world-class historic mansion in Baltimore. Ranked No. 6 in the U.S. by TripAdvisor among its "Top 25 Luxury Hotels" and named a Travel + Leisure "Best Hotel on the Planet," this boutique wedding and meetings destination boasts just 17 guestrooms, along with a small luxury spa, and an acclaimed culinary concept, Magdalena, A Maryland Bistro, that has earned Wine Spectator's Award of Excellence and the OpenTable Diner's Choice award. Behind all the accolades at the heart of the hotel sits Aptech, the industry standard for hospitality financial management.
Accounting Manager Kenny Cassara said 2021 was the best year yet for The Ivy Hotel due to the proliferation of "Staycations" brought on by the pandemic. As business continues to flourish, Cassara said Aptech's enterprise accounting solution PVNG is enabling him to keep financial processes flowing smoothly, as he can now access operational data in real time.
"Throughout my hospitality career I've worked with a number of accounting systems. PVNG is by far the 'best' accounting software on the market," Cassara said. "It's simple. It's smooth. It's user friendly. And most importantly, it's obvious — meaning it doesn't require a high level of training and support. Reports can be generated, sorted, and shared in just minutes. PVNG is unlike any software I've ever experienced. You can't get lost in Aptech; I can run P&Ls, accounts payable, and process invoices in my sleep."
The Ivy Hotel and Magdalena Restaurant are a Baltimore jewel. Owners Eddie and Sylvia Brown are committed to a deeply personalized approach to hospitality fueled by a desire to exceed guests' expectations. The Ivy Hotel boasts eight airy suites and nine bedrooms, each with a gas fireplace and lavish bathroom with heated limestone floor. Magdalena restaurant features bistro fare inspired by the classic dishes of France, the comforts of England, and the vast spirit of Baltimore and the Chesapeake Bay region. The Ivy is ideal for weddings or events, backed by state-of-the-art technology. After a day of meetings, guests can enjoy The Ivy's full-service spa or relax with an in-room massage.

"When a hotel like The Ivy — rated the No. 1 hotel in Baltimore and earning a distinguished 4 stars from Forbes Travel Guide in 2021 — calls your accounting solution 'best' in the industry, it speaks volumes," said Sam Costa, Aptech Director of Customer Service and Support. "Almost daily I hear people like Kenny say PVNG is effortless. They appreciate the user-friendliness of the system, which can be accessed from anywhere because it is cloud-based. I am thrilled that The Ivy Hotel has remained a satisfied Aptech customer over the years, and that the finance team is so pleased to be running on PVNG. This is a one-of-a-kind property known for having the best tea service, amazing food, lavish luxury, and a fun neighborhood. We are proud to add 'best accounting platform' to their impressive list of accolades."
Does your company have news it would like to share with our readers? If so, we invite you to review our editorial guidelines and submit your press release for publishing consideration.