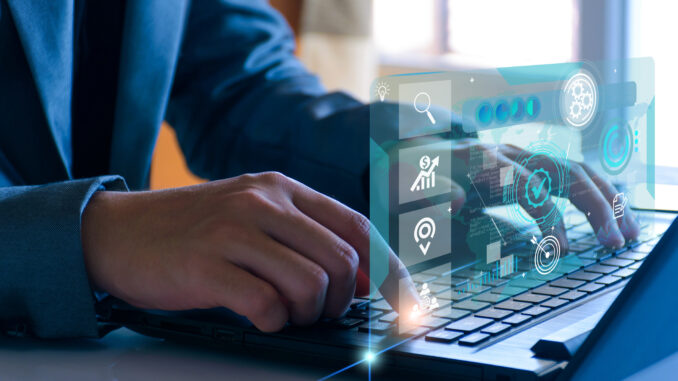 As they say, there are the problems you see and the ones you don't. Many hotels may be operating under certain assumptions carried over from decades of routine and tradition that integrated data analysis can now reveal to be flawed or wholly false, all of it silently sapping the bottom line.
This is where Business Intelligence (BI) comes in. These platforms blossomed from a need to gain more visibility on these unknown challenges by feeding loads of data into one system then generating comprehensive reports for executives to make better decisions. More recently, machine learning has been introduced to further augment the cost-saving and revenue-generating power of these systems.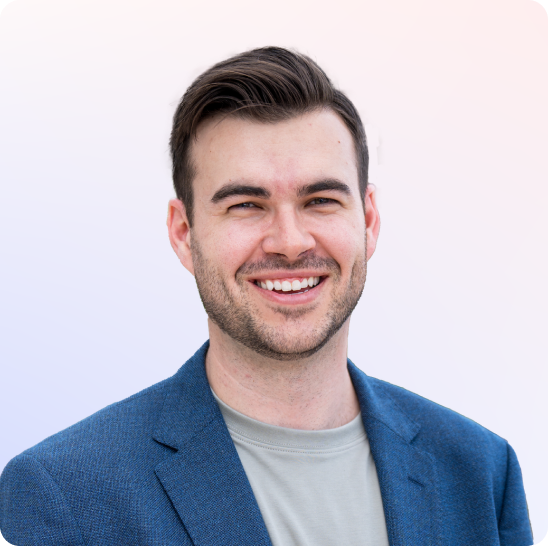 Coming out of HITEC, we can report that hotel-focused BI is about to experience a seismic shift in its decision-making sophistication. New integrations are enabling numerous other data points to be computed to help hospitality organizations realize stable growth in the years ahead.
Leading the way is the new company Actabl which brings together software solutions ProfitSword (enterprise-level business intelligence), Hotel Effectiveness (labor management), ALICE (operations) and Transcendent (asset management and capex). We sat down with Steven Moore, CEO of Actabl, to discuss the specifics of how building this integrated platform will enhance business practices from property-level and group finances all the way down to team dynamics and individual SOPs.
"Imagine a platform that brings together financial data, accounting, procurement, labor, guest profiles, guest satisfaction, information from daily operations and specifics from every profit center with external factors like competitive set benchmarks and industry trends," stated Moore. "That's what we're building at Actabl. We're combining these under one roof – four solutions with over 250 integrations – and serving them up in a digestible format, allowing hoteliers to challenge their current approach with precise data to see what's working and what isn't."
The Current State of BI
We often talk about each department in a hotel as a 'silo'. In its present state, BI helps to eliminate those silos by merging data from different inputs that not one single department or manager can observe on their own.
These platforms take in metrics like ADR, RevPAR, occupancy, GSS, guest segmentation, dining spend and amenity utilization to produce inclusive health scores and inferences to help managers improve sales efforts, staffing, marketing campaigns and capex decisions, amongst others. For executives, BI has and continues to create a strong sense of trust – giving leaders the right data to make faster and more specific decisions while knowing throughout that the data supports these choices.
As we emerge from the pandemic with so much uncertainty still in the air about where hospitality is headed, many properties simply cannot thrive without this top-level analysis to finesse operations and budgets. By removing these silos, BI lets hotels see how all profit centers – like rooms, dining, parking, spa or golf – interconnect to help optimize labor needs and reveal other areas for cost savings as well as discern what motivates more total guest spend for an increased topline.
Underspend Versus Overspend
"How do you know if your property is doing well?" posed Moore during our interview. "For the past two decades, answering this has meant reviewing such key metrics as internal and external benchmarks for the nightly rate, RevPAR, escalation events, TripAdvisor scores and so on. But these are often the symptoms without necessarily revealing the root cause of any pain. With enough data, though, hotels can identify and treat the source, so that they know exactly where they are underspending or overspending and apply just the right allotment of resources to move the needle."
What Moore discussed with us was what we came to describe as a "Goldilocks zone of hotel management." Each hotel has different goals – and those goals are constantly changing! – meaning that there's no one-size-fits-all playbook for hospitality. Modern BI lets hotels find the underspend or overspend to then know where that middle zone of bliss truly is.
This Goldilocks concept harks back all the way to the classical economic theory of 'marginal utility'. To illustrate this concept in a simple form, think about eating several donuts. The first is a symphony of sweetness on your tongue; the second is a muted delight; by the third, you're sick of eating said doughy treat altogether (well, most of us are). With all donuts created equal, once our base hunger needs are satisfied our taste centers derive diminishing returns from each subsequent bite, and the same psychology can be applied to hospitality experiences.
As a hotel example, slightly exceeding your brand standards in room cleaning may elicit cheers from your guests but going completely over the top with your housekeeping SOPs may not garner proportionally better praise. In such cases, you would be wise to only slightly exceed your brand standards then divert the extra energy to another project. Sure, you could keep spending in this one area; beyond a certain point, however, the average guest won't notice or care.
The problem with these Goldilocks situations has always been that there was no way to accurately measure when enough was enough so as to optimize for the challenge of marginal utility and diminishing returns. As such, hotels get bogged down with cost overruns or other inefficiencies that can impede brand momentum and new program that would be rolled out had there been a more effective allocation of capital.
That's about to change. With the integrated BI powered by Actabl, hotels can use their resources as efficiently as possible to improve their bottom lines, setting the stage for dramatic outperformance of the competition.
How to Win with BI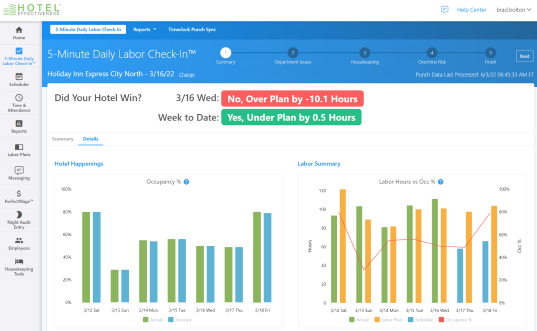 One of the main ways that a hotel can win with integrated BI is through forecasting precision. Armed with the actual operational data delivered through the ALICE front office and housekeeping modules, Actabl offers hoteliers proscriptive metrics so that they know exactly what next month's budget should be and do not incur costs where they shouldn't. Then via the capital asset management tracking functionalities within the Transcendent product, capex planning can now be directly compared with opex, making preventative maintenance even more preventative.
Returning to the previous example, executive housekeepers and GMs might ask whether they are overspending or underspending in this department. Until now, this has commonly been a defensive play, where the minimum threshold is broadly established by ensuring that all dirty rooms are cleaned according to brand standards and ready for sale to meet occupancy demands. The only real way to know if more spending was needed was when rooms were still dirty by check-in time, guests complained or overtime pay exceeded projections.
With integrated BI, you can test granular ideas for iterative improvements, such as how the insertion of new SOPs into a cleaning checklist that's pushed to the ALICE app on a room attendant's mobile phone might impact both labor per room (costs) and TripAdvisor scores (satisfaction) within ProfitSword, where the AI can then calculate the best balance between additional effort and real results.
Going a step further, said AI can be trained with specific housekeeping rules engines so that you can, for instance, model how effective individual room attendants are at cleaning on specific floors. With Actabl's latest addition, Hotel Effectiveness, hoteliers can go a step further by optimizing their labor allocation and spend across their portfolios, an end-to-end solution measuring the true value of changes to operational SOPs then allows for adjustments to labor in order to optimize for efficiency and the bottom line.
Playing Offense
They say that the best defense is a good offense; the feedback loops offered by integrated BI represent how this can become a reality for hotel operations. We bring up housekeeping because labor is perhaps the most salient issue of the day. Optimizing within this department is just the tip of the iceberg based on what we learned from Moore about the vision for Actabl and its ability to let hotels go on the offense in the form of sampling improvements.
To start, incorporating operational data gives a more accurate property health score then, as described above, lets you test variables to help solve the attribution problem and develop a feedback loop for increasing stakeholder value. This is a huge topic and one that we will explore in further depth to fully flesh out all the possibilities for this development.
To close, think about TRevPAR – that is, knowing which guest profiles are the most lucrative to your organization. Over the past few years, we've been big proponents of this under the generic maxim that more onsite spend equates to more guest satisfaction and more overall profits.
Not only do BI platforms let you put some math behind this principle but they can also tell you which specific parts of each operation are underperforming and give you the tools to improve. With technology this powerful, the only limit then becomes your own ideas and what questions you pose.
Larry and Adam Mogelonsky represent one of the world's most published writing teams in hospitality, with over a decade's worth of material online. As the partners of Hotel Mogel Consulting Limited, a Toronto-based consulting practice, Larry focuses on asset management, sales and operations while Adam specializes in hotel technology and marketing. Their experience encompasses properties around the world, both branded and independent, and ranging from luxury and boutique to select-service. Their work includes six books "Are You an Ostrich or a Llama?" (2012), "Llamas Rule" (2013), "Hotel Llama" (2015), "The Llama is Inn" (2017), "The Hotel Mogel" (2018) and "More Hotel Mogel" (2020). You can reach Larry at [email protected] or Adam at [email protected] to discuss hotel business challenges or to book speaking engagements.
This article may not be reproduced without the expressed permission of the authors.
Are you an industry thought leader with a point of view on hotel technology that you would like to share with our readers? If so, we invite you to review our editorial guidelines and submit your article for publishing consideration.