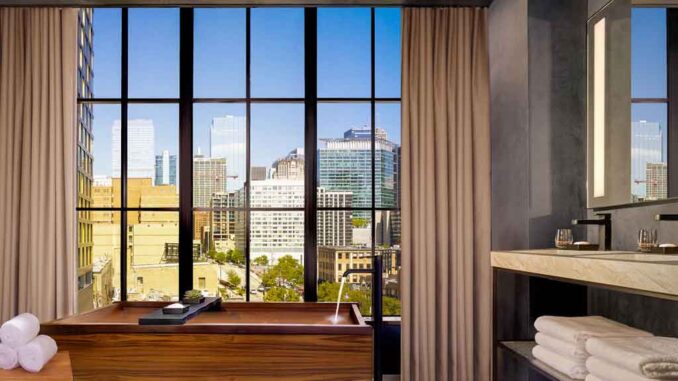 Nobu Hotels has selected IDeaS, a SAS company, as its exclusive revenue management provider. As a rapidly growing, luxury lifestyle hotel brand, the Nobu Hotels management team has decided to implement G3 RMS across its portfolio to help ensure automated revenue management decisions, increased optimization, and efficiency, as well as provide hotel staff with accessible data.
Automated decision making — G3 RMS makes decisions powered with SAS® High Performance Analytics without requiring the manual implementation and approval of recommendations by hotel staff. For brands like Nobu Hotels, this automation helps guide their properties into more strategic pricing and rate availability decisions in an often-shifting travel landscape.
Accessible, user-friendly reporting — IDeaS easy-to-use heat map allows general managers to quickly access and easily understand collected data. This feature visually displays data so that all users can interpret the information immediately, making RMS decisions easier to explain and understand.
Fostering collaboration across commercial teams — The self-paced activation training IDeaS provides ensures that all staff at each property take part in the implementation process, a process that is critical to the success of the system. Nobu requires all general managers to participate in the training program to ensure each property is engaged in the RMS from the beginning.
Nobu Hospitality is ranked among an elite selection of global lifestyle brands. The natural growth of Nobu Hospitality, built on service, image, and reputation, offers the complete spectrum of hotel, restaurant, and residence management for unique projects around the world. Founded by Nobu Matsuhisa, Robert De Niro, and Meir Teper, with operations spanning five continents, the Nobu brand thrives in the world's capitals as the ultimate destination lifestyle experience. The first Nobu Hotel opened in 2013 in Las Vegas and since then an additional 26 hotels have been added both open and in development.
With over 30 years of expertise, IDeaS delivers revenue science to more than 18,000 clients in 145 countries. "By selecting a preferred RMS provider we can now work strategically as a team. This system ensures our commercial teams are working together from the top down," said Sam Keyte, corporate director of revenue optimization, Nobu Hotels. "This collaboration provides the insights we need to drive our profitability forward and has shown immediate and measurable results."
Does your company have news it would like to share with our readers? If so, we invite you to review our editorial guidelines and submit your press release for publishing consideration.