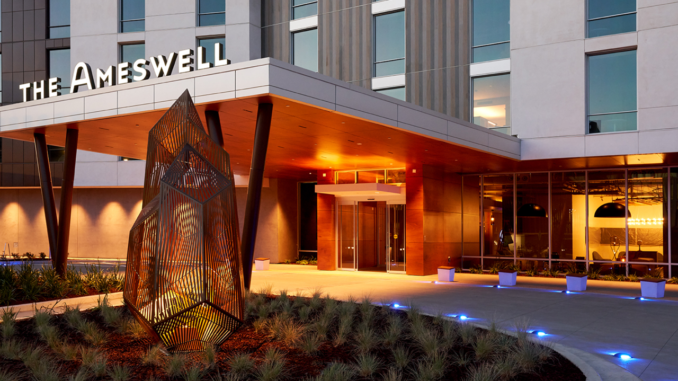 The Ameswell Hotel, a luxury hotel in Mountain View, California, that opened in July 2021, stands out for its innovative technology, which enhances the guest experience and promotes sustainability. Developed by Broadreach Capital Partners and Rockwood Capital, and managed by Storey Hotel Management Group, the hotel sits on 10 acres and boasts 225 rooms and suites, three dining options, a pool, spa, and fitness center.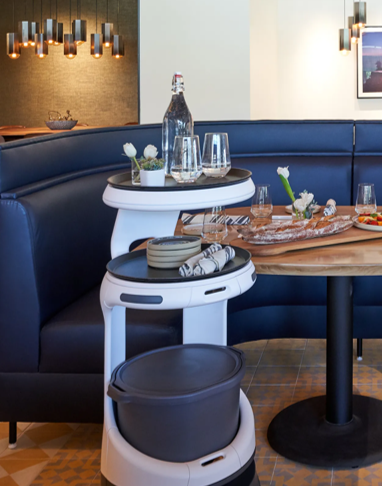 One of the most notable technological advancements at the Ameswell Hotel is the deployment of Bear Robotic's Servi, a self-driving indoor delivery robot at Roger, the hotel's main restaurant. These robots, named Wall-E and Eve, offer guests the convenience of ordering and paying for their food using their mobile phones, which not only improves the guest experience but also allows for more efficient service. This technology is important as it allows the hotel to keep up with the growing demand for contactless services and make the ordering process more efficient and convenient for guests.
In recent years, Bear Robotics has experienced significant growth in its business. Since its establishment in 2017, the company has seen a threefold increase in its operations. Today, more than 5,000 of its robots are in use in various restaurants and hotels across the United States. The company's primary product is its self-driving indoor delivery robot, which is designed to improve the efficiency and convenience of food delivery in hotels and restaurants. In addition to the deployment of Bear Robotics' Servi robots, the restaurants at the Ameswell Hotel are equipped with state-of-the-art equipment that includes precise temperature programming for quality control and technology to reduce food waste.
Another key technology feature at the Ameswell Hotel is the use of solar panels, which provide power to the hotel's LED bulbs. This not only reduces the hotel's environmental impact but also allows the hotel to save on energy costs, which can be beneficial for the hotel's bottom line. The Ameswell is also using biodegradable cleaning products and a Dedicated Outside Air System (DOAS) which runs 24/7, these are all steps that help the hotel to be more sustainable.
More recently, in November, The Ameswell Hotel chose Optii Solutions, a leading cloud-based hotel operations software, as its housekeeping management platform. The solution is currently being implemented to help improve communication between its front and back-of-house staff. Optii Chat will enable the teams to eliminate radio chatter and improve synergy between the departments. The hotel is looking for real-time visibility across its operations through Optii and to have a status of living assets and tasks so that the team can streamline their day-to-day and frequent internal tasks can be automated and updated seamlessly.
Optii's market-first technology is designed to optimize hotel operations so that scheduling and housekeeping sequences can be carried out efficiently and effectively. Products such as Preventative Maintenance will provide insights across the whole property and different departments, so the team can improve task allocation. This partnership is Optii's first leveraging the new Stayntouch integration, and is part of Ameswell's wider strategy to continue to be a technology-forward hotel.