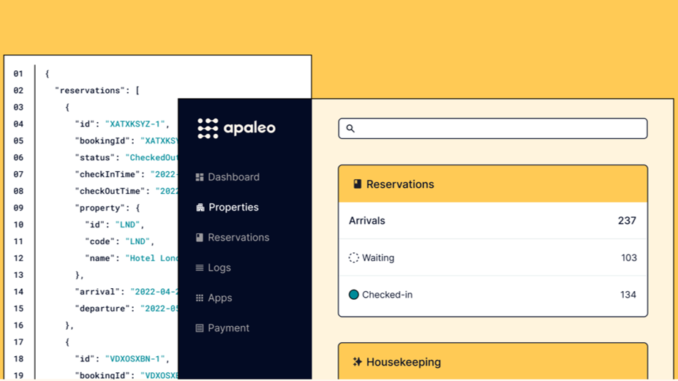 Two years in the making, hotel technology platform provider Apaleo has reportedly closed its Series A funding round. After completing an initial $4.8 million (€4.5) Series A funding round in March 2021, the company has now secured an expansion round, bringing the total Series A investment amount to approximately $9.5 million (€9 million). Whether the lengthy fundraising process was due to factors related to the pandemic or some other reason is unclear.
In any case, according to the company, the new capital will be primarily used to fuel Apaleo's product development plans and consolidate its market-leading position in Germany while accelerating its penetration within hotel and serviced apartment groups across Europe. While the initial round was led by Force Over Mass, Redalpine, and Bayern Kapital, the extension was led by Rockaway Ventures and Serpentine Ventures along with a number of high-profile business angels.
Apaleo employs a distinctive strategy in the industry known as API-first, enabling lodging providers to construct and operate their technology in a cost-effective manner, even when migrating from outdated legacy systems. This approach facilitates the transition of hotels from a CAPEX-heavy licensing model to a pure SaaS subscription model, eliminating any upfront expenses.
The Apaleo suite of products is entirely self-serviceable, according to the company, allowing customers to effortlessly set up their technology stack on the Apaleo platform. Furthermore, its app store, comprised of more than 200 hospitality apps, offers software firms and developers the opportunity to seamlessly connect, promote, and disseminate their products directly to Apaleo users.
Apaleo reportedly experienced strong growth throughout 2022, with over 100% year-to-year growth in ARR. The platform enables accommodation businesses to create unique digital experiences while streamlining operations, ultimately creating a competitive advantage. The property management platform powers brands across more than 15 countries, disrupting the nature of hospitality software with the transition from single-vendor suites to best-of-breed technology. Hotel groups and tech-enabled hospitality businesses are leveraging the open platform with customers including numa, Mollie's by Soho House, mk hotels, Zetter Hotels & Co., Limehome, SV Group, HR Group, Vagabond Club, and Lindemann Hotels.
Apaleo's CEO and co-founder, Martin Reichenbach, stated that the new funding will allow the company to pursue its mission since the birth of Apaleo: give every hospitality business the freedom to create its vision. Reichenbach also added that the company will continue to provide the core while its forward-thinking community will help hospitality companies to innovate.
Apaleo was founded in 2017 in Munich and is billed as the open property management platform for hotel and serviced apartment groups. In 2021, hotel software review and recommendation platform Hotelhero ended operations and its founding team joined Apaleo.
The Apaleo platform empowers accommodation providers to offer digital experience for guests and staff with Apaleo and some of the hundreds of integrations available in the Apaleo Store. The platform is said to have been built on the core belief that hospitality software should never be fixed in time because guest and staff expectations are constantly evolving and increasing.
Apaleo's executive team, including Vasily Geyer (CTO), Thibault Gence (VP Growth), and Florian Montag (VP Business Development), will reportedly focus their efforts on driving the further growth of Apaleo, consolidating its market-leading position for hotel and serviced apartment groups in Germany, as well as its continued internationalization throughout Europe in 2023.
Apaleo's new funding is expected to help the company empower a growing number of hotel and serviced apartment groups with the tools they need to remain competitive in today's rapidly changing digital landscape. With its robust and cost-efficient business model, Apaleo would seem to be well-positioned to help drive the industry's digital transformation and become an important player in the global hospitality technology ecosystem.