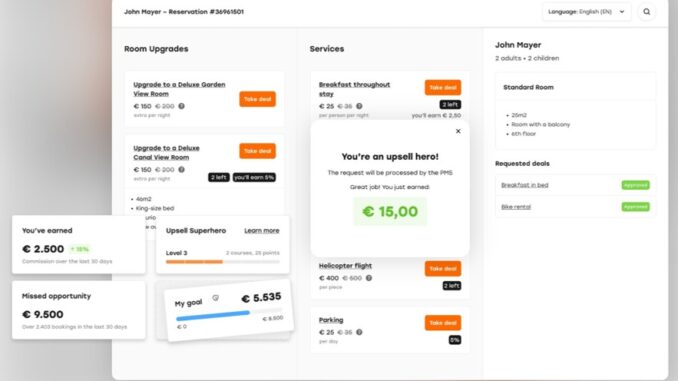 Oaky, a hyper-personalised hotel upselling software solution, has released its new Front Desk Upsell automation solution. This new functionality is designed to transform front desk agents into upselling superstars, boosting revenue and keeping employees happy and motivated.
Providing its customers with robust Pre-stay and In-stay Upsell capabilities, Oaky has enhanced its tool suite by adding another powerful solution to enable hoteliers to effectively integrate upselling into their day-to-day operations and upsell throughout the entire guest journey while taking advantage of streamlined segmentation, dynamic pricing, reporting and more.
Front Desk Upsell automation functions as a recommendation engine and delivers prompts on what to upsell during check-in to your front desk agents in real time. Mews is the pioneering PMS to launch Oaky's brand-new Front Desk Upsell automation, followed soon after by OPERA Cloud, providing access to Oaky's solution directly from the interface of their PMS.
The top advantages of this new product are threefold.
Oaky's Front Desk Upsell automation enables hotels generate 3-9 times more upsell revenue, assisting hotels in increasing RevPAR and TrevPAR. 

It helps to attract and retain top talent since Front desk agents that are more successful at upselling also earn more commission than in other hotels, underpinned by Oaky's exciting Gamification functionalities 

Finally, it saves time and boosts upsell productivity by providing ongoing access to an up-to-date and real-time list of available hotel room upgrades and services, including pricing and other crucial details for successful upselling, which simplifies the upselling process and eliminates manual work.
"One of the major challenges that the hospitality industry has been experiencing in recent years is increased staff shortage and employee turnover," said Erik Tengen, co-founder and CEO of Oaky. "This is why retention programs and the right incentives, such as higher commissions, development opportunities and work-life balance benefits, are key to making your employees happy. I am genuinely excited to have been working with over 50 hotel chains across the globe on creating a product that helps both generate revenue for the hotel and create a positive work environment that continuously attracts new talent."
Oaky is an upselling software that helps hotels boost their revenue by offering relevant upgrades & services to their guests throughout the whole guest journey. With automation, segmentation & dynamic pricing, it maximises the average spend per guest and removes manual work. Oaky has been recognised as the Best Upselling Software by Hotel Tech Report for 6 years in a row and is trusted by hotels, groups and chains across the globe, including the ONYX Hospitality & Radisson Hotel Group.
In addition to releasing the new product, Oaky is partnering with the best training companies to offer live workshops on cultivating front desk upsell culture and educating on effective upselling. The goal is to support hoteliers in establishing a strong upselling culture, equipping front desk agents with tried-and-tested upselling techniques and the knowledge of upselling psychology, and, thereby, increasing upsell conversions and revenue. 
Does your company have news it would like to share with our readers? If so, we invite you to review our editorial guidelines and submit your press release for publishing consideration.