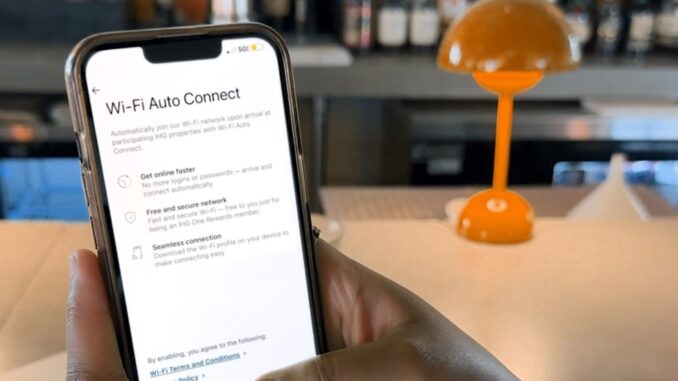 IHG Hotels & Resorts (IHG) has introduced a new mobile product feature called IHG Wi-Fi Auto Connect. The feature, available exclusively in the IHG One Rewards mobile app for iOS and Android users, offers a seamless and effortless Wi-Fi connection for IHG One Rewards loyalty members at more than 5,000 IHG hotels worldwide.
IHG Wi-Fi Auto Connect is made possible by the redesigned IHG app and IHG's proprietary internet solution, IHG One Rewards Wi-Fi. By opting in through their mobile devices, guests can automatically connect to the hotel Wi-Fi upon arrival, eliminating the need for separate login codes or passwords. This feature is designed to not only save time but also enhances the user experience for guests.
To enable auto connection, IHG One Rewards members will need to set it up once through the app's settings. This functionality benefits guests visiting an IHG hotel for various purposes, such as meetings, overnight stays, or dining at a hotel restaurant.
"At IHG, we are constantly looking for ways to enhance the guest experience, and IHG Wi-Fi Auto Connect is just one example of how we're doing that," said Brian McGuinness, Senior Vice President of Global Guest Experience at IHG Hotels & Resorts, in a press statement. McGuinness emphasized that this solution would improve connectivity for IHG One Rewards members across the company's vast network of hotels.
IHG Hotels & Resorts encompasses 18 hotel brands and IHG One Rewards, one of the world's largest hotel loyalty programs. With over 6,000 open hotels in more than 100 countries and over 1,900 hotels in the development pipeline, IHG continues to expand its global presence. The company employs approximately 345,000 people across its hotels and corporate offices worldwide.

In addition to the improved Wi-Fi connectivity, the IHG app has undergone other enhancements designed for speed and convenience. For instance, on iOS devices, a new lock screen widget feature allows guests to view their points balance and upcoming stays directly from their device's lock screen, providing quick access to the app. The app also offers booking features that enable guests to select room enhancements, such as specific views or additional space, during the booking process. The IHG One Rewards mobile app has become the fastest-growing booking channel for IHG, allowing guests to easily book their stays at IHG hotels.
In December, IHG announced that it was partnering with PPDS, the exclusive global provider of Philips digital signage, interactive displays, direct view LED and professional TV products and solutions, bringing its advanced Chromecast™ built-in Philips MediaSuite hospitality TVs to deliver IHG's next generation in-room entertainment solution.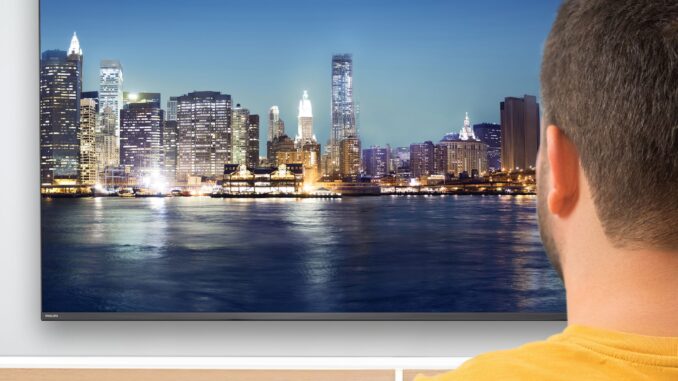 IHG has now begun introducing Philips MediaSuite TVs into selected hotels across all of its brands, including InterContinental Hotels & Resorts, Kimpton Hotels & Restaurants, Holiday Inn brand family, Crowne Plaza, voco and Hotel Indigo, in the coming months.
First launched in 2019, Philips MediaSuite revolutionized hospitality TVs, combining best-in-class 4K UHD picture quality with a series of world-first innovations and solutions to bring once unimaginable levels of entertainment choice (both linear and non-linear), personalization and control to guests and hoteliers. As a part of this new global partnership, Philips MediaSuite TVs, available across multiple sizes from 49"-75", will be available for hotels to purchase.
With Philips MediaSuite remaining the only dedicated hospitality TVs to feature Chromecast built-in™, guests staying at selected IHG hotels are able to wirelessly cast their streaming content, including movies, gaming, presentations and more, straight to the big screen for higher resolution viewing, from their own smart devices at the touch of a button. Part of a long-term commitment to featuring Chromecast, extensive security protocols have also been built-in, with all guest data deleted upon a guest successfully checking out of their room.
IHG Hotels & Resorts has truly prioritized guest satisfaction and convenience with the introduction of IHG Wi-Fi Auto Connect as well as the Philips MediaSuite TVs. These technology-enabled features speak to IHG's ongoing efforts to elevate the guest experience to new levels of simplicity and efficiency.