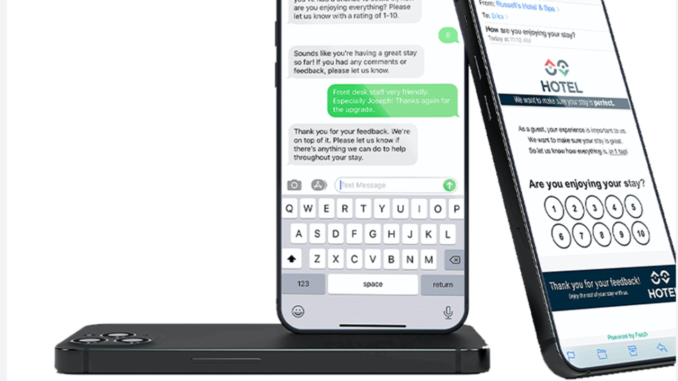 Maestro PMS will showcase a NEW suite of features to its innovative mobile engagement and feedback tool, GuestXMS, at HITEC® Toronto. The enhancements are enabling operators to gain enhanced insight into guests' needs and expectations. Powered in collaboration with Fetch, GuestXMS gives independent hoteliers access to two-way SMS, case-management capabilities, and real-time integration to a guest's profile providing instant access to guest feedback or insights into their travel preferences. Using this system, hoteliers are able to actively track guest sentiment before, during, and after their stay, enabling operators to respond instantly to negative reviews or address traveler concerns as they emerge.
The NEW GuestXMS features were designed to address the many challenges impacting the hotel industry, from staff shortages to the need for improved on-property communication. Enhancements to be demonstrated at the industry's premier hotel technology event include:
SMS-Based Check-In and Check-Out: GuestXMS now enables hoteliers to provide links for pre-registration, mobile check-in, and mobile check-out directly to guests over SMS. Documents are generated directly by Maestro and allow hotels already using the system to implement contactless tools quickly and seamlessly.
Text Broadcasts: Hotels can now schedule SMS-based information blasts or broadcasts to hotel workers and guests. These messages can include marketing promotions, emergency announcements, operational alerts, and more, and can be targeted as broadly or specifically as necessary.
Updated Online Review Management: GuestXMS now allows hotels to add competitive set comparisons when looking at online reviews, and even respond to reviews from directly inside the application. Maestro users can now also track their hotel's online reputation across all leading review sites and easily compare it to their competitors.
Team Chat: GuestXMS now comes with a built-in messenger designed to simplify staff communications. All messages are sent in real-time and contain a log for future reference.
Image Support: Maestro users can now attach images to any ticket, allowing maintenance and housekeeping to provide greater context when submitting work orders in a fraction of the time.
360° Room Analysis: Maestro's GuestXMS dashboard now includes all created ticket data and survey data, providing operators with a complete view of the room's entire logged activity.
Scheduled Tickets: Maestro users can now schedule any tickets to be created and set at a future established date and time.
Check-in/Out a Big Hit
Nivi Shroff, Director of Quality Assurance at Myrtle Beach Seaside Resorts, said she is thoroughly impressed with the new additions to GuestXMS' capabilities, particularly the ability to check guests in and out using SMS.
"GuestXMS has improved our response time to guest concerns and reviews and has even allowed us to create helpful notes behind the scenes to follow up with guests easily," Shroff said. "The best part is that all of these features are in one place, putting all the necessary information to improve the guest experience right at our fingertips."
Warren Dehan, President of Maestro PMS, said limited labor and rising guest expectations have made it necessary for operators to understand the full context and positioning of their property and its individual rooms, without the time to pour over complicated reports and forecasts. As a result, independent operators are relying on GuestXMS and its 360° Room Analysis dashboard to understand room activity.
"Hoteliers today, particularly independents, cannot operate effectively using incomplete information," Dehan said. "The newest iteration of GuestXMS is designed to capture data on both guest engagement and room ticketing activity taking place on the back end. This provides a complete history of a guestroom in one location. Using this, in addition to GuestXMS' expanded communications tools such as team chat and image support, allow operators to have a greater understanding of their property than ever before, at a moment's notice."
Russell Silver, Founder and CEO of Fetch, said coming into the busy season, many hotel teams have expressed concern about being able to adequately handle the check-in and check-out rushes without major lines forming.
"Since adding SMS-Based Check-In and Check-Out to GuestXMS, we have noticed a huge uptick in hotels adopting the mobile check-in and checkout tools," Silver said. "Since launching the ability to deliver these touchpoints via SMS, we have seen literally 10-times stronger engagement between hoteliers and guests.
"GuestXMS will continually be enhanced to respond to economic factors and industry demand, such as the ongoing labor crisis and the need for greater operational efficiency," Silver said. "When we first introduced the upgrades, more than 90 percent of users began uploading images to service tickets. In the near future, we plan to expand GuestXMS image capabilities to include enhanced searchability using AI. Independent hoteliers need access to some of the more refined communications tools which have emerged over the past few year, and together Fetch and Maestro are delivering on those needs with GuestXMS."
Does your company have news it would like to share with our readers? If so, we invite you to review our editorial guidelines and submit your press release for publishing consideration.