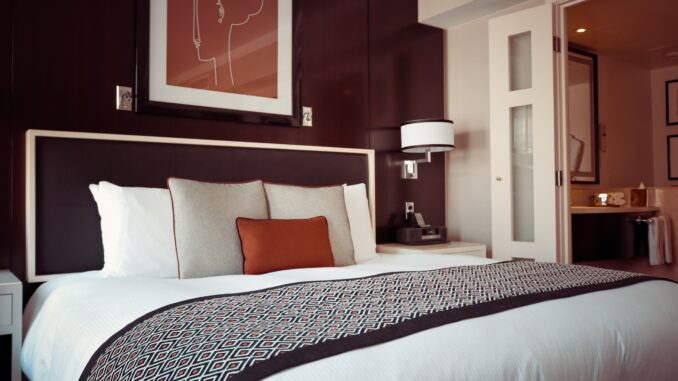 In an ideal world, every guest who books a room would spend at all the facilities onsite – restaurant, spa, golf, gift boutique, you name it. But that is very often not the case no matter how adept hoteliers are at marketing these ancillary spend opportunities. The only touchpoint that reaches all guests is the in-room experience and this is largely affected by how good a night's rest each guest has.
We've all known this for a while, going much further back than the likes of Westin's Heavenly Bed program which ostensibly ushered in the modern era of sleep programs when it was first introduced in 1999. What's changed now is that sleep science has advanced leaps and bounds in the 21st century, informing on how this stretch of time restores the body and mind as well as proper sleep hygiene practices to maximize the effectiveness of this restoration.
More recently, the importance of sleep has catapulted into the mainstream under the broader banner of wellness, especially in the post-pandemic world where people of all walks are more keenly attuned to the need for work-life balance. This greater trend has latched on so much so that sleep tourism has become its own thing, denoting travelers who explicitly select hotels for their restorative sleep programs. Rosewood Hotels & Resorts has its Alchemy of Sleep experiences; Park Hyatt has debuted a 'sleep suites' product tier; Six Senses offers multi-night sleep wellness packages, Sonesta is rolling out its Rest & Renew Sleep Program.
Enhancing a hotel's sleep program is first and foremost a defensive play; guests who don't sleep well are unlikely to return. But these room amenities can also act as key points of differentiation to drive bookings, grow ADR, elevate a room category, upsell or assuage guests during error recovery.
Tech Now Underpins Sleep
While sleep hygiene techniques often involve habitual changes like not eating within three hours of going to bed or not vigorously exercising late in the evening to avoid adrenaline spikes, many are within a hotel's control. Pillow programs, linen quality and sound dampening all play a role. However, what's becoming increasingly clear is that a contemporary sleep program requires a lot of tech to make it sing.
Here are some basics that are being deployed at midscale and upscale properties:
Circadian lighting that can adjust to red-amber hues at night and limit blue light
Nighttime motion sensors that activate floor-level soft lighting
Blackout curtains with IoT room controls for 'one touch' bedside access
Smarter thermostats to help maintain the body at the optimal temperature
Vitamin-infused showers and bathroom amenities with sleep-friendly ingredients
On-demand access to light stretching, meditation or ambient noise apps to help relax the mind
Pillows, sleep masks, sprays and other physical goods requiring nimble inventory management
But the technology of sleep goes far deeper than this. In fact, given that sleep programs have become an arms race of recent, the technology must go deeper for it to truly make an emotional impact on the guest when they are researching hotels or in justifying a sizably greater nightly rate. For luxury properties hoping to charge thousands of dollars per night, advanced sleep tech becomes a key driver.
Besides the dedicated apps that someone can use from their phones like Sleep Cycle or Headspace, the next big thing for sleep tech products are wearables like the WHOOP armband or Oura ring that can more accurately track heart rates, light sleep, deep sleep, REM, temporary wake ups, snoring and blood oxygenation. While many of these companies are focusing on a direct-to-consumer approach for commercialization, the market penetration for these products is still quite low, affording hotels an opportunity through which to inspire and wow guests by letting them sample all these new toys.
Perhaps the crowning jewel of sleep tech, though, is the bed itself. After all, when the average spends a third of their life in bed, wouldn't it make sense to optimize this daily experience by deploying some technology that can help you get the most out of this time?
Enter smart mattresses or sleep systems. Whereas tracking apps or devices tell you how you slept, the new bedding appliances on the market aim to improve sleep quality by controlling the bed microclimate that is created by the body's heat between the sheets, the comforter and the mattress. Removing pathogens from the air, decreasing moisture and keeping the body cool all play a part in limiting restless leg syndrome, interruptive bouts of wakefulness and lower back pain. On the market today are manufacturers like Eight Sleep's Pod 3 and Casper's The Wave Hybrid Snow along with many others where the focus is on lumbar support.
FreshBed In Focus
To help explain the opportunity and some more of the advantages for hotels, we interviewed Barry Van Doornewaard, Founder and CEO of FreshBed, the manufacturer of a proprietary sleep system with allergy-friendly functionality, active HEPA ventilation, thermoregulation and humidity controls built directly into the bed to profoundly improve the guestroom experience. RH Guesthouse in New York represents the North American launch for FreshBed, where its beds are a top marketing component as this hotel looks to command north of $2,200 per night.
To explain the issue of room ambient temperature versus the microclimate formed between the sheets and the mattress, Van Doornewaard commented, "From a recent study, the European Bedding Industry Association found that the second biggest sleep disorder (52%) is having an improper bed climate, which is most likely to occur when body heat gets trapped by high-thread-count-linens, excess room humidity, plastic covers that prevent ventilation out the sides of mattresses or others. In these cases, as the temperature increases around the sleeper throughout the night, it can lead to restless leg syndrome, perspiration, conscious or unconscious wakeups and poorer recovery."
"From scientific research, we now know that the ideal bedroom climate for recovery should be relatively cold (between 18C and 22C) and dry (around 50% relative humidity)," continued Van Doornewaard. "FreshBed allow guests to personalize and optimize the microclimate under the duvet so that temperature or moisture levels never become disruptive in the middle of the night and can improve sleep by up to 50%, while the delivery of HEPA-purified air further enhances sleep quality."
One other critical property of moisture is that water residues allow microbes and dust mites (or even bedbugs!) to flourish on pillows, comforters, duvets and mattresses. This then impacts localized air quality – and potentially introduces allergens into the environment – around the bed to further weaken sleep. Over the long-term, moisture also hastens the deterioration of the mattress, adding to replacement costs. Silent air purifiers within the mattress are the best way to attenuate these issues.
FreshBed also recently announced a direct integration with the INTELITY platform, allowing guests to access their bed controls from the in-room tablet or mobile app – the latter acting as yet another way to incentivize guests to download a hotel's branded app. It's these sorts of IoT connections that enable 'invisible tech' moments like touching only one button on the smart tablet that may read 'Goodnight', which then transforms the entire room – lights, blinds, HVAC and bed – to be sleep ready.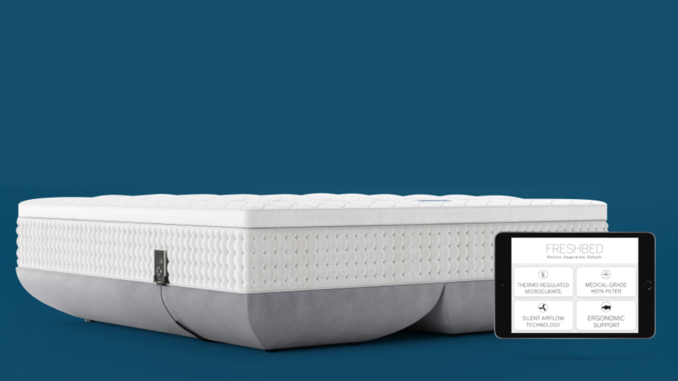 From the guest's perspective, bleeding-edge sleep tech like the FreshBed system are all about selling peace of mind. Psychologically speaking, providing some semblance of guarantee behind getting a better night's rest will act as a self-fulfilling prophecy; in essence, the mind says to itself, "The hotel's got my back, so I can let my guard down and drift off to sleep."
Ultimately, we see sleep tech as a huge positive for any hotel, but especially for the luxury wellness traveler. The guarantee of getting a proper sleep while traveling is something that people are willing to pay for – especially at the luxury end of the market – and it is an aspect of the guestroom experience that customers are now specifically looking for when selecting their hotels. The pursuit of the best sleep and the bed possible as enhanced by new technologies is an arms race that will inevitably seep through all hotels in all market segments, so best to get ahead of the curve while you still can.
Together, Adam and Larry Mogelonsky represent one of the world's most published writing teams in hospitality, with over a decade's worth of material online. As the partners of Hotel Mogel Consulting Limited, a Toronto-based consulting practice, Larry focuses on asset management, sales and operations while Adam specializes in hotel technology and marketing. Their experience encompasses properties around the world, both branded and independent, and ranging from luxury and boutique to select-service. Their work includes seven books: "In Vino Veritas: A Guide for Hoteliers and Restaurateurs to Sell More Wine" (2022), "More Hotel Mogel" (2020), "The Hotel Mogel" (2018), "The Llama is Inn" (2017), "Hotel Llama" (2015), "Llamas Rule" (2013) and "Are You an Ostrich or a Llama?" (2012). You can reach Larry at [email protected] or Adam at [email protected] to discuss hotel business challenges or to book speaking engagements.
Are you an industry thought leader with a point of view on hotel technology that you would like to share with our readers? If so, we invite you to review our editorial guidelines and submit your article for publishing consideration.