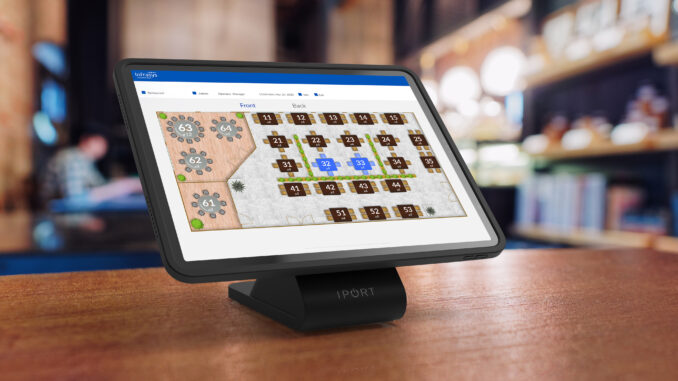 Shiji, the global hospitality technology innovator, has partnered with IPORT, an award-winning manufacturer known for enhancing the usability of iPads and iPhones, to introduce an all-in-one software solution for hotel restaurants. This collaboration will provide hoteliers with a seamless combination of a tablet and payment device to maximize their F&B operations.
The integrated iOS and payment device solution simplifies guest service for hotel restaurant servers, providing them with an effortless tool to cater to their guests' needs. As a certified Apple partner, Shiji and IPORT guarantee exceptional performance and reliability. Hoteliers can choose from multiple device options, including iPad Pro, iPad Mini, and iPhone, ensuring flexibility and compatibility with their operations.
"IPORT products are built around modularity and flexibility that empower our hospitality customers to do more with the iOS platform. We are thrilled to partner with a leading iPad and iPhone cloud PMS and POS platform provider like Shiji," said Chris Lawson, Head of Partnerships, IPORT. "We look forward to innovating with Shiji in disrupting legacy, monolithic providers who have limited the industry from harnessing the power of iOS and mobility. The future is bright, and the possibilities are endless with IPORT, iOS, and Shiji."
"The partnership with IPORT is a significant milestone for Shiji in our commitment to provide innovative technology solutions for the hospitality industry," said Ryan King, Senior Vice President of Shiji in the Americas. "By combining our expertise with IPORT's hardware solutions, we empower hoteliers to streamline restaurant operations and deliver exceptional guest experiences. This collaboration represents another step forward in our dedication to driving success in the Americas, and globally."
The tablet and payment device solution seamlessly integrates with multiple payment gateways, allowing hoteliers to choose the system that best suits their needs. By simplifying the payment process, it reduces operational complexities, minimizes errors, and saves valuable time and resources for hoteliers.
Separately, Shiji nnounced the promotion of Michelle Silverman to the role of Senior Vice President of Global Accounts. Silverman, a long-standing member of the Shiji team, brings extensive industry experience and a proven track record of success to her new position.
With over 40 years in the hospitality industry, Silverman has held various roles ranging from F&B and Front Office Management to Account Management positions at renowned hospitality technology companies. Throughout her career, she has established and nurtured relationships between technology providers and hotel companies, consistently bringing innovative solutions to some of the largest players in the global hospitality industry such as IHG and Mandarin Oriental Hotel Group.
Does your company have news it would like to share with our readers? If so, we invite you to review our editorial guidelines and submit your press release for publishing consideration.