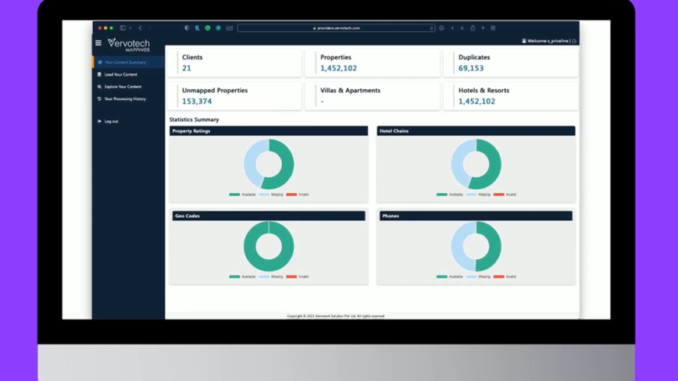 Vervotech, an India-based technology startup specializing in managing hotel room data and offering innovative solutions for hotel mapping, has been acquired by investment firm Juniper Group, a portfolio of Vela Software, one of the six operating groups of Constellation Software, and a prominent player in the travel tech industry. This move is part of Juniper Group's strategic efforts to bolster its position in the rapidly evolving travel technology landscape. Terms of the acquisition were not disclosed.
Launched in 2018, Vervotech's platform seeks to addresses a longstanding challenge in the hospitality sector: duplicate listings across suppliers in hotel booking data. This problem often leads to inaccuracies and missed bookings, negatively impacting the guest experience. With expertise in data analysis and optimization, the startup's platform is designed to streamline and refine hotel booking data, with the goal of ensuring a seamless booking process and improved guest satisfaction. The company offers a  Curated Content tool that is designed "with specialized AI models that deduplicate and curate illustrative and descriptive content from multiple suppliers to deliver standardized and opinionated content."
The acquisition aligns with Toronto-based Juniper Group's mission to expand and enhance its portfolio of travel and technology companies. As a division of Constellation Software, Juniper Group has demonstrated its commitment to growth in the travel and hospitality technology space through acquisitions, having made multiple strategic moves in recent years. Most recently, in April, it acquired Peakwork, which provides distribution systems for travel companies. The acquisition of Vervotech is another step toward cementing Juniper Group's influence in the travel tech sector.
According to a press statement, the company aims to extend its reach to Europe, North America, and the Middle East, tapping into new markets and catering to a broader audience. With the Vervotech acquisition, Juniper Group advances its competitive prowess in the hospitality technology realm. As Vervotech continues to operate independently and leverage Juniper Group's resources, the collaboration sets the stage for further advancements in hotel room data management and beyond.