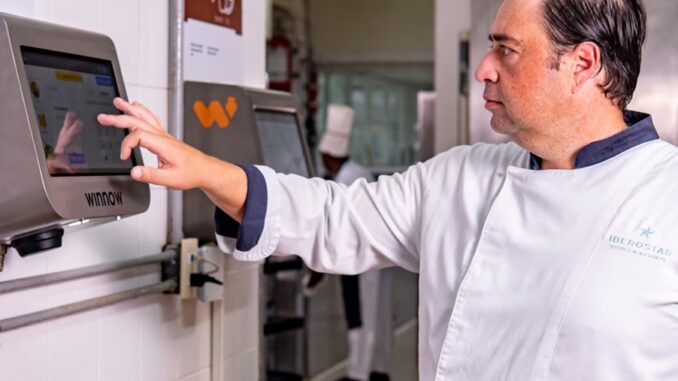 Accor, a global leader in the hospitality industry, is leveraging artificial intelligence (AI) and a joint measurement drive to further reduce food waste. With 5,500 hotels and 10,000 food and beverage venues serving 200 million meals worldwide annually, Accor recognizes the importance of precise measurement in achieving food waste reduction.
To accurately quantify food waste and comply with shared standards, Accor encourages its properties to measure their waste using Gaïa, a dedicated online reporting tool unique to Accor hotels. This technology-based solution makes it easier for hotels to measure and monitor their energy, water, waste, and carbon footprint performance, allowing them to track the impact of their sustainability initiatives.
Currently, 71% of the group's affiliate, managed, and franchised hotels have adopted this platform, and the group plans to extend it to all hotels with catering operations by 2025.
Accor is also working within the International Food Waste Coalition (IFWC) to define a common methodology for measuring and establishing best practices to reduce food waste in commercial and contract catering. By developing industry-wide standards and implementing rigorous scientific approaches, Accor aims to exceed its targeted 50% reduction in food waste by 2030.
To accelerate its transformation and reduce waste at the source, Accor has partnered with three start-ups that leverage AI. Winnow, which has been scanning and visually recognizing surplus food since 2016, provides detailed data on the quantity and type of food wasted, enabling teams to adjust menus and reduce waste. This solution is currently used in around 100 properties, resulting in significant waste reduction.
Orbisk, an AI-based start-up awarded the Accor Challenge at Viva Technology 2021, scans leftover food to obtain clear data on the amount and type of food being thrown away, helping to adjust menus and reduce waste. Fullsoon, a predictive management solution for restaurants, estimates the number of customers, the dishes that will be ordered, and the exact quantity of ingredients needed to prepare them. Accor aims to have 10 pilots of Fullsoon's solution running by the end of 2023, with the goal of optimizing food and beverage margins and reducing waste.
Accor is also focused on changing habits and raising awareness among its employees and customers. The group has designed specific training modules for its kitchen teams to address food waste, and it actively engages with customers to encourage responsible habits. Accor is committed to selling uneaten food at reduced prices or donating it through a partnership with Too Good to Go, which has already prevented over 345 tons of excess CO2 emissions and saved 137 tons of food from being wasted.
Iberostar Hotels has installed Winnow technology in 48 of its locations worldwide, marking a notable milestone in its commitment to achieving a waste-free future by 2025 and becoming carbon neutral by 2030. Iberostar has reported a reduction of 735,000 meals in food waste since January, which translates to an 11% decrease in waste weight and a saving of 1,264 tons of CO2. This achievement is largely due to the use of artificial intelligence (AI) technology.
The Winnow systems implemented in Iberostar kitchens know exactly what they throw away, what they save, and how they can make smarter decisions based on real data. The kitchen staff, trained to work with the tool, uses a tablet to identify discarded food, while a camera identifies food items (capable of capturing up to 600 food items). A scale measures the weight and sends a message to the chef, indicating the cost, weight, and quantity of food discarded.
All this data is uploaded to the cloud, where the food waste from each day is recorded and analyzed. With the preparation of daily, weekly, and monthly reports, Iberostar kitchens receive the necessary information to promote improvements in their production processes. Those improvements will ultimately help Iberostar save money and reduce its environmental impact.
Utilizing AI in its kitchens will allow Iberostar to improve the customer experience and quality of service. This will be done by improving efficiencies in the kitchen, paying more attention to environmentally-conscious materials, and innovating with techniques such as slow cooking.
"Reducing food waste is key to meeting our 2030 Agenda goals," said Sabina Fluxá, Vice-Chairman & CEO of Iberostar Group, in a press statement. "The value of food cannot be underestimated, and, at Iberostar, we want to ensure it is not wasted. In addition to training our employees to address food waste, we have put in place this innovative system to reduce the amount of waste we produce without affecting the guest experience. We are convinced the use of state-of-the-art technology, training, and innovation dedicated to removing food waste will help us reduce climate impacts, achieve our goals, and contribute to broader global goals that benefit the planet."
Buffet lines in the hospitality industry are one of the largest contributors to food waste. To combat this, Lumitics, a Singapore-based start-up backed by venture capital firm Velocity Ventures, has developed a smart waste tracker. This innovative technology uses AI, sensors, and computer vision to track and identify the amount of food being wasted.
The data collected by the smart waste tracker is processed and presented in tables. These tables highlight opportunities for reducing portion sizes and indicate if a particular dish is not popular and should be replaced. The technology provides businesses with actionable insights to help them reduce food waste. The smart waste tracker technology is not limited to hotels. It can also be used to reduce food waste on buffets onboard cruise ships and airlines, enabling them to achieve "precise catering".
In addition to being labor-intensive, buffets allow guests to serve themselves immediately. This is particularly beneficial for business travelers who are often pressed for time.