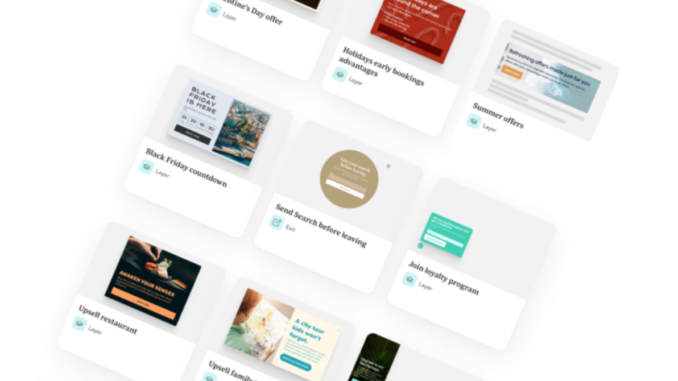 The Hotels Network (THN), a direct growth platform for hotels, has unveiled its most recent innovation for hotel marketers to add to their toolkit of direct channel conversion boosters: Templates. This cutting-edge feature is poised to transform the way hoteliers approach their website personalization strategy, enabling the effortless creation of compelling marketing messages. It provides inspiration and time-saving templates meticulously crafted by a team of design and hotel marketing experts. Designed to enhance direct conversions, these templates leverage insights from top-performing personalized marketing messages drawn from THN's global portfolio of over 19,000 client hotels.
How will hotel marketers benefit from templates?
Time-saving solution: With THN's vast template library, hoteliers can now launch new website campaigns in seconds. Cross-filtering options allow for selecting the perfect template based on goal, message type and season, streamlining marketing efforts.
Easily tailored to fit branding: In just a few clicks, templates can be customized to ensure each message displayed on the hotel website aligns seamlessly with overall brand identity.
High-converting messages: THN's User Experience (UX) experts and Client Success team collaborated to create templates that resonate with any desired target audience based on proven client message success. These templates leverage their extensive data and expertise to boost user engagement and conversions.
Fresh inspiration every week: The collection currently features over 100 expertly designed templates, with a continuous expansion plan that introduces new additions to the library on a weekly basis.
The templates are available in all THN-supported languages, guaranteeing effective communication with potential guests across the globe. THN is dedicated to empowering hoteliers even more by introducing additional filters soon, enabling the selection of templates based on tone of voice, audience segmentation, holidays, and ancillary services to further optimize clients' direct channel strategies.
VP of Marketing, Fiona Gillen, commented, "In an era where personalized online experiences are paramount in attracting guests, templates empower hoteliers to seamlessly tailor their website communication to boost direct bookings, These cleverly designed templates go beyond mere convenience; they offer a transformative solution for resource-constrained hoteliers, looking to improve productivity while elevating their marketing initiatives through personalization."
Does your company have news it would like to share with our readers? If so, we invite you to review our editorial guidelines and submit your press release for publishing consideration.