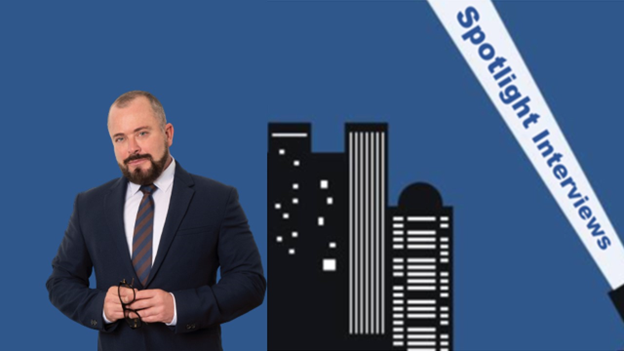 Twenty years ago, Mark Lewis founded HotelREZ, creating one of the largest and highly awarded hotel distribution consortia, as well as launching World Rainbow Hotels, the world's only GDS-enabled consortia for the LGBTQ+ market. More recently, HotelREZ acquired British hospitality brand Best Loved Hotels, opened the company's first owned luxury hotel in Mykonos, Greece, and powers the Elegant Hotel Collection, a full-service luxury soft brand delivering best-in-class distribution operations, technology, sales and marketing services to a curated global network of unique and inspiring luxury hotels.
In this interview, Mark shares insights into HotelREZ's evolution since its founding in 2004 and its unique approach to connecting independent hoteliers with bookers around the world. He emphasizes the importance of technology in delivering specialist sales and marketing support, while also highlighting the significance of maintaining a people-centric approach in the hotel tech industry. He also explains why he sees technology playing a crucial role in shaping the future of the hotel industry, particularly in relation to independent hotels, and advises independent hoteliers to choose a supplier that offers a flexible approach and ensures global distribution.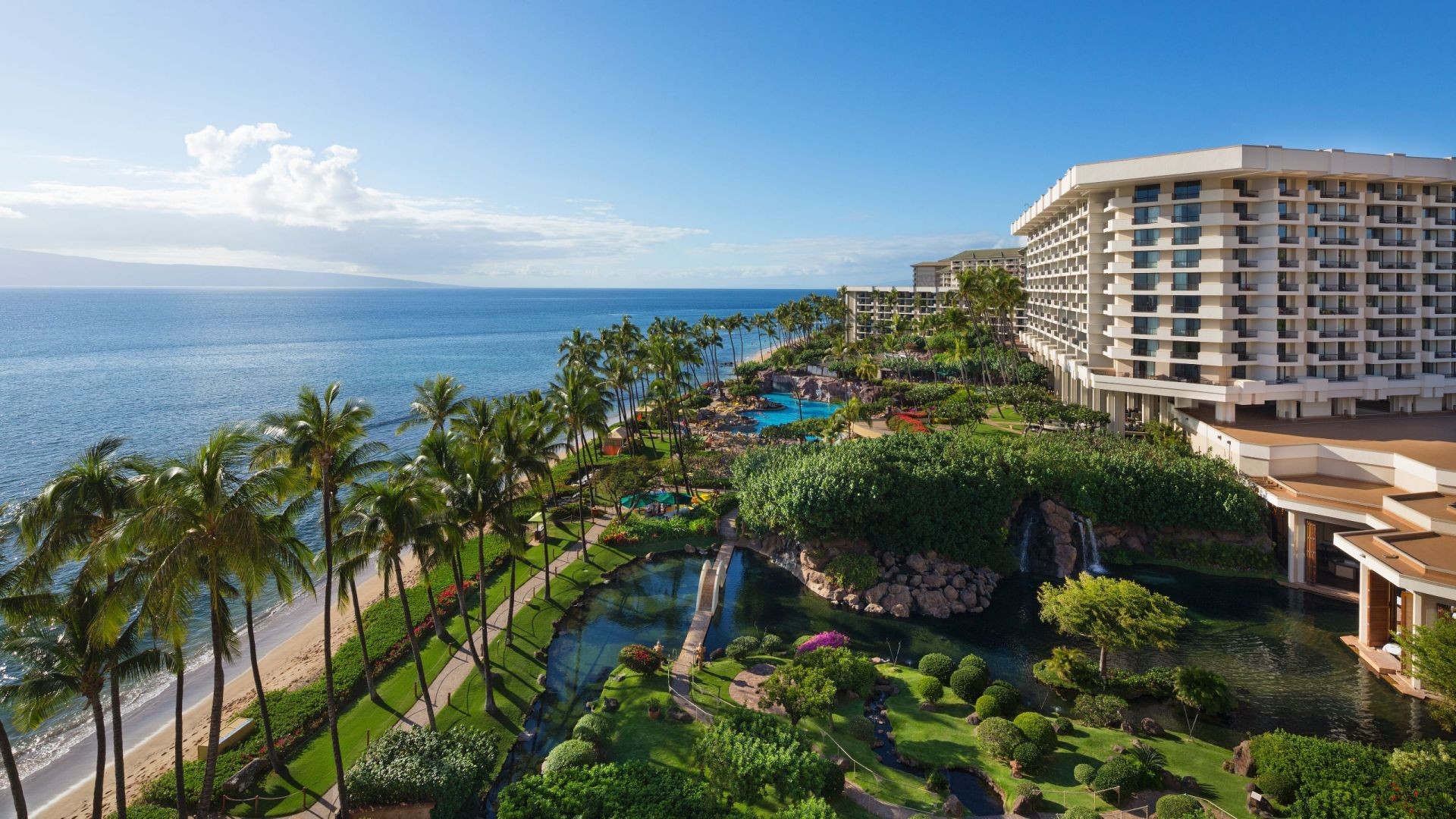 Can you tell us a bit about your career trajectory and the inspiration behind founding HotelREZ? Also, how has your background in the travel sector influenced your approach to hotel technology and distribution?
My first job in travel was as an intern at Thomas Cook Foreign Money. I recognized then that the people working in this industry are what make it so special. I've been lucky to have made some amazing memories throughout my career including establishing Manos Holidays' first air charter into Kerala, working with Sir Alan Sugar on luxury tour operator Five Star Group, and heading up sales for EMEA and APAC for Pegasus Solutions (now Cendyn).  
But I had the dream of creating a global hotel representation and distribution consortia, and in 2004, founded HotelREZ – which is today one of the largest and most highly awarded hotel companies. Technology is the backbone of so many of today's business processes, and travel and hospitality companies aren't immune to technological shifts. AI is having a real impact on travel and tourism, and we are always on the lookout for ways to stay ahead of the curve in an ever-changing, increasingly competitive environment. 
Despite technology changes, the industry remains relationship-driven. People and teamwork are key factors to success. At HotelREZ, we combine technology with that personal almost family-based approach, working closely with our partners and clients to ensure the best commercial outcomes for all. We're also flexible – no one hotel is the same as another, and no tech stack needs are the same either. 
How has HotelREZ evolved since its inception in 2004? Has the vision for the company changed over the past two decades?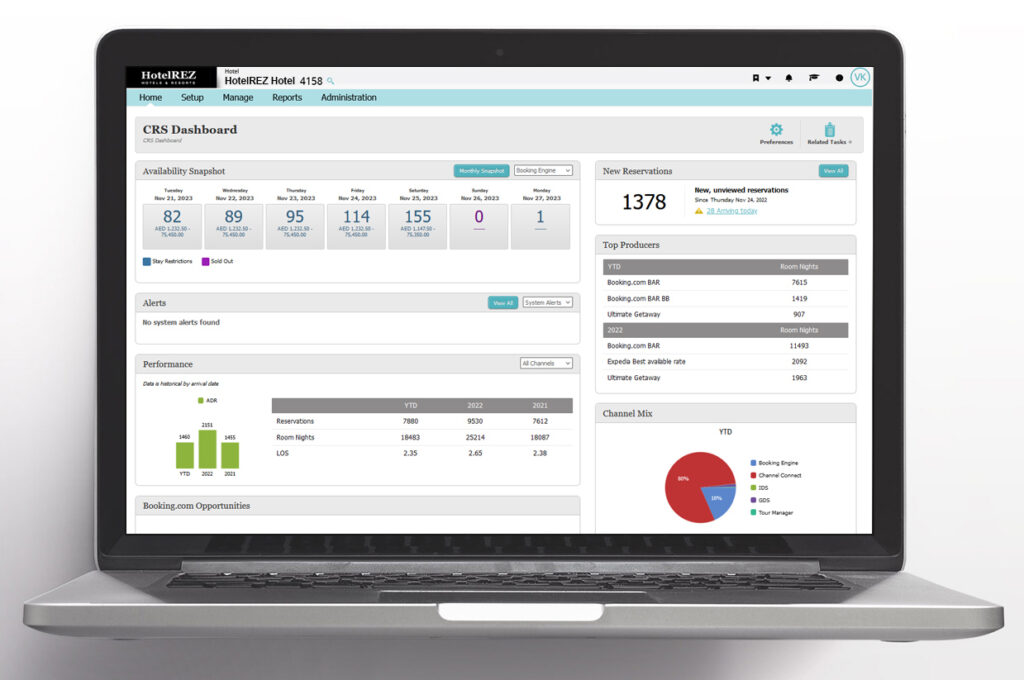 Our vision is ultimately similar to when we started nearly 20 years ago. We want to provide hotels with market-leading sales and marketing representation, combined with cutting-edge technology that helps them achieve their commercial potential. It's not just about offering consultancy; we live and breathe the world of hotels, and work with our customers to produce high-rated revenue from the most suitable target markets at an attractive cost of sale. 
Today, we are one of the largest hotel collections in the world working with more than 2,800 independent hotels, apartments and hotel groups in over 100 countries, and are seeing growth in all sectors and all markets – and that's largely down to providing excellent operational support and account management. Whether we're investing in developing our booking engine to help hotels further increase conversion, providing digital services such as website builds, widgets and SEO support, or improving their presence on the GDS with key TMC and consortia partners, we remain focused on boosting both short- and long-term commercial results for our clients. 
Can you explain how HotelREZ connects independent hoteliers with bookers around the world? What sets the company apart from other hotel distribution consortia in terms of its services and offerings?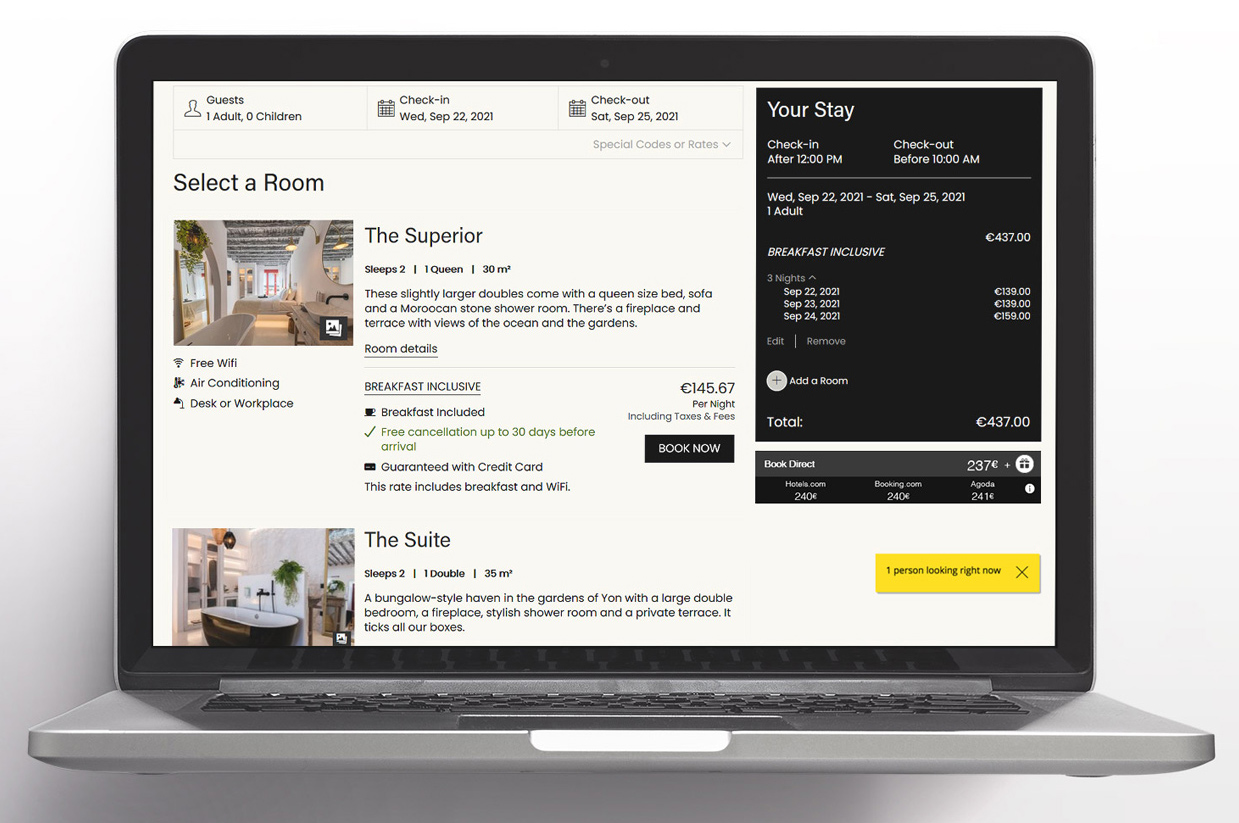 As well as providing a best in class booking engine 'REZbooker' for hotels to use on their own website, we have a widely recognised GDS presence on the HO GDS chain code which is preferred by key TMC and consortia, many of whose programmes we offer on a no risk basis to hotels. We're the only company to do this.
The GDS is so important to hotels, and too often independent hoteliers overlook it because it can seem a tough nut to crack! That's where our industry specialists come to the fore, providing a dedicated revenue manager to drive additional incremental income from the GDS and access to over 500,000 global travel agents.
Thinking globally is a reality with HotelREZ, we have 11 locations worldwide, are a Sabre Global Partner, drive international corporate business through our global preferred partnership program, and deliver a range of core and niche marketing programmes. We know hoteliers are busy so everything is accessed via one user-friendly portal, including access to a database of local corporate agreements generating 100s of RFPs each year, all linked to other tools with automated CRS rate loading. Our own API layer REZswitch also allows us to connect to PMS and OTA's or corporate business both directly and quickly giving hotels rapid  speed to market  – we always aim to go beyond expectations.
We also have a team that generates meeting enquiries and MICE marketing opportunities, with free entry to the World Rainbow Hotels GDS rate programme, and complimentary access to the top main consortia/TMC programmes, saving a property around $20,000 per annum in participation subscription fees and harnessing increased exposure to the corporate market.
How does HotelREZ support independent hotels in terms of distribution, revenue, sales, and marketing services? How does it utilize technology to deliver specialist sales and marketing support?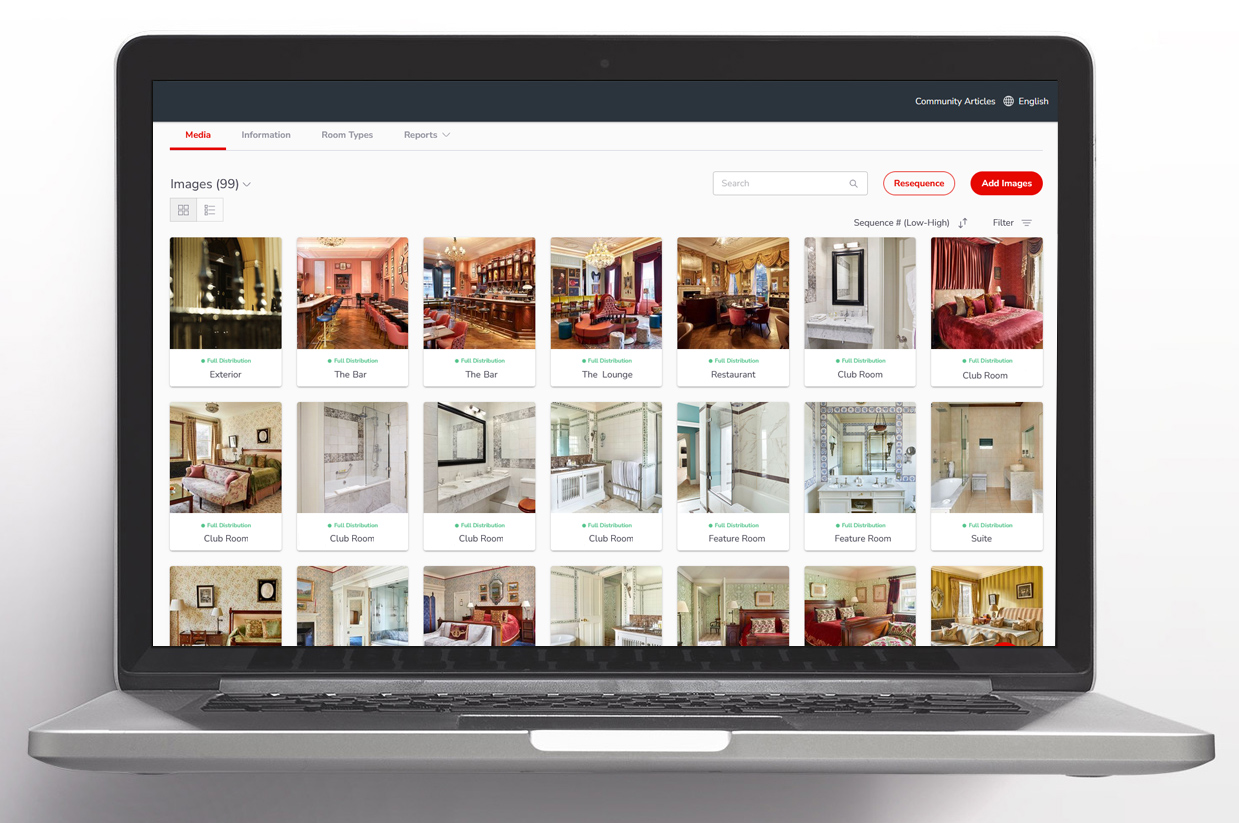 In an age where there's always some new piece of 'sexy' tech, whether it be AI chatbots or ChatGPT generated itineraries, it's important to remember the 'unsexy' tech is vital to business success. We use technology to provide exceptional speed to market for our hotel clients, whether that be using API connectivity to interface with PMS, RMS and booking engines, or promoting hotels through our leisure subsidiary brands World Rainbow Hotels and Best Loved Hotels. 
One of our strengths as a group is that we open up possibilities for our clients by having them on the same technology platforms as franchises or hard brands. This helps generate greater demand as they're reaching a wider audience which we bias toward them. 
We work closely with hoteliers to target high-end leisure partners and identify channels that drive demand at the right price and time for their business. Thanks to a wide range of global TMC and consortia partners, supported by niche marketing campaigns, we tap right into the corporate market through solicited RFPs. For independent and small group hotels, this is such an important tool to have, opening them to a world of corporate business they otherwise couldn't access.  
Can you share some success stories or examples of how HotelREZ has helped businesses improve their operations and increase bookings?
Enjoying a particularly strong year is the apartments and short-stay business, and our work with Staycity Aparthotels is a great example of how HotelREZ can increase bookings and improve commercial results. 
The brand started working with us in 2019 with the aim to increase business travel via the GDS. Working with each property in their portfolio, the first step was to audit and update their data on the four systems: Travelport, Amadeus, Sabre and the DHISCO switch (for key agencies such as Inntel). 
We've secured their inclusion in top global TMC and consortia partnerships, giving higher visibility on agency screens, more marketing opportunities and access to centralised corporate RFPs. By tweaking distribution strategies to focus more on their target audience, we've helped Staycity grow their corporate business from 1% in 2019 to 11% in 2023. 
How does HotelREZ cater to the unique needs and requirements of different types of hotels, from boutique city gems to country-house retreats?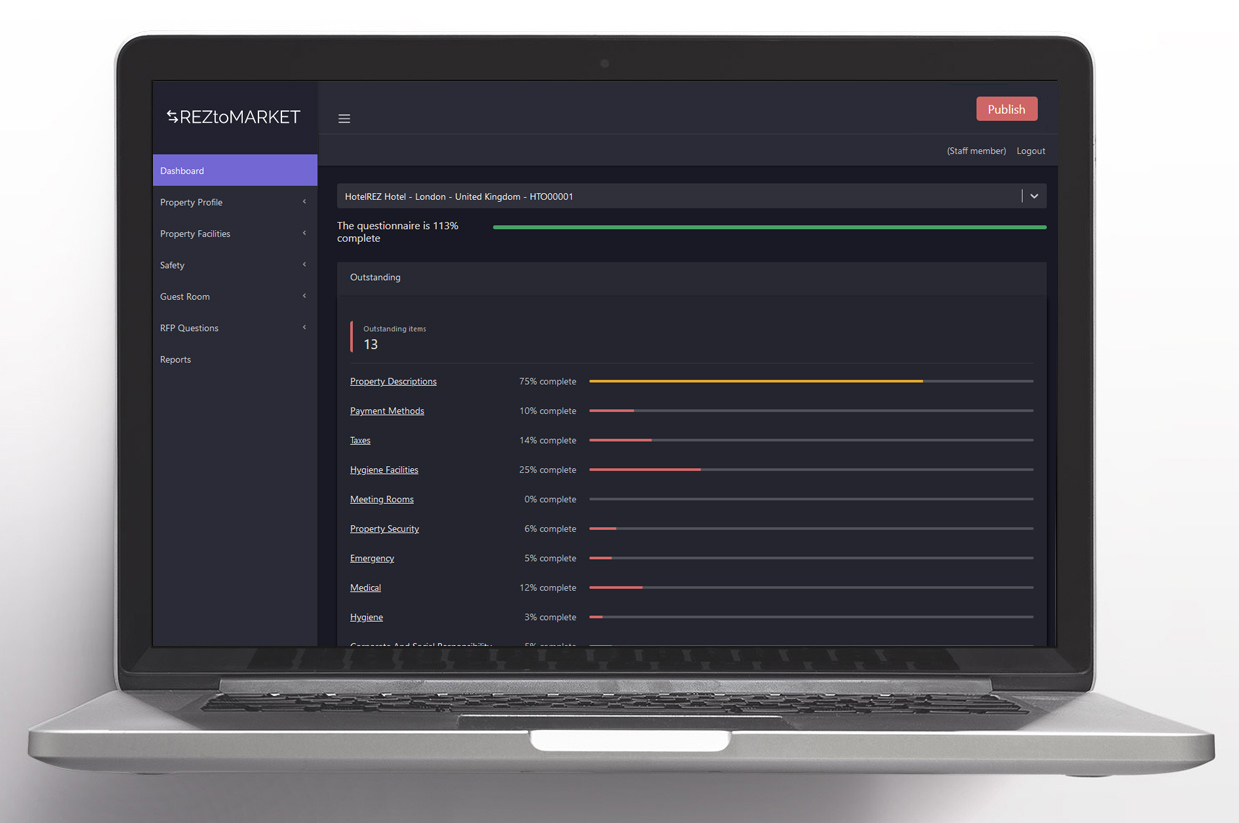 Hoteliers go to great lengths to ensure their guests have a unique, personalized experience, and we believe tech companies should treat hoteliers the same way. Whether it be location, hotel style, facilities and services offered, or just down to the people who work there, every hotel is unique – even when they're within a seemingly standardized group. 
Our account management team is an essential cog in the wheel. They really work to understand the nitty-gritty of each of our clients, which allows us to offer a tailored solution that works with each hotel's business objectives  Of course all other areas of the business are critical in the hoteliers success story.

Can you share some of the challenges you've faced in the hotel technology industry and how you've overcome them?
Over twenty years, we've seen a lot of change within the hospitality and travel industry, none more so than around the hotel technology sector.
Speed to market is crucial. Any delays can weaken the sales potential of a hotel and this is something that we're continually striving to improve. We are currently making investment in AI initiatives to increase productivity and strengthen the focus on revenue generation. 
But it's not all computer-driven. The hotel tech industry needs to remember that people are important; we are always seeking innovative ways to enhance our customer support and service delivery for our hotel clients, when a person on-property has a challenge, it becomes our challenge too and we don't rest until it's resolved. Technology exists, or at least it should exist, to make the lives of people easier. A big challenge for the hotel tech industry is remembering that, and keeping people at the heart of everything we do. 
What lies ahead for HotelREZ in terms of new partnerships, technology capabilities, etc.? Any plans you can share for 2024?
We're marking 20 years in the industry in 2024 but aren't looking back. The hotel technology sector remains an exciting market, and ensuring API connectivity with our partners is important to us. It's how we can ensure our clients have the right access to data, content, inventory and rates in the marketplace. 
Excitingly, we'll be rolling out a newly enhanced WebServices division including a market-changing retail booking engine in 2024. Hotels have so much more scope as a retail business beyond selling just rooms or F&B, and our new retail-led booking engine will help hotels monetise commercial channels they perhaps haven't thought of yet, as well as their known facilities and services.  In addition to this we will be offering a suite of websolutions, AI, Widgets and more to our members including both building and developing their own web strategies. We're also looking forward to supporting the ongoing development of the newly launched luxury soft brand Elegant Hotel Collection which is powered by HotelREZ.
How do you see technology shaping the future of the hotel industry, particularly in relation to independent hotels?
Independent and small group hotels often walk a tightrope. They need to compete with the big players and industry trends, but also should ensure they retain their uniqueness. 
Customization and personalization are more than buzz words. They are what consumers expect and demand, and technology plays a key role in shaping how hotels deliver that for as wide an audience as possible, with minimal impact on staff workloads. A good CRM used to its full potential is crucial to improve marketing exposure.
AI is improving staff efficiency and reducing manual tasks, freeing staff to offer greater customer service and have more time for guest engagement. That's central to the ethos of independent hotels, and using the right tech to assist in that mission is vital. 
What advice would you give to independent hoteliers looking to enhance their distribution and marketing strategies in today's competitive landscape?
First and foremost, choose a supplier who will help grow your business and has a flexible approach. Preferably one that offers a proven track record of a consultative, communicative account management – not only will this help generate strong revenue at an attractive cost of sale, but it is important if there's any challenges or change of strategy required to be able to speak with a real person. 
Ensure your systems distribute content, images, rates and inventory to a global marketplace. The world is at everyone's fingertips when booking, so you need to be found easily at any time in as many places that work for your target audience. 
Finally, ensure you have the best WebServices strategy and booking engine in the marketplace, as well as OTA partners and GDS agency platforms. You need to have the right market share of each distribution channel, and that your property is correctly displayed on all channels to give yourself the edge of your competition. Technology is great as long as it's used well, this is why our expertise, support and personal support has allowed both us and our customers to thrive in an ever competitive market.