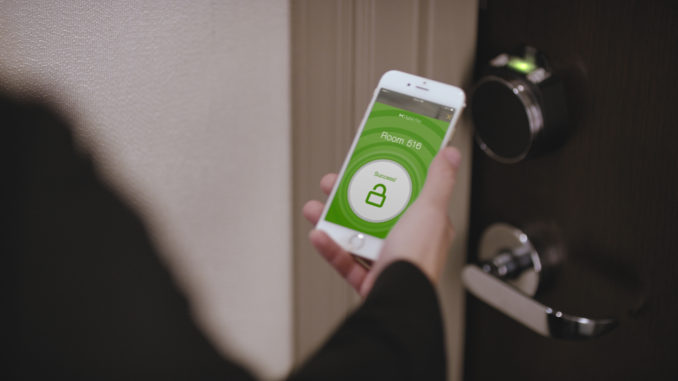 Hilton has almost 400,000 hotel rooms worldwide. And soon, Hilton Honors guests will be able to open their doors at thousands of hotels with Digital Key technology, according to a spokesperson for the brand. Diamond, Gold and Silver HHonors members guests will be able to use their smartphone as their hotel room key at 362,000 hotel rooms.
To date, the Digital Key technology is live in 185 global markets, including 250 U.S. properties within the Hilton Hotels & Resorts, Waldorf Astoria Hotels & Resorts, Conrad Hotels & Resorts and Canopy by Hilton brands. Every new Hilton hotel that is opened anywhere in the world is being equipped with the new technology.
According to a Hilton spokesperson, the company has more than tripled the rate of Digital Key installs since last year. The company is on track to exceed its goal of 2,500 hotels installed with new technology by the end of this year.
Earlier his week, the company announced that more than half of its portfolio of hotels across all 14 brands will be equipped with Digital Key by the beginning of next year.
Using the Hilton HHonors app on their smartphones, frequent guests are able to bypass the hotel check-in counter and access their rooms, as well as any other area of the hotel that requires a key. Digital Key delivers multiple other benefits designed to improve the guest experience, from allowing guests to choose their desired room from a digital floor plan set against Google Maps to requesting additional items to be in their room they arrive, such as extra pillows, snacks or beverages.
Since its launch in 2015, the adoption rate of the technology has reportedly exceeded expectations, with reportedly 30 million digital check-ins, three million room key downloads and more than 13.6 million doors opened. Digital Key is available on the Hilton Honors app on both the iOS platform and Android platforms.
According to sources, Hilton has invested more than $150 million to develop its Digital Key.  No doubt, in addition to enhancing the guest experience, the company is betting that the application will help facilitate direct bookings, reducing the hefty commission fees paid to OTAs.