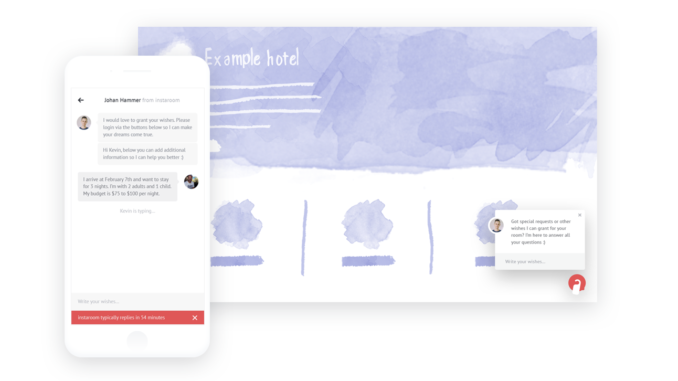 Today, hoteliers are becoming increasingly focused on data-driven personalization strategies. They are seeking ways to enhance the quality of the guest experience by understanding guests' wants, needs, situations and preferences at a granular level and then acting upon that understanding to deliver superior, tailored services. At the same time, hoteliers are testing the waters with artificial intelligence (AI)-enabled smart devices, including voice-activated chatbots.
Now Instaroom, an AI-powered messaging platform built for managing complex customer journeys, transactions, and bookings for hoteliers, has launched an artificial intelligence FAQ Bot, designed to intuitively answer commonly asked customer questions and reduce hotel management costs while freeing up front desk staff to focus on other tasks, including ones that may enhance the guest experience.
The new FAQ Bot, which now comes with premium subscriptions, can be integrated into a hotel's homepage. According the a company spokesperson, the bot can reduce incoming inquiries by up to 40 percent, consequently decreasing inbound phone calls and emails.
Instaroom is also now offering hoteliers white-label bots to specifically fit a property – automating everything from bookings and in-house inquiries – like room service and concierge – to fully customizable integrations and personalizations. his new FAQ Bot (with premium subscriptions) can be integrated into a hotel's homepage.
Guest tend to ask the same questions over and over again. "When are breakfast hours?" "What are parking costs?" "How much for a room?" Thousands of employee hours are spent answering these questions. Instaroom is an intelligent bot that customers can interact to get the answers they need. The product has already been shown to increase efficiency for hoteliers. Intelligently automating responses to repetitive customer questions allows hotels to significantly reduce incoming emails and phone calls. It also makes the customer journey more user-friendly in an era where consumers expect immediate responses to their inquiries.
According to a company spokesperson, Instaroom has been testing its new AI FAQ bots at various hotels throughout the world, including Desa Visesa Ubud in Bali, the Delfins Beach Resort in Dutch Caribbean Island Bonaire, and the Hotel Palace Berlin.