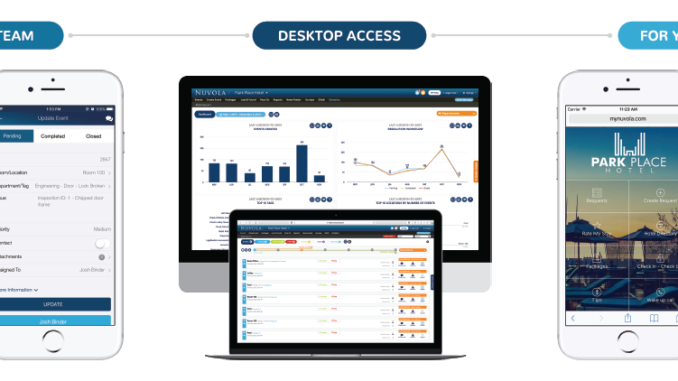 Nuvola has announced a partnership with Evolutix to integrate the company's guest room automation and energy management solutions into Nuvola's platform capabilities. Now available to hoteliers, the joint efforts between both companies offer the hospitality industry an energy savings ROI platform that can significantly reduce utility expenses while delivering optimization solutions to cost-effectively manage, track and optimize each department.
Nuvola's comprehensive hotel software combined with Evolutix's automation technologies allows hotel clients and their guests to benefit from service optimization and IoT guest room services, all in one platform. From the convenience of Nuvola's customizable Angel web app, guests are able to control the lighting, temperature, music, TV, draperies, and additional room/service features directly from their smartphone or mobile device and can even integrate voice commands with Alexa Echo.
Allowing both guests and staff to manage room settings and requests from one simple platform helps reduce energy and operating costs in unsold rooms or when guests are not present while also increasing in-room comfort.
The 24/7 nature of hotels makes them energy intensive buildings and the ever-growing insurgency of modernized technologies require hoteliers to deploy methods of reducing energy inefficiencies in a way that will not negatively affect the guest experience. The joint solution offered by Nuvola and Evolutix is designed to give hoteliers the tools and methods necessary to harvest savings through technology-based solutions designed specifically for hotels and their staff to deliver sustainable and predictable operational improvements.
In partnership with Evolutix, Nuvola is one of the first platforms of its kind to offer an intuitive and energy saving software system that can track and help manage staff and guests needs cost-efficiently.
Does your company have news it would like to share with our readers? If so, we invite you to review our editorial guidelines and submit your press release for publishing consideration.