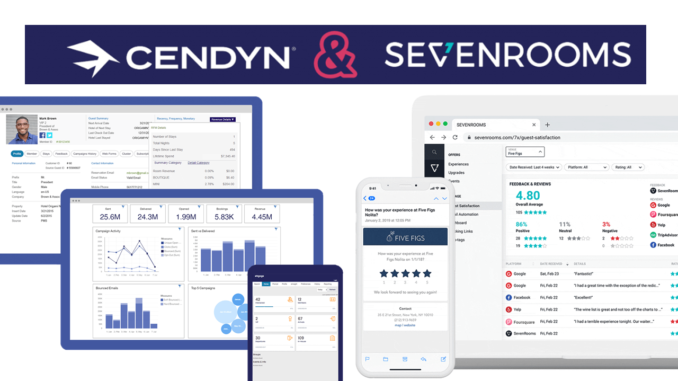 Cendyn, the leading innovator in CRM, sales and revenue strategy for the hospitality industry, has announced an integration partnership with SevenRooms, a data-driven operations, marketing and guest engagement platform for restaurant, hotel F&B, nightlife and entertainment operators.
The partnership empowers hotels to leverage the true revenue value of their best guests. With this integration, hoteliers can now see a guest's total spend across the entire property, including in-house restaurants, nightclubs, bars and lounges in addition to room and spa spending.
On the customer side, guests enjoy enhanced service during their stays, as hotel staff can easily pull up a single source of truth and cater to their every whim and desire, now including food, beverage and entertainment.
Moreover, hotels can offer more relevant, targeted and personalized offers and upgrades, not assumptions or one-size-fits-all promotions, based on a true "guestprint," which ultimately leads to more conversions and additional revenue.
"Our partnership with Cendyn further delivers on our promise to operators to open up new ways for them to access and leverage their guest data to enable better on-property experiences and streamlined operations across the board," said Joel Montaniel, CEO & Co-Founder of SevenRooms. "With the rise in experiential, food-driven travel, F&B continues to be an important revenue stream for hotels. By connecting food and beverage spend across on-property restaurants and bars directly to a hotel guest in a CRM at both a property and group level, these brands can continue to create unforgettable experiences that will lead to loyal guests for life. This partnership is an exciting milestone for our two companies in creating a more connected hospitality industry."
"We're excited to team up with SevenRooms," said Tim Sullivan, President of Cendyn. "An integration between hotel CRM and systems that capture more data around guest activities, like dining and entertainment, are critical to creating memorable, high-end hospitality experiences. With some of the most innovative and forward-thinking hotel clients around the world, SevenRooms is a well-respected name in the business. Adding this integration to our solution was an obvious choice and a testament to our dedication to providing the most integrated CRM platform in hospitality."
The bottom line:
Cendyn + SevenRooms integration allows hotels to use Cendyn's eInsight CRM and SevenRooms' reservation, seating & guest engagement platform seamlessly together.
Hoteliers can further personalize the complete guest experience and gain key insights that will build lasting brand loyalty.
By sharing data insights, the platforms help drive additional revenue, capture more robust guest preferences, and automate more personalized communications.
Does your company have news it would like to share with our readers? If so, we invite you to review our editorial guidelines and submit your press release for publishing consideration.