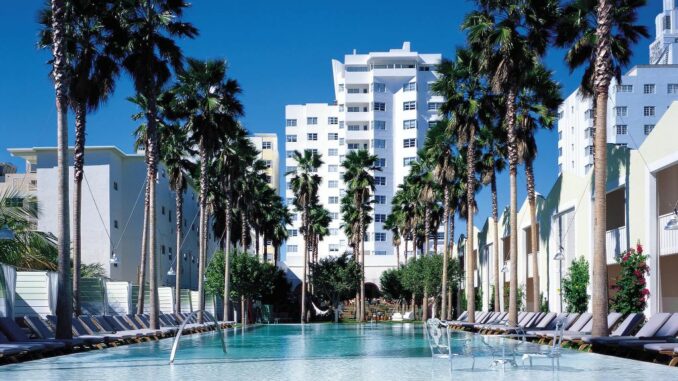 The iconic Delano South Beach has selected Nuvola as its single source for service optimization and guest engagement software. The resort is part of the first dozen properties in the U.S. to deploy Nuvola's entire suite of hotel software modules including Housekeeping Productivity, Concierge, Guest Chat (SMS Texting), Maintenance and more to go along with a two-way PMS interface.
"Recognizing that modern technology is the most powerful way to equip staff with the tools necessary to further enhance the guest experience, we wanted to make sure we were working with the best software currently available on the market," said Todd Orlich, area vice president of operations at sbe and Delano South Beach. "The intuitive nature and ease of use of the software developed by Nuvola attracted us to delve deeper into how we would be able to benefit from deploying their full suite of solutions. The level of customer service and hands-on approach Nuvola offers during training is something we have never experienced before in a tech partner. We are thrilled to be partnering with Nuvola and working with Juan Carlos again to create a higher level of guest satisfaction."
Developed by a former hotelier whose journey into the hotel industry began at Delano South Beach, Nuvola's creation process focuses on the unique first-person perspective to ensure each module is user-friendly and saves both time and money. The integration ensures a near-seamless operational system for the hotel partner, enhancing information sharing between departments as well as between guests and staff. The solution suite can be managed through Nuvola's desktop and mobile staff-facing platform, allowing employees to initiate work orders, communicate with guests, and monitor status reports for every department remotely.
"The ability to come full circle and work with the resort that I owe so much of my hospitality career to has been a main goal of mine since the genesis of Nuvola," said Juan Carlos Abello, Nuvola CEO. "Delano South Beach consistently looks for new ways to improve both guest experiences and staff productivity at the resort, and I am delighted to be working with the hotel again to provide enhanced services, now through our comprehensive optimization platform."
Implementation of the full Nuvola suite into Delano South Beach's daily systems is the first launch within a larger partnership with globally recognized hospitality, cuisine, design and lifestyle group, sbe. The luxury resort is the first sbe property to take advantage of the full suite of Nuvola's robust hotel-technology platform and will be an introduction to all hotels within the organization as an approved company-wide partner.
Training across all departments within the Delano began with interactive demonstrations with the Housekeeping staff from Abello himself, the department in which he began his career while working at Delano South Beach. Abello kicked off the training sessions by leading the Monday morning Housekeeping line-up at Delano. He was able to relive his former years by participating in the morning brief and then working alongside staff to complete daily tasks.
"It was great to be back on property and train alongside former colleagues in a new capacity to launch the product I created with them specifically in mind, continued Abello. "The importance of the Housekeeping staff and the hard work that goes into each of the hotel department's day to day task management could not be overstated. It was an honor to revisit and show my appreciation for these dedicated and diligent team members while training staff on how to use the Nuvola platform."
Nuvola's fully comprehensive and intuitive hotel staff optimization and guest engagement platform allows hoteliers to offer an elevated experience for travelers while easing day to day task management for employees.
Does your company have news it would like to share with our readers? If so, we invite you to review our editorial guidelines and submit your press release for publishing consideration.