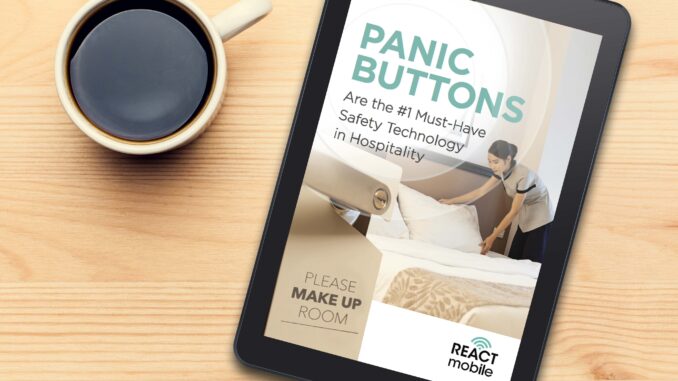 Hospitality safety technology provider React Mobile today announced the release of their insightful eBook, Panic Buttons are the #1 Must-Have Safety Technology in Hospitality. In line with new legislation surrounding improved standards for hotel employees, and the AHLA 5-Star Promise, a pledge to provide hotel employees across the US with employee safety devices (ESDs), React Mobile is committed to ensuring hotel safety, including preventing and responding to sexual harassment and assault.
In an industry that has been plagued with substantial staff turnover due to mounting rates of violence, crime, threat, and assault, new measures are now being enforced across the US. Hotel leaders must be vigilant in certifying they meet the requirements and compliance deadlines of hospitality safety mandates. Those that do not can suffer high costs of a violation, including punitive damages, civil penalties, and fines. The free eBook provides actionable information that hoteliers can use to ensure their staff can call for help during any emergency with the implementation of ESDs (or panic buttons) required by the new laws, and provides a thorough look at hotel safety, with topics including:
How safe staff breeds a company culture that reminds employees and guests that hotel staff is valued and protected
How the AHLA 5-Star Promise has initiated a domino-effect of safety regulations and reform across the country
Why noise-making panic buttons should not be used today
Why housekeeping is the most vulnerable department and what you can do to protect your staff
The benefits of next-generation hotel panic buttons and how their technology can save lives
How any incident, big or small, can create a social media disaster and tarnish your reputation and brand
How to choose the right ESD for your hotel
Steps to ensure you are compliant with new mandates
Founder and CEO of React Mobile, Robb Monkman, explains, "As hotels seek to protect their staff and their business, there is only one industry standard to look to, and that is the employee safety device. In 2020, companies are looking to elevate safety best practices and implement technologies to keep their employees secure, and this eBook can help identify the gaps, risks, and opportunities."
React Mobile has been providing enterprise-class safety solutions for the better part of a decade. Their cloud-enabled ESD technology is reliable, cost-effective, easy to use, and requires little to no training. With worldwide support capabilities, 24/7 accessibility, and impressive implementation infrastructure, they are the most trusted solution for hoteliers worldwide.
With actionable tips from React Mobile, Panic Buttons are the #1 Must-Have Safety Technology in Hospitality is a truly valuable resource. To download, click here.
Does your company have news it would like to share with our readers? If so, we invite you to review our editorial guidelines and submit your press release for publishing consideration.