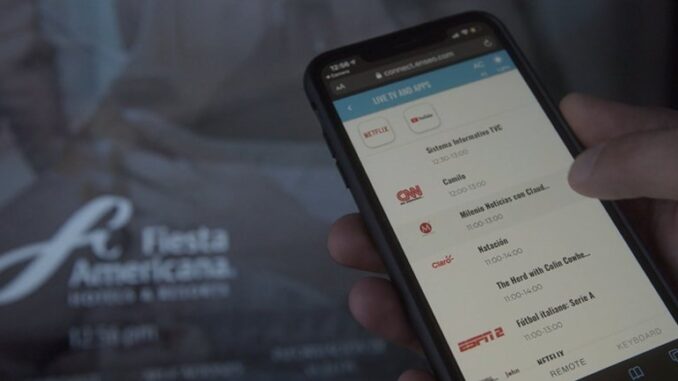 The Fiesta Americana Viaducto Aeropuerto Hotel in Mexico City recently opened its doors and treated guests to a full suite of Enseo's innovative smart hotel room technology. From streaming entertainment options to remotely managing their entire room from their own mobile devices, guests were ushered into an experience unlike any other.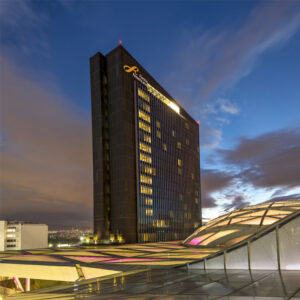 Owned by FibraHotel, which ranks as the largest hotel owner in Mexico, with a portfolio that includes 86 hotel properties, and managed by Posadas Hotels, Fiesta Americana had a specific goal in mind: provide the guest room of the future in their hotels to create a unique, connected in-room experience for their guests while also conserving energy usage. To enable this experience, Fibra turned to one of the fastest growing private technology companies in the United States, Enseo®. Enseo worked with long-term sister company and technology provider, Catapult Tech™, for a comprehensive IoT device management platform and guest entertainment system, as well guest remote applications.
When guests check into a room at the Fiesta Americana Viaducto Aeropuerto, they find that they can use the traditional room remote control or their own smartphone to control the television, window shades, room lighting, and the temperature with ease through Enseo's Fido™ comprehensive IoT product. Fido turns any hotel room into a smart, energy efficient, connected room and elevates guest comfort and satisfaction.
Enseo's versatile platform also provides the best-in-class in-room entertainment system, including access to apps such as Netflix® and YouTube® and a highly customized user interface developed with Fiesta Americana to welcome guests into the hotel's uniquely crafted experience.
Located inside the Via 515 mixed use project in Mexico City on Viaducto, Fiesta Americana Viaducto Aeropuerto is the most modern full-service hotel near Mexico City´s Benito Juarez International Airport. The hotel, with 260 full-service rooms, has modern public areas, meeting rooms, conference and event space with a terrace and features the Los Canarios restaurant and a bar.
"We are thrilled to be working with Enseo and hope that this is the first of many projects to come," commented Simón Galante CEO of FibraHotel. "We have a strong desire to become the hospitality leaders in technology in Mexico. FibraHotel is in a technological transformation, and Fiesta Americana Viaducto is the best example of it."
At the center of Enseo's Fido solution at Fiesta Americana is the guest's own smartphone. EnseoCONNECT™ allows guests to use their own mobile devices on any network to control their TV, room lights, window shades, thermostats, and other connected devices in their room. This unified remote approach does not require guests to download an app, maintain a login or touch the guest room remote at all. Guests do not even have to join the hotel Wi-Fi network. Instead, guests simply pair with the TV for instant access and control of their entire connected in-room experience.
Enseo, a privately-held, woman, Latina-owned business, is one of the fastest growing technology companies in the U.S. Celebrating 20 years in 2020, Enseo is renowned for delivering sustainable innovation to the hospitality and education markets. With a platform enjoyed by more than 84 million guests annually, Enseo offers four core products in one platform: in-room entertainment, high-speed internet, energy management & room control (IoT), and the MadeSafe® employee safety system.
Enseo has been recognized for excellence as one of the best Entrepreneurial Companies in America for three consecutive years by Entrepreneur Magazine's Entrepreneur 360 List, the 10th Fastest-Growing Women-Owned/Led Company by Women Presidents' Organization (WPO), and consistently recognized on the Inc. 5000 as one of the fastest growing companies in the US.
Catapult Tech is the innovation behind some of the world's leading solution providers. After 20 years of driving technology, Catapult Tech holds more than 40 US patents in the areas of IoT, in-room entertainment, connected room technology, and others.
"I am honored to have been chosen by Fibra to bring the world's most advanced guest room into reality. Mexico City has always been known for culinary and fashion innovation, now we've worked together to add ultimate hotel technology," commented Vanessa Ogle, CEO and founder of Enseo. "The leadership of Fibra and Posadas worked together with the technology team at Catapult Tech. By joining everyone's expertise, we launched the world's most advanced and welcoming guest experience and also brought tremendous benefit of an enticing price point to the owners that will save both the bottom line as well as the environment. This team has paved the way to the hotel room of the future."
Does your company have news it would like to share with our readers? If so, we invite you to review our editorial guidelines and submit your press release for publishing consideration.