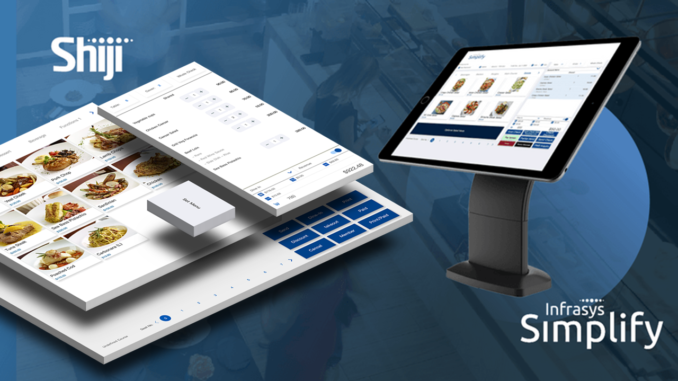 Shiji, the hotel technology innovator, is launching Simplify by Infrasys at HITEC Orlando. A new and innovative point of sale solution created for Hospitality F&B businesses in the Americas needing a simple-to-learn and easy-to-manage POS solution.
Infrasys, a Shiji Group Brand, is one of the most renowned global enterprise cloud-based POS systems. Shiji is now able to offer independent and branded hotels, and restaurants, a secure, compact, and scalable solution.
With the experience of an enterprise hotel POS, Simplify by Infrasys is available on a single or multiple iPads for limited-service hotels, or restaurants who still want a robust system that can scale to multiple properties, but without the overhead of custom hardware, software, and installation fees.
With a software-as-a-service pricing model, the app runs on iPads providing flexibility for hotels and restaurants to choose the most convenient hardware for their operations, and easily being able to replace hardware if needed. This reduces high-up-front hardware costs for the owners and allows them to focus on serving their guests more efficiently over time.
Shiji Group is a multi-national technology company that provides software solutions and services for enterprise companies in the hospitality, food service, retail and entertainment industries, ranging from hospitality technology platform, hotel management solutions, food and beverage and retail systems, payment gateways, data management, online distribution and more. Founded in 1998 as a network solutions provider for hotels, Shiji Group today comprises over 5,000 employees in 80+ subsidiaries and brands in over 23 countries, serving more than 91,000 hotels, 200,000 restaurants and 600,000 retail outlets.
"We are excited to announce the launch of Simplify by Infrasys for the hospitality market in the Americas," said Dan Bell, Senior Vice President for the Americas at Shiji Group. "After years of global success with Infrasys in the enterprise hotel market, we saw the demand for something light and scalable; designed for the restaurant and hotel industry with the ability to adapt to limited-service hotels, both branded and independent. The release of Simplify by Infrasys was made by popular customer demand to provide a robust solution for the Americas market."
Are you an industry thought leader with a point of view on hotel technology that you would like to share with our readers? If so, we invite you to review our editorial guidelines and submit your article for publishing consideration.