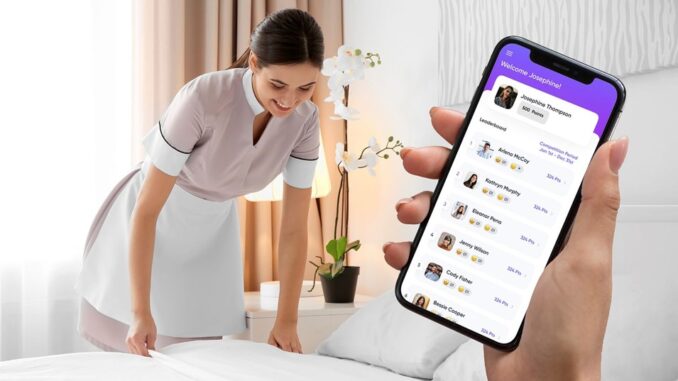 PurpleCloud Technologies, a leading provider of gamified software solutions and data analytics for the operations and management of hotels, resorts, and vacation rentals, and a member of Oracle PartnerNetwork (OPN), is now available Oracle Cloud Marketplace, a centralized repository of enterprise applications offered by Oracle and Oracle Partners. It can be deployed with the Oracle Hospitality Integration Platform for Oracle Hospitality OPERA Cloud customers.
PurpleCloud provides visibility into employee productivity and insight into trends. PurpleCloud's Gamified Service Optimization Platform incentivizes hotel employees to complete tasks quickly and efficiently, and then recognizes and rewards them via a point system when performance goals are met.
The solution contains an algorithm that enables departmental managers to track tasks. For example, when rooms are cleaned and ready by a set time, associate room inspection scores improve. As work orders are completed and reported in real time, employees are audibly notified via their mobile device and reward points are calculated and assigned. Managers can leverage the PurpleCloud point system to keep track of employee productivity and convert points to prizes. Simultaneously, task information is shared between PurpleCloud and Oracle Hospitality OPERA Cloud PMS in real time to allow a frictionless guest experience.
PurpleCloud's two-way integration with Oracle Hospitality OPERA Cloud enables important data to flow between both systems, enhancing workflows and increasing gamification automation. Specific features enabled by this new integration include real-time occupancy updates, two-way real-time room status updates, room move information, VIP data, guest name information, and guest language information.
Our participation in the Oracle Cloud Marketplace further extends our commitment to the Oracle community and enables hoteliers to easily reap the benefits of both PurpleCloud and Oracle Hospitality OPERA Cloud, Levtchenko said. We look forward to leveraging the power of the Oracle Cloud to help us achieve our business goals while enabling hoteliers to leverage the latest and greatest technology stack.
Le Parc Suite Hotel in West Hollywood, Calif., has been leveraging the PurpleCloud integration with Oracle Hospitality OPERA Cloud integration over the past year.
PurpleCloud with Oracle Hospitality OPERA Cloud has allowed our team to manage our workstream more intelligently, which has led to an increase in total productivity as well as time to service, she added. The user experience is very straightforward and required minimal enablement, resulting in a easy adoption by the team.
Does your company have news it would like to share with our readers? If so, we invite you to review our editorial guidelines and submit your press release for publishing consideration.