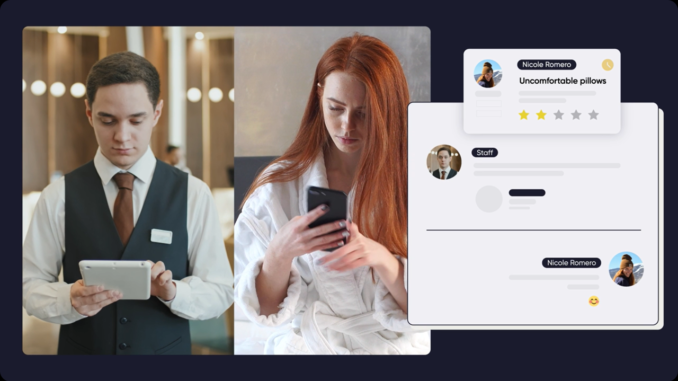 Hotel technology solution provider
STAY
has launched
Instant Feedback
, an app that allows guests to provide feedback between check-in and checkout. It aims to achieve two primary goals:
To act on time, detect the guest experiences that can be improved prior to their departure from the hotel. A second chance to make the client happy.
Because of the previous point, the hotel staff is able to fix any issues before negative reviews are published on third-party websites like Booking, Expedia or Google Review.
As a result, STAY, which already provides services to over 1,000 hotels in 67 countries, opens in 2023 in top form. A few weeks ago, Joan and Angel Lladó's company received an award from Hotel Tech Report for the Best Hotel Guest App of the year.
Hoteliers can accomplish the following through Instant Feedback:
Ask guests questions that are customized to their needs
It is up to them when they want to ask them
Display their questions in several ways
Interact with the guest and generate conversation
Hotel staff can, for instance, decide whether to ask guests if they are satisfied with their rooms immediately upon entering them; If guests say they missed more towels or a bathrobe, for example, the hotel staff can act and surprise them, showing that they care about their wellbeing. This should result in a boost in good reviews.
All feedback in real time is received on one panel, the inbox", from which improvement points may be easily and visually managed by hotel staff.
Likewise, the tool is designed to help a hotel optimize its operations when it comes to maximizing guest satisfaction.
Hoteliers can set score thresholds that they consider low –each hotel will choose their own–, and when the hotel receives a review below that threshold, the hotel will be able to automate the sending of emails to employees or departments responsible for improving that score before the guest leaves.
Chains such as Hyatt All Inclusive have already implemented the pilot project of this fully developed product. "We implemented real-time surveys in one of the most critical points, Room Service. This tool allows us to act if we feel that an ongoing experience isn't up to a customer's expectations," said Product Owner Manager Yudy Mora. "STAY allows us to monitor guest reviews on a daily basis while they are still in the hotel. There is sometimes a concise explanation, such as 'the food arrived a little cold'. As a result, we can get down to business. A courtesy gift could be sent to fix the error and demonstrate our commitment to serving guests well. Through Instant Feedback, we can turn a problem into a chance to stand out."
Additionally, the tool allows staff and guests to communicate when the latter sends feedback. If the hotel has not provided optimal service, it can use the Instant Feedback channel to inform the customer about one or several action steps that will change their perception.
There is no limit to how this example can be applied to other scopes or services. Check-in, housekeeping, spa, breakfast, etc. The hotel may ask as many questions as it wishes. However, it has two strengths:
In a matter of seconds, they are answered – and the guests feel good about it because their experience improves as well. All of this can be done right from the hotel app, without having to go to an external website.
The Instant Feedback system is compatible with most of the hotel survey systems that are currently in use. However, it improves them in several ways:
It differs from traditional hotel surveys, which are sent after the guest has left the hotel, and do not allow for action to be taken to improve the experience during the stay.
Furthermore, traditional surveys sometimes require the guest's time and dedication. And for good feedback, time is money. By using Instant Feedback, hotels are able to ask questions immediately through their hotel app.
Instant Feedback represents STAY's commitment to innovation and to offering hotels original ways to improve their guest experience, operations, and revenues.